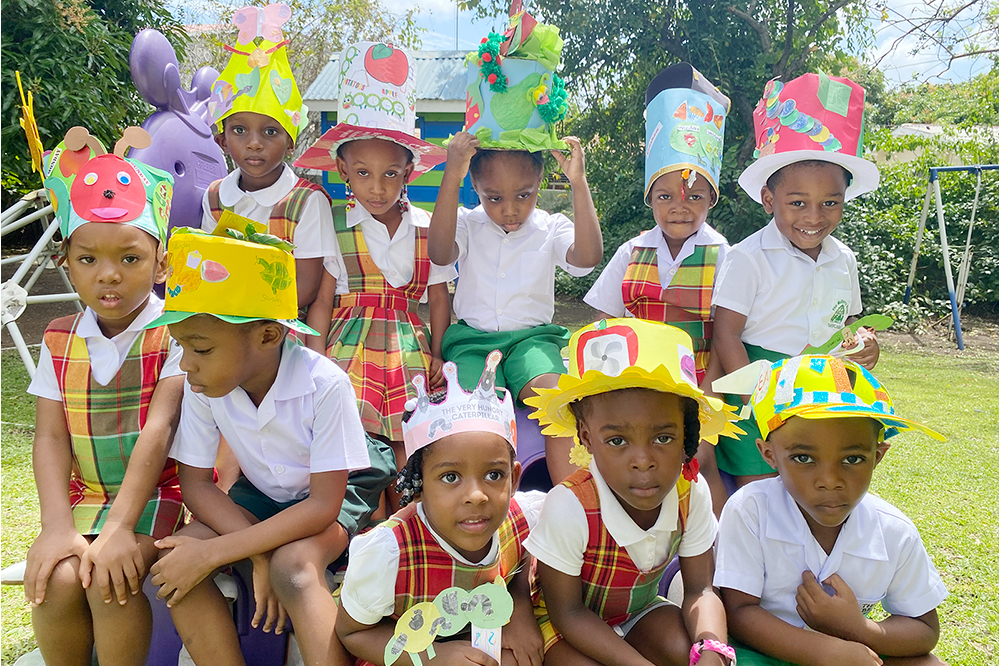 Mulberry Bush pre-schoolers take their 'hats off to reading'
SCHOOLS that had to freeze activities when the pandemic hit are beginning to warm up to their usual programming, including the Mulberry Bush day-care and pre-school with its 'Hats off to reading'.
After a two year hiatus, spring came to the Mulberry Bush's Literacy Week with a themed challenge called, 'The hungry caterpillar'.
Students were able to use whatever they had available to them to craft a hat that reflects the theme. Around 30 pre-schoolers participated in the event with elaborate creations from top hats to baseball caps fashioned on the story "The very hungry caterpillar".
The storybook, imagined by Eric Carle uses words and illustrations to depict a caterpillar eating its way through various foods for the duration of the week. However the insect is not able to satiate its hunger until it eats a green leaf on Sunday. From there it enters a cocoon and transforms into a butterfly.
The families were fully on board with the concept, building apples and various fruits with holes in them on top of hats, along with 3D models of caterpillars that looked as if they had crawled from the very pages of the children's novel.
Teacher, Nikeisha Glen who has been at the school for 16 years, admired the works before her when SEARCHLIGHT visited on Monday, February 28.
She explained that the children are "not too small to do the craft, creativity, vocabulary."
Her charges are four to five years old and preparing to enter primary school.
Mulberry Bush carries an eventful schedule throughout the year under normal circumstances, but they were forced into a back and forth between home and school brought on by the COVID-19 pandemic in 2020. The school was under further pressure as it has been even more challenging to enforce the necessary social distancing between the students given the age groups which it accommodates.
However, two years into the pandemic and 'Hats off to reading' has returned, complete with the customary short march around the school compound last Friday, February 25, and a song session hosted by parents.
When prompted, Glen disclosed: "We do a lot at the pre-school to help with language, motor skills… nurturing them, engaging them,". She explained that, "Pre-school is supposed to be fun plus learning, so that's why they say 'learning through play'."
The teacher said that it is not baby-sitting as some persons think, "we teach them maths, English, science, craft, social studies, we teach them everythingdevelopment, from babies come right down."