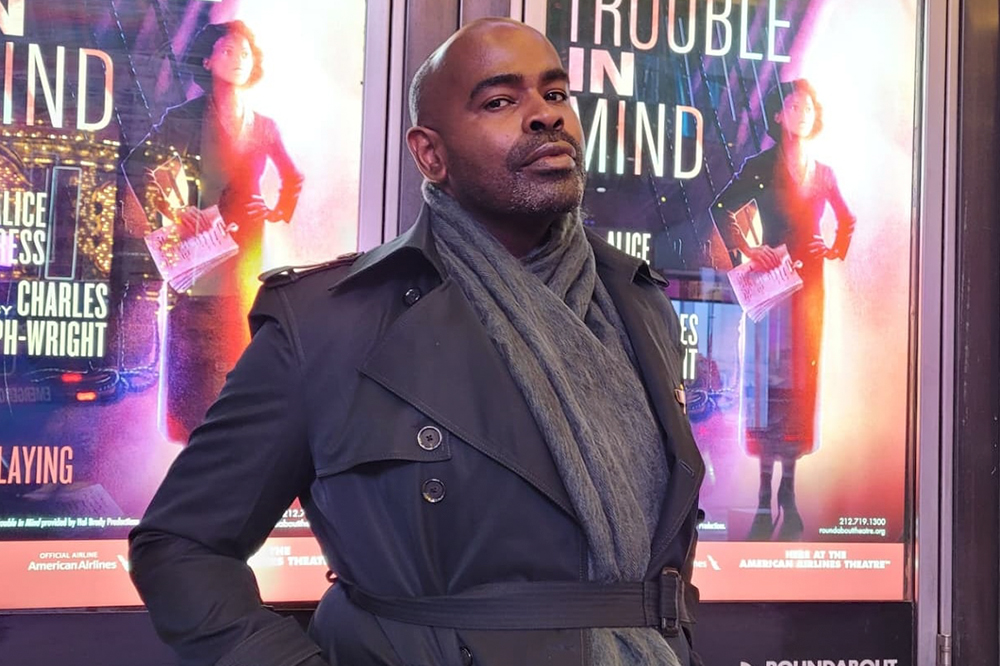 Vincentian make-up artist makes the roster of major US Entertainment Group
Vincentian Kirk Cambridge-Delpesche continues to make strides in the make-up and fashion industry in New York (NY), having been recently added to the roster of Summit Entertainment Group LLC.
Summit Entertainment Group represents more than 90 set, costume, lighting, sound/composition, projection/video, hair/wig, and make-up designers and works on more than 500 Broadway productions a year. They have been around for over 30 years.
Their employees also work Off-Broadway, in regional theatre, national and international opera and dance, corporate performance, and museum installations.
"It's interesting because Summit is one of the biggest and most renowned entertainment groups in the US and so to get signed with them is a big deal and i didn't know it was happening until it happened," Cambridge-Delpesche told SEARCHLIGHT on Monday.
The company's website says the Vincentian native, "proudly boasts an eclectic blend of ethnicities" and Cambridge-Delpesche commented that he is proud to be a person of colour chosen to work with Summit.
"That part is huge for me and when I spoke to the CEO it was just like really great. She is Jewish and we had some things in common and spoke for about three hours so today it's official, I'm a Summit Group client, they represent me," the former Sion Hill and Paul's Avenue resident who was born in Layou commented.
He further added, "it's funny because they are negotiating some major contracts and before they even signed me they put my name out there and my name had weight and they got some positive responses and two major deals are being negotiated," Cambridge-Delpesche said.
He is encouraging young people who may been seen as different because of their dreams or aspirations to go for it and not allow persons to deter them.
"For me I want kids who are different to know that anything is possible and if you really want it, you go after it and stay consistent.
"Persons may not necessarily understand you but it is okay to live in your own magic because everyone's success journey is different but persons sometimes try to live in other people's dreams and that hinders them," the make-up artist said.
"People see you go through a career and don't know the sacrifices it takes…sometimes taking jobs that are not on your level to get by and learning to say no at other times.
"It's about being persistent and to get recognised by a major company that represents people in your field is great so this is very interesting," he said while noting that he may be the first Vincentian to sign with Summit.
This year, Cambridge-Delpesche was the hair and makeup supervisor for 'Merry Wives', one of the first shows that reopened Broadway and is still going.
He said he is proud to work with the actors of West Indian, African-American and African descent. He also worked with actors from the plays 'Skeleton Crew' ,'Trouble in Mind', and 'Confederates'.
Skeleton Crew has as one of its actors, Phylicia Rashad known for her role as Clair Huxtable on the NBC sitcom 'The Cosby Show' and most recently the villain in Netflix's 'Fall from Grace'.
Summit says Cambridge-Delpesche is, "The embodiment of hard work and sacrifice whilst always putting his best foot forward by giving 110% to tasks and opportunities presented… he has crafted and curated a noteworthy and unique interpretation of colour, techniques and applications," the website notes.
Last year, international cosmetic brand, Aprilskin added Cambridge-Delpesche to its roster as a brand ambassador. He is the first Vincentian to represent the brand.
The naturalized American has held a number of jobs in the cosmetic industry in the USA for over 20 years; among them, M.A.C Cosmetics (as a manager and make-up artist); Disney (where he did tours in USA, Asia, Europe and Africa); FELA!, on Broadway (worked with wig mistress Cookie Jordan); Harvard University (makeup designer in the theatrical department) and the New York Philharmonic. In High School Musical (Former Hair and Makeup Supervisor); Bard College (former makeup designer) and the Boston Opera.
His portfolio also includes work with BareMinerals, the Opera Company of Philadelphia, Boston Symphony Orchestra and New York Symphony Orchestra.
His work has also been displayed on international runways, and in shoots, magazines, music videos and on television, while his services have been used by private and celebrity clients and businesses.
Cambridge-Delpesche has worked locally with among others, SEARCHLIGHT's Best of SVG make-up artist winner, Auldine Browne. In December 2017 the duo presented a Make-up Master class tutorial session; and Jean Johnny-Findlay of Mije Personal Development and Advertising Agency.