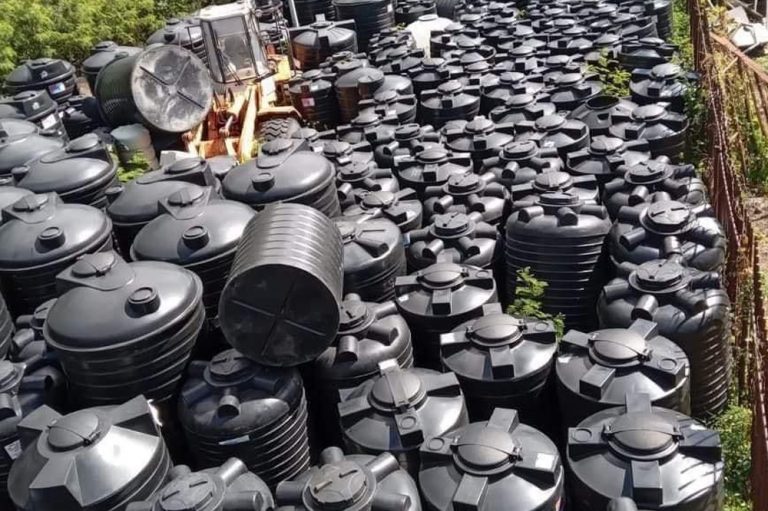 Government buildings, farmers, schools, shelters to get water tanks
Cabinet has decided on specific groups who will be receiving water tanks that were donated after the eruptions of La Soufrière in April 2021.
It has been confirmed that farmers, and government buildings including emergency shelters and schools, will be recipients to the donations. The distribution of these tanks is being coordinated by the National Emergency Management Organisation(NEMO) and the Ministry of Agriculture.
The tanks are said to be stored at various locations pending their distribution. Photos of stacked up water tanks at the Ottley Hall Marina continuing to make the rounds on social in recent times has set the public wondering about the outcomes of these donations.
Further details concerning the distribution of the tanks were not forthcoming up to press time.
When the ash plumes of Friday, April 9, began to blanket the island by the next day, Saturday, April 10, the Central Water and Sewerage Authority (CWSA) was pushed into a crisis with ash affecting their water systems. Most communities across the country which did not have stored water were forced to source water from trucks or underground springs. The days passed as the volcano continued to grind its rocks into fine ash and persons continued to wait for water to flow through their pipes once again.
When this need was highlighted, the cry for help was answered by many neighbouring and local institutions as well as others further afield. The 1st National Bank St Lucia Ltd donated fifty 800 gallon tanks by April 28, 2021. The Government of Trinidad and Tobago sent a ferry on April 13 with supplies that included water tanks. Sagicor, the Kingstown Cooperative Credit Union (KCCU), and the Caribbean Development Bank (CDB) are also among those that included tanks in their relief supplies to St Vincent and the Grenadines during that time.