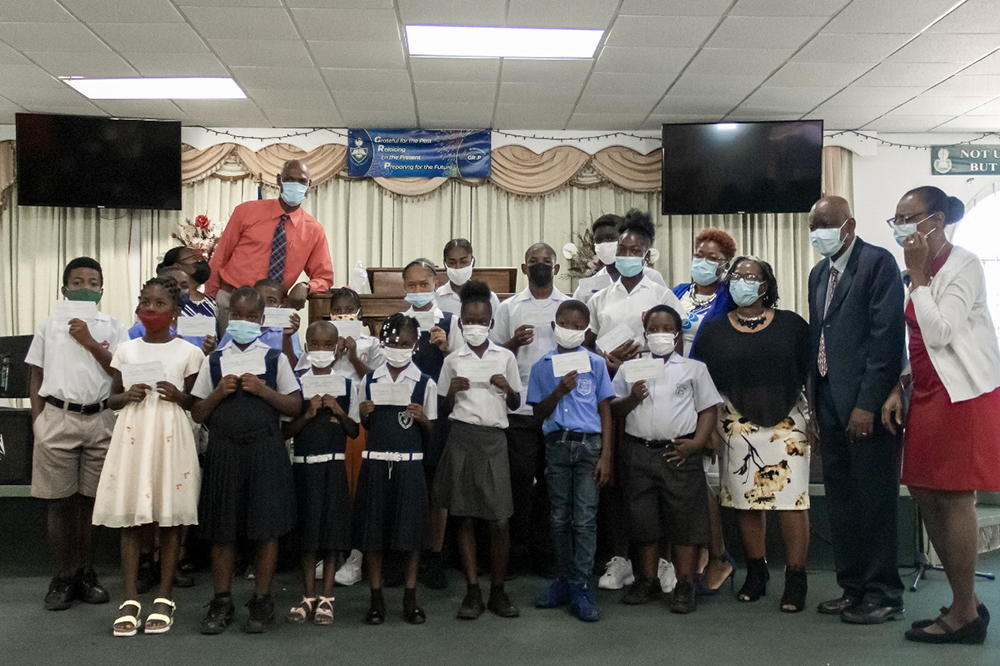 Students receive New Life scholarships
Six secondary school students have received scholarships from the New Life Ministries Scholarship Fund which was launched on Sunday, February 13.
A release from the religious organisation said three of the students are from the North Union Secondary School, and one each from the George Stephens Secondary School, the Georgetown Secondary School and the Emmanuel High School.
 In addition to the six secondary school students, 10 students were selected to receive assistance from the Pamelus Burke Government School, the Colonarie Primary School, the Diamonds Government School, and New Grounds Primary School. 
 
This programme was established by the New Life Ministries Church which is located in North Union which recently embarked on a Community Outreach Programme designed to provide support to selected students from surrounding primary and secondary schools.
 This initiative was conceptualised and supported by Ranella Billy, a member of the New Life Ministries who resides in Canada and was herself a recipient of various scholarships.
 The primary school students will receive EC$800.00 yearly, while the secondary school students will receive EC$1000.00 per year in cash and vouchers for school supplies.  
To be selected, the student must be from a disadvantaged household with preference given to those headed by single parents.
Students must maintain a satisfactory attendance and academic performance, must not be receiving financial support from any other institution, and must exemplify satisfactory behaviour at school and in the community Funding for the programme would be provided by the members and friends of New Life Ministries. The church hopes to assist additional students as funding becomes available. The 16 students were selected from about thirty submissions. 
The New Life Ministries is led by Bishop, Wendell Roberts and Pastor Frederick Browne and has been in existence for about 28 years. The release said the church has always been supportive of students in their educational pursuits. Children of members have received one-time gifts over the years on passing the Caribbean Primary Exit Assessment CPEA; however, this initiative goes beyond the church to the wider community. 
The Mission Statement of the New Life Ministries Church is 'New Life Ministries exists to know God and to make Him known through strict adherence to the Holy Scriptures and by proclamation of the gospel for the whole man.'