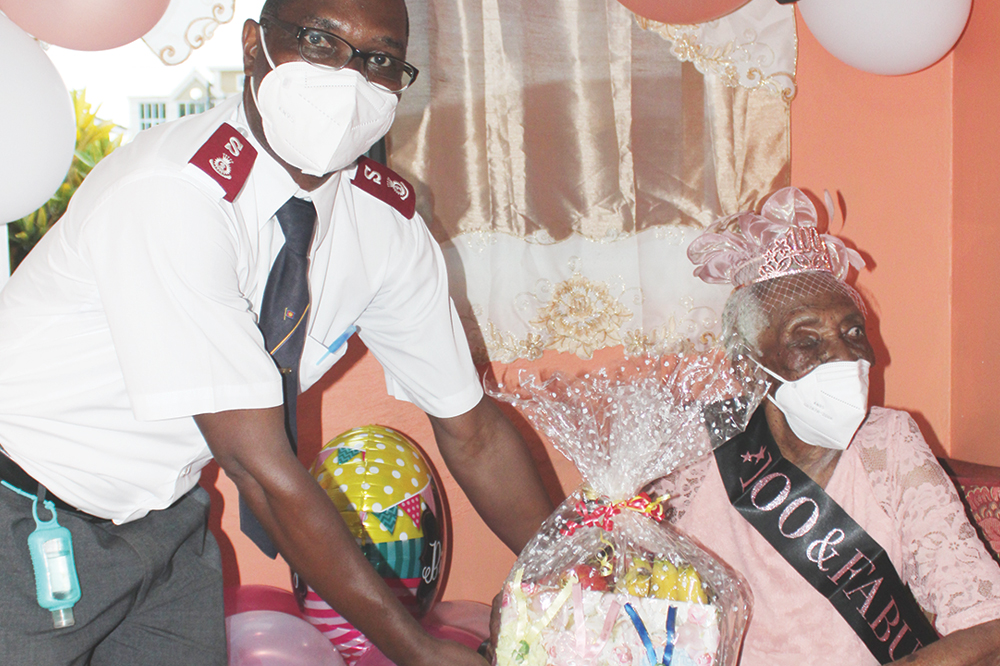 Sister Primus hits100 mark
The Salvation Army's 'Sister Primus' has been blessed with 100 years on earth as at this Tuesday, and uses every breath to praise God and encourage others to give their heart to him. 
Those persons listening admired her for her strong lungs when the oldest member of the Salvation Army, Drucilla Primus, delivered her speech at the celebration of her birthday on February 15.
 
"Thank God for the day, for the years," the Centenarian said, after listening attentively to the dozens of well wishers and family members who transferred love and adoration via Zoom and in person at her home in Paul's Avenue. 
Valentine's Day may have been February 14 but it is possible that Primus received the most flowers this week. There were bouquets and presents and more than one birthday cake filling her home.  
However, it seems that the love that she received is a return of all the love she herself has given over the years. Although she gave birth to only two sons in her lifetime, the mother has taken care of countless other children including nieces and nephews when her sister left to live abroad. 
 Primus spent her childhood in Richland Park where her family used to work the lands, but she has lived in and around the capital for decades, opening her home to others from the 'country' and far places. Her house was reportedly always full. 
She ran her home on her own, and was "chief cook and bottle washer", her 75-year-old son, Stanley Primus, informs, raising everyone by her own hands through laundry and ironing work. 
The Salvation Army member has devoted much of her time to the church. She is a a part of the women's group called the 'Home League' and the visitation group to the sick and in prison, the 'League of Mercy'.
Major Ernest Gachelin said that she has been very, very active and was physically present at church on Sundays until the time that Covid-19 forced her to stay away. 
Her family and friends feverishly worked to put together the celebration on Tuesday but this too was impacted because of Covid-19. Wherein it was intended to be a bigger bashment, the size was scaled down. 
"I've been waiting to have the biggest party for your 100th birthday for like 10 years," granddaughter Desserine Primus told her grandmother via Zoom. She joked that she was waiting to have a big party in Victoria Park, but will plan the real event for her 110th. 
Drucilla had to wear an N95 mask during the proceedings.
Nevertheless, the organisers did not miss out on any details. The kitchen was full of cooks and dishes. Everything in the house was colour coordinated in pink and black, Primus sat upon a seat prepared for her, next to various bunches of balloons and a pink carpet. She wore a special pink dress, was crowned, and bestowed with a sash asserting "100&fabulous".
'Miss Primus' revealed that although she has pain in her shoulder, head and knees and one of her eyes has become "dark" she thanks God for everything.
Family members think that the secret to her long life is that she doesn't drink or smoke and that she eats a lot of fish.
However, the centenarian reasoned without hesitation "Give my life to God. I throw the world one side and take up my cross to follow Jesus because he ah bear so much on a cruel cross for me so I have to serve him to the end."
Her life belongs to God she says.
"I don't know how long I have to go but I will live it for God," she proclaimed.
In her comments to everyone gathered at her home, the 100-year-old informed, "the Salvation Army belongs to me and I belongs to them… And I thank God for every officer that they send here, thank God for the blessings that they put on me."
'Sister Primus' referred to the Salvation Army as "Army of God. Army to conquer this world with fire and blood"
She advised young persons to give their heart to God and to parents she commented that children raised in the Salvation Army and Pastor Errol Daniel's church in Sion Hill are good children.
"I thank God for the years and the months in the Salvation Army, I thank God. I will go until I can't go no more, when I can't go no more I gone to a better place. I left my heart and my soul in the Salvation Army so thank God," she concluded.
Major Gachelin thanked her for all she has done.
"We just want to give God praise for you. I wish we could have at least five like Sister Primus up to this time," he said. 
"Sister Primus is not the first person to reach 100 years in the Salvation Army but I guess it is the first person for reach 100 years in the Salvation Army, St Vincent and the Grenadines," Gachelin informed. 
They presented her with a certificate, a basket and a gift bag.