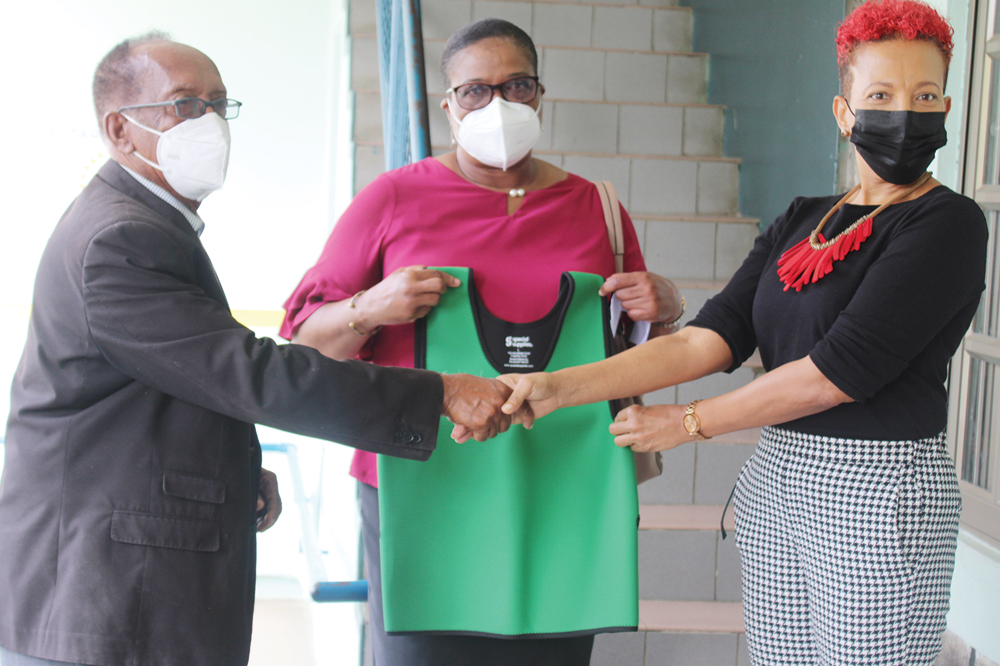 Children with autism at Special Needs school receive special vests
The School for Children with Special Needs was on the receiving end of the generosity of a New York based organisation that donated compression vests to the institution.
Five compression vests, which have been proven to have a calming effect on autistic children, were handed over on Wednesday, February 15 to principal, Naseem Smith by Irwina Phills and Sir Errol Allen, representatives of Roseanne Small-Morgan, the founder of Autism Who Knew (AWK).
"Ms Smith, Autism Who Knew recognises the stellar work you and your team are doing here at the School for children with Special Needs. We applaud your dedication to serving some of St Vincent and the Grenadines' most vulnerable children, and support the work you do to enhance and enrich their lives," Phills said during the brief handing over ceremony.
She also expressed hope that the partnership between the school and Autism Who Knew will be a long, fulfilling one for the benefit of children with special needs.
Allen, who is Small-Morgan's uncle, alluded to the possibility of further donations to include the School for Children with Special Needs in Georgetown and Bequia in the future.
And he expressed pleasure at being able to hand over the vests which will help autistic students to be more focused and organised, to the Kingstown based school.
Naseem Smith, the school's principal expressed gratitude to the Autism Who Knew organisation and said that "dealing with Roseanne is like dealing with family".
"Roseanne knows…she walks the walk because of her experience with her son and she has used that experience to found the organisation but we speak from time to time and when I spoke about our students with autism and some of the challenges we've been having, I was like yes, Roseanne knew," Smith said.
The principal noted that staff and students are sure to benefit from the donation of the compression vests as they will be able to assist teachers in improving instruction and maintaining students' attention for a longer period.
Smith added that conversations are ongoing as there are plans for future training and awareness building with parents and teachers.
"Thank you so very much and you are officially a part of our extended school family," she said.