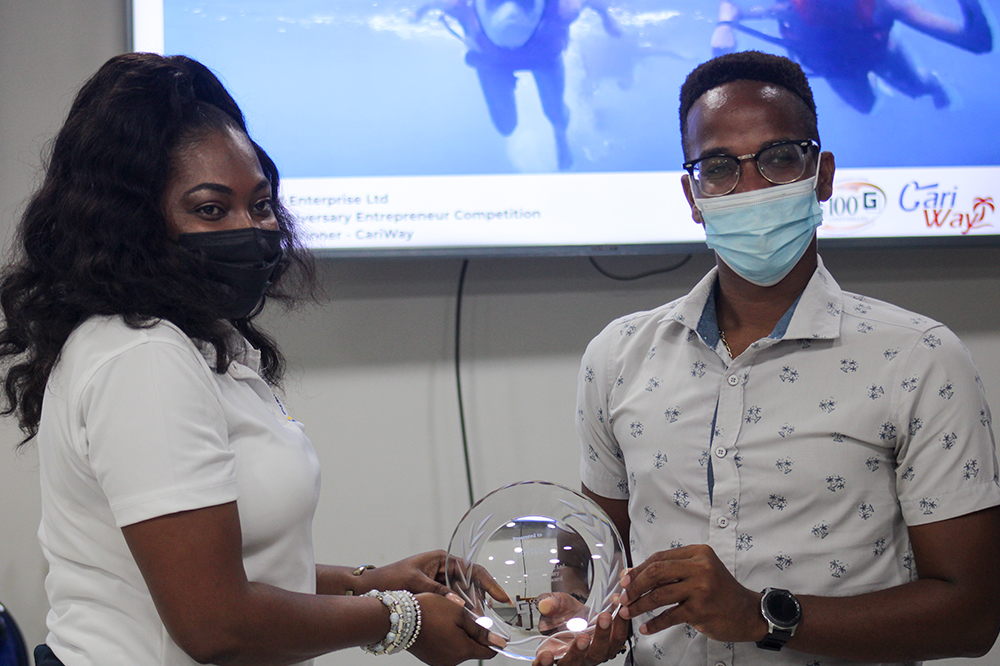 Local entrepreneur wins first leg GEL 100th anniversary competition
Local entrepreneur, Cenus Hinds is one of 10 entrepreneurs around the region, who have won the first leg of the Goddard Enterprises Ltd (GEL) 100th anniversary competition. 
The three-year competition, which seeks to assist entrepreneurs in expanding and developing their small businesses began in August 2021, where regional entrepreneurs were required to submit a proposal of no more than 20 pages of written and financial information. 
Hinds, who is the owner of Cariway, is the only Vincentian among the top 10 finalists and he was awarded with US$5000 and a trophy at a small ceremony at the Coreas Hazells office in Kingstown yesterday. 
"To be clear, this is just the first step. Cenus could actually be the beneficiary of up to US$42,500, if he progresses all the way to the final of this competition,"Coreas Hazells Inc's managing director, Kevin Dickson said. 
Dickson is one of two mentors who have been assigned to Hinds throughout the process.  Joel Providence, Coreas Hazell Inc's former managing director has also been assigned to the entrepreneur as a mentor. 
The current managing director pledged his support to the young entrepreneur and encouraged him to do his best throughout the competition. 
"You have us at your disposal Cenus. We are here to help you, to work along with you and as Vincentians…we want you to win but none of us are the judges but we will do everything to help you to get there so you will not just make yourself proud, but make St Vincent and the Grenadines equally proud…," he said. 
Hinds is expected to utilise funds to develop his business, Cariway which currently offers tourism based activities to its clients. 
Under his submitted plan, the business owner intends to transition to the virtual sphere and provide "a full library of virtual reality tours" which can be experienced locally through Cariway's VR headsets or at home via a computer or smartphone. 
"Personally, while the funds are absolutely amazing and will allow us to pivot our tours to virtual reality, which I think it's a great opportunity because we can do a lot there, not only offer virtual reality tours but also even during these tours, effectively teach history and our culture to persons who may not know these things…," he said at yesterday's ceremony shortly after accepting his winnings so far. 
Hinds' idea comes in the wake of the pandemic, where business owners like himself experienced changes in how tours are carried out. 
And these virtual reality tours are expected to enable travellers to experience a country before they arrive or have experiences that may not necessarily be had due to time or physical constraints. 
He thanked GEL for the opportunity and said that one of the most valuable things about being a part of the competition is being able to work alongside his mentors, Dickson and Providence. 
The Layou resident said he is looking forward to working along with his mentors to learn as much as possible and make his country proud by advancing through the other legs of competition and winning the top prize. 
The next judging period is slated for October 2022, at which time three finalists will be selected from the 10 who have been successful in the first stage of competition. 
These three finalists will each be given US$12,500 to further invest in their businesses. 
The final judging will take place in September 2023, at which point the winner will be declared and awarded with a grand prize of US$12,500.