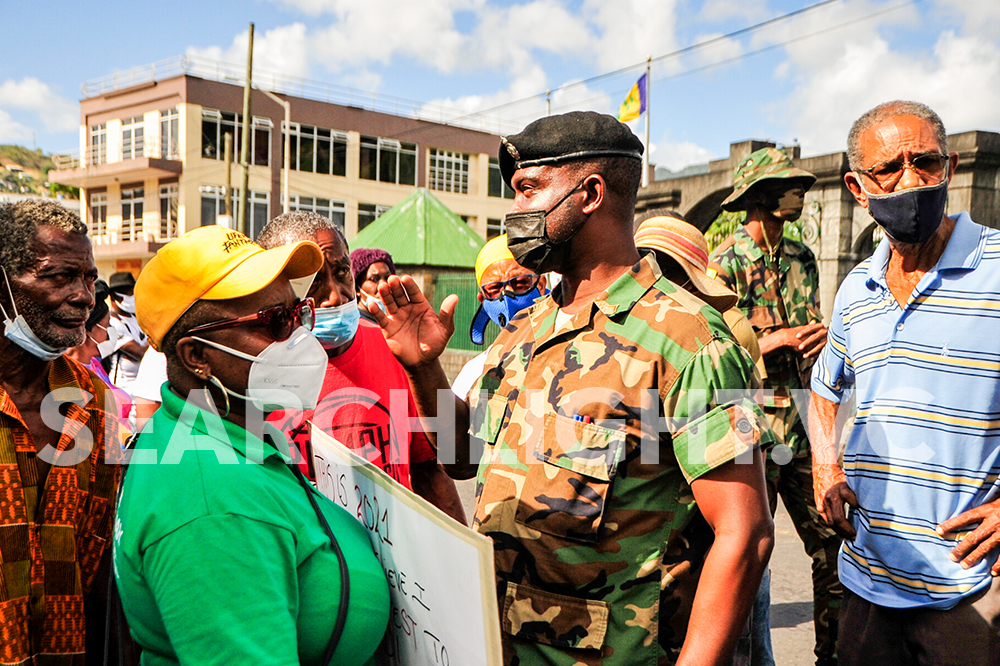 Rights of protesters and police clarified in Act: COP
Commissioner of Police (COP), Colin John has pointed to provisions in the Public Order legislation to explain what are the rights of protesters and duties of the police.
This comes in the wake of the arrest of persons and seizure of placards at a protest on Friday January 14, 2022 in Kingstown.
At that event representatives of the organisers, asked if they had written to the COP to either inform him or request permission, declined to respond and the senior officer at the scene said he was not at liberty to speak with the media.
Commissioner John told SEARCHLIGHT on Tuesday, January 25 that the Public Order Act Chapter 396 of the Revised Laws of St. Vincent and the Grenadines, 2009 addresses the issues of police responsibilities and protesters' rights.
He pointed to several sections of the legislation including Section Five (1) that requires anyone "concerned in organising any public meeting or public procession shall notify the Commissioner of Police at least twenty-four hours before the time fixed for such meeting or procession of his intent to hold such meeting or procession and shall state the time and place for such assembly and, in the case of a procession, the route proposed to be followed:
"Provided that the provisions of this subsection shall not apply to funeral processions."
Commissioner John clarified that "in law, shall means mandatory; there is no ifs or buts, it must be done."
He pointed as well to Subsection 2 of Section 5; as well as Sections 6, 7 and 10 of the legislation in explaining the police actions and what is required of protesters.
Two protesters at the Friday January 14, 2022 protest were arrested and charged for failing to adhere to an instruction to disperse.
Among the issues of contention raised by protesters has been where and when could they legally hold a protest.
Commissioner John said that the law is specific and clear and the job of the Royal St. Vincent and the Grenadines Police Force is to uphold the law.