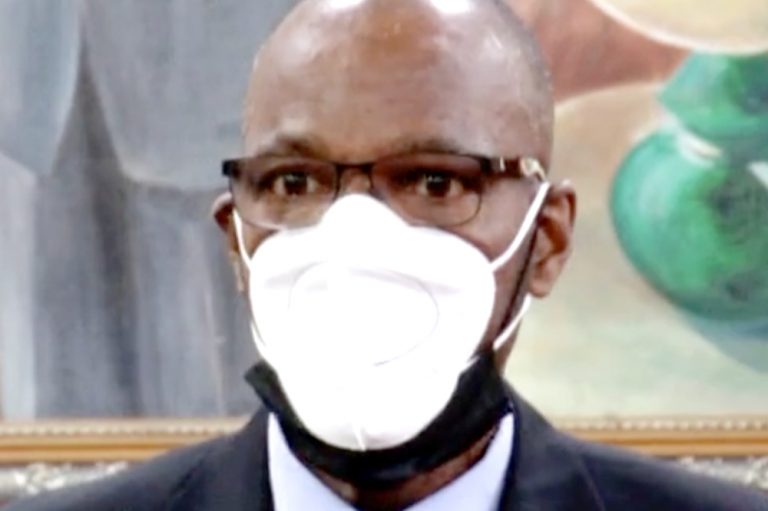 Cummings questions several projects and costs in 2022 budget
Member of Parliament for West Kingstown, Daniel Cummings thinks the 2022 Budget is "a fraud".
"…it really is not worth reading," Cummings told listeners to Nice Radio last week while making his response to the 2022 Budget live on air.
On Friday January 14, government senator, Rochard "Pitbull" Ballah, who had tested COVID-19 positive was replaced with former government minister, Rene Baptiste to ensure there was a quorum in the House of Assembly to allow for passage of the 2022 Budget.
Ballah was among eight government Members of Parliament who tested positive for COVID-19 that week which left only six members on the government benches.
And with the Opposition deciding not to attend the remainder of the budget debate session, there would not have been enough members in the House to pass the Appropriation Bill.
The NDP MPs decided instead to do their presentations on Nice Radio. Cummings said last Wednesday that the government's $1.33 billion fiscal package for 2022 is important and involving the people in the process is also important, something that was not done.
Cummings, who shadows portfolios of health, transport and works and port development for the NDP, said a lot of things are not right with the 2022 Budget, among them, the land and surveys department making preparation to purchase a vehicle for EC$125,000.
"Would you believe that this appears in the Budget 2022 and they said it is going to be executed, completed in 2024.
"Are you hearing me? The note says to purchase one double cab pick-up for the lands and surveys department in 2023, but in 2023, they have $125,000, in 2024 they have $125,000 and in 2022, zilch, nada, nothing.
"In other words you want to buy a vehicle, just purchase a vehicle, this doesn't involve any construction or nothing like that, just to purchase the vehicle, they put it in the Budget two years in advance and in the year when it first enters in the Budget, 2022, you make absolutely no provision," Cummings pointed out.
"You want to tell me this a real Budget? That this is the Budget of a government? That even the purchase of a single vehicle in the Budget, but no provision in the year you put it in the Budget."
He said issues like this paints the Budget as a "bloody joke" that "makes no sense at all".
Cummings charged that the government is broke and this is evident in the fact that they have to borrow money from a local source to fund the implementation of the Caribbean Development Bank (CDB) Project Implementation Unit, a contribution that the government should be making.
"You want a clear indication of a government that is totally broke? They can't do anything unless they borrow or beg, that's what that points out," Cummings said.
He noted that a portion of the capital estimates of the Ministry of Works include the Fort Charlotte bridge project; two components, $370, 000 estimated for 2022 and $970,000 for execution.
"The $970,000 is for the actual execution of the project, that is the restoration of the bridge leading to Fort Charlotte, nearly a million dollars for a simple bridge, but they are spending another $370,000 for the design of that bridge.
"You want to tell me that in a country that boasts about people, that the Ministry of Works cannot design a bridge going to Fort Charlotte? That you have to pay a firm coming from Barbados to design a little bridge leading to Fort Charlotte?" Cummings asked.
He said what is "even more spectacular" about the project is that is has been a long time coming, first mentioned in 2008, when Rene Baptiste was the Member of Parliament for West Kingstown.
"Today we are in 2022, 15 years later the project now appears to be going forward and hopefully would be completed within the next two years, hopefully." Cummings said he thinks the project could have been designed and built within the Ministry of Works which has a cadre of engineers, architects, technicians and other professionals and noted that the Central Water and Sewage Authority (CWSA), of which he was once general manager, executed their head office project in-house and that could have been done with the Fort Charlotte bridge, therefore saving $370,000.
"That is the type of stuff you get in the Ministry of Works," Cummings commented.
He said that Minister of Finance, Camillo Gonsalves said in his Budget address that the government is now going to establish, in addition to the project management unit for the CDB funded projects, two more project management units; one for other sources of funding of projects (not the CDB), and a unit for European Union (EU) funds.
Cummings said he finds this comical as over the years monies have been available for projects and could not be drawn down because the persons charged with responsibilities of this nature were not able to do their jobs.
He said the persons attached to these units should not be politically appointed as these persons should have a full understanding of how these agencies work.
Cummings also spoke about a $5 million loan for the Argyle International Airport (AIA) for resurfacing works on the runway and taxiway and thinks that is a lot of money to be spent in such a short space of time on a surface that is "relatively small" and handles "infrequent flying".
He said the total cost of the project is $3.96 million so he is concerned that it says $5 million will be spent in 2022.
"You are going to spend in 2022, $5 million and remember you know when I tell you this Budget is fictitious, this $5 million is carried forward into all the project expenditure but yet they tell you the estimated project cost is not $5 million plus, is $3.2 million.
"Now who is fooling who? If you going to spend $5 million in one year and you tell me the total project estimated cost is $3 million, good Lord, can we put any credence to anything else in this Budget? Cummings questioned.
The NDP politician said in his opinion, accountability has always been a problem with the current regime.