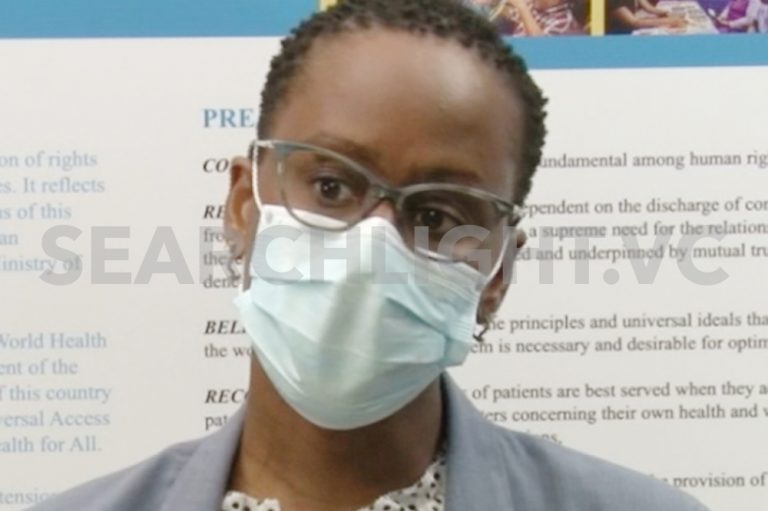 COVID-19 positive vaccinated numbers on the rise – CMO
Fully vaccinated persons account for almost 45 per cent of those who tested positive for COVID-19 infection using a PCR test between December 29, 2021 and January 11, 2022.
This is according to Chief Medical Officer (CMO), Dr Simone Keizer-Beache, who gave a breakdown of the figures in response to a question posed last Wednesday evening during SEARCHLIFGHT's Facebook live programme, The Press Room.
The CMO said that there were between 400 and 600 cases recorded via PCR testing during that two week period following the Christmas break, and just over 250 of those cases were in fully vaccinated individuals.
This works out to about 44 per cent of those cases.
"That's a lot. We also need to consider however that for January alone, we are seeing, we had about 700 antigen positive cases," Keizer-Beache said.
"So that 44 per cent does not take into consideration those 700 plus cases, but we definitely are seeing a larger number of our cases being vaccinated persons and this again is typical of the Omicron and the fact that omicron has been found to be more capable of affecting persons who are vaccinated, especially if they have been vaccinated more than five months ago and have not received their booster so we are urging persons to get the booster; but its typical of what is being seen elsewhere."
As a result of the most recent spike in COVID-19 cases which has seen a number of infections in vaccinated persons, some Vincentians have questioned even more, the necessity of being vaccinated against the virus.
Two of the 90 COVID-19 related deaths recorded locally to date were fully vaccinated.
"From the onset, we said that even if you take the COVID-19 vaccine, it's not gonna stop you from getting the infection. We made that very clear. What we are seeing now is that those persons who are vaccinated and they're becoming infected with the Omicron variant — not just in St Vincent but around — is that their severity of the disease is much milder or sometimes non-existent," the acting Chief Health Promotions Officer, Shanika John said.
John added that fully vaccinated persons continue to benefit from having their chances of hospitalisation and death being significantly reduced as a result of taking a vaccine.
This, she said is demonstrated locally in that while there is a significant increase in infection among fully vaccinated individuals, hospitalisation and death is still significantly lower in this group when compared to persons who are unvaccinated.
The Health Promotions Officer also noted that this situation is also being experienced in many other countries around the world as nations continue to explore measures necessary to chart the way forward in the pandemic.
Keizer-Beache also made a case for the COVID-19 jab, noting that in recent times there have been more admissions of children with COVID-19 infection.
"We have to be very careful about that. When you get vaccinated, you're not getting vaccinated just to protect yourself, you're getting vaccinated to protect everybody else around you and we really need to get vaccinated to protect our children and produce the vaccine cocoon as much as possible to protect those others," she said.