Posted on
MV Gem Star II comes to the rescue of MV Admiral II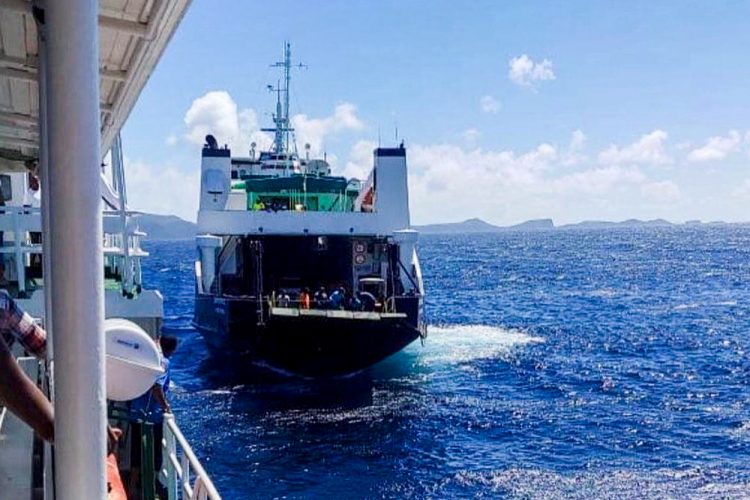 The MV Admiral II experienced mechanical problems during its midday journey on January 19, but received a lending hand from a sister ferry the MV Gem Star II, which wasted no time in coming to its aid.
After a long hiatus the MV Admiral II recently resumed operations in December of 2021, carrying passengers and cargo to and from Bequia and St Vincent.
The return was appreciated by Bequia resident, Sabrina Mitchell in her tribute during the state funeral of her father, the late Sir James Mitchell noting that it would make her father smile to hear that it had returned.
However, the ferry has been forced into another short break following an issue that arose mid-channel on Wednesday.
The Admiral II was on its regular 11:45a.m trip from the mainland to Bequia when the engineer informed the captain that the gearbox was giving some issues.
They stopped to assess the problem and realised that the hydraulic pump to the gearbox was the cause of the issues.
One of the owners of the vessel happened to be on board and he spoke with the passengers, informing them of what was happening.
They refunded all on board, and offered them a drink from the bar.
"Our main priority was to make sure that our passengers were comfortable and not left in a panic. It is very important for us to inform them about what's going on," office manager Sayie Adams noted.
The seas were said to have been calm, and the tide was moving in their favour.
The owner called a tug boat and the office called the Gem Star to ask them to be on standby.
"Gem Star, however, did not wait on standby, they took off from Kingstown and they came and they towed us into Bequia, they helped us dock at the wharf," Adams stated.
The first issues were noted at around 12:10p.m, and the ferry docked in Bequia at around 2:30/2:45pm.
The ferry service which operates with one vessel, is currently out of commission but they are hoping to get the hydraulic pump by early to mid week next, and resume operations by Friday or before following a test run.
"I'd like to make sure that the public knows that we are not gonna stop, we're not gonna put them in a position where we're gonna be off the run again, we're gonna do every single thing that we can no matter what obstacles come in our way to keep going, to keep on the run, to be loyal to them," Adams promised.