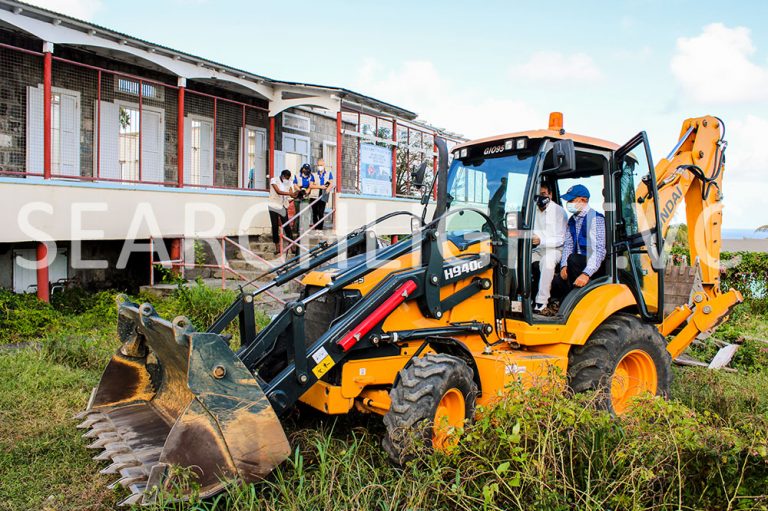 Japan's Ambassador breaks ground on home for abandoned evacuees at Orange Hill
Work has officially started on a home for the elderly in Orange Hill that will house about 50 senior citizens who were abandoned by relatives after the explosive eruptions of La Soufriere in April 2021.
The project, which is expected to be completed by April this year, is being funded by the Government of Japan and implemented by the International Organisation for Migration (IOM), and the Global Emergency Relief Recovery and Reconstruction (GER3), in collaboration with the Ministry of Health.
Japan's ambassador to CARICOM, Tatsou Hirayama officially broke ground on the project on Tuesday, January 18 during a three-day visit to St Vincent and the Grenadines (SVG).
Despite Japan and St Vincent and the Grenadines being separated by thousands of miles, Hirayama said "we are still same island countries".
"…which means Japan is also from time to time by natural disasters that include earthquakes, volcano eruptions, typhoons — or you might call it hurricanes — landslides, and so on. We know the dreadfulness of disasters and we always try to make ourselves more prepared, more resilient and less vulnerable to possible natural disasters."
The ambassador noted that disasters are often unexpected, happening at anytime and in any place, which is why countries that are prone to severe disasters must "co-operate in assisting in saving lives and also in providing emergency relief assistance, and finally in providing reconstruction efforts to go back to normal life for the affected people".
The government of Japan has assisted SVG in various ways since last year's volcanic eruptions and has provided almost US$1.6 million in collaboration with UN agencies, the World Food Programme (WFP) and International Organisation for Immigration (IOM) for projects on the ground.
"We are very glad to see the result of our assistance on site and also meeting people who are affected by the disasters but have benefited from our programmes. That makes ourselves happy because we're always, as I said, when disasters happen, we have to help each other, co-operate with each other…" Hirayama said.
This Orange Hill facility will serve as an extension of the Lewis Punnett home, which was temporarily relocated to Kingstown while restorative work is carried out on the facility at Glen.
Departmental manager at the Lewis Punnett Home Sister Marie Davis, also delivered remarks at Tuesday's ground breaking event.
She explained that the abandoned elderly could not currently be housed at the Home's temporary location in Kingstown because of its capacity. They therefore had to be placed at the Golden Activity Centres in Buccament and at Black Point.
"This initiative will provide the necessary accommodation for the elderly," she said. "This project, after completion, will be providing care using the holistic approach. Therefore, every aspect and their basic needs will be facilitated.
Davis told SEARCHLIGHT that the abandoned persons ranged between 50 and 90 years old and have various disabilities.
She also said during the ceremony that most of them were from the North Windward constituency.
And she expressed gratitude to the Japanese mission to St Vincent and the Grenadines for their "kind deed" in funding the project.
Before the official start of Tuesday's ceremony, Programme co-ordinator of the International Organisation for Migration (IOM), Jan-Willen Wegdam, led the ambassador on a brief tour of the building which is to be renovated.
Wegdam highlighted some of the work that will be done to transform the historic former plantation home of Dennis Barnard, into an eco-friendly, welcoming and functional space for the abandoned elderly who will be housed there.
In his brief opening statements, the IOM representative said architects and engineers are already working in the background to design the space and make necessary calculations to ensure the project is executed on time.
"We want to use as much as possible, solar systems; recycling of products and materials. Some parts are going to be demolished and we're gonna see how we can reuse these materials in the design of the final building," he said.
"It's a challenging project because if you're going to refurbish and retrofit an existing building, you never know what pops up but we are confident that we have the right engineers on board and the right contractors…to make this a beautiful home."
Wegdam noted that Prime Minister, Dr Ralph Gonsalves is enthusiastic about the project and has pledged the government's support in the completion of the facility and its running costs.
He said as well that other donors have shown an interest in making the surroundings beautiful and functional.
Project manager from GER3 and engineer specialising in sustainable architecture, Karla Paz Sans said the building was brimming with potential and would serve as an example how to make things last.
"Two of the main pillars of the project are resiliency and structurally wise. This means this building is to work. It doesn't matter if there's another volcano, if there's another hurricane, this building is to last. It needs to be robust. It needs to be strong," the engineer said.
Paz Sans added that this was an opportunity to improve health care facilities and raising standard to not only deliver a building, but one that focuses on a holistic approach by catering to the spiritual, emotional and social needs of both residents and the community as a whole.
"It will become a safe and healthy environment for the elderly people that have been affected by the volcano…they really deserve to have a safe space. They deserve to have a peaceful and healthy environment," she said.