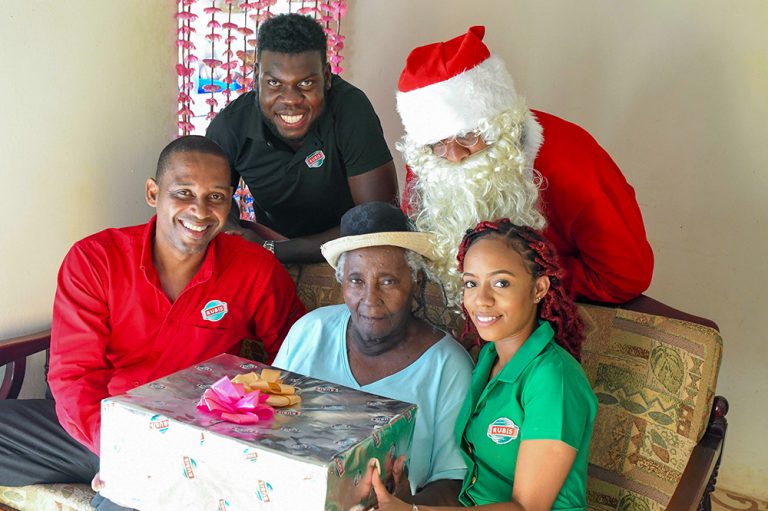 Rubis donates food hampers to volcano affected communities in North Windward
Several elderly and vulnerable persons in areas affected by the 2021 volcanic eruptions received food baskets from Rubis West Indies Limited just in time for Christmas Day.
On Wednesday and Thursday, December 23 and 24, members of the Rubis team led by country representative Elroy Edwards, journeyed to Fancy, Owia, London and Sandy Bay, where they made the distributions to needy persons, a release from the company states.
Children of these communities were also treated to a visit from Santa Claus who brought joy with the distribution of snack bags and sweets.
One of the recipients, 88 year old Paulita Lockhart of Fancy,on seeing Santa said she felt good about the visit.
"Santa come to Fancy? Santa has visited me on my birth month December. I only see Santa on TV but Santa is in Fancy.  I am grateful for whatever Santa brings me. I did not expect this! Santa even brought me sweetie and chocolate. I am so happy," she said.
Sandy Bay resident Clifford Francois, a man in his 70s known as "the little man", was the beneficiary of a food hamper.
"Thank you very much Rubis and thank you Mr. Edwards. I've known Mr. Edwards since he was working at T. Geddes Grant which is now Courts and he has always been helpful.
"Years later and he is still the same and I'm grateful especially at a time like this. I've just had my prostate taken out which has improved my health, but I've recently suffered a stroke which is still affecting my function so to be receiving this at such a time is so nice. God bless your company and its doings," Francois said.  
Marjorie and John Cordice of Sandy Bay also received food items and commented: "I love that Rubis takes care of us especially the elderly people.
"It is very good what Rubis is doing extending love to us in the Red Zone that was severely impacted by the volcano. I used to work with Dipcon Engineering and when we did business with Rubis they had good service. It's heartening seeing them extend it during this holiday season, is nice," said the 75 year old woman.  
Elka Batiste May of Sandy also expressed gratitude for the food package.
"Our house got severely damaged during the volcano, so we are using stone to hold the roof but we still getting wet and my brother and his disabled child live with us because their house got completely destroyed and I am helping take care of him. This food hamper would certainly let off some of the burden from us," Baptiste told the group.
After the deliveries, Lystra Brackin, a teacher who is grounded in the community said persons were chosen because some of them are unable to adequately provide for themselves.
This is the eighth consecutive year that Rubis is giving away food hampers to elderly and disadvantaged persons in the community.
They also visited the Mental Health Centre as part of their Christmas outreach initiative where they handed over hand sanitizers, hand sanitizer dispenses and food stuff.
Edwards said "having this opportunity to give back to the communities that have mostly been impacted by La Soufriere Volcanic eruptions is truly one of the best feelings anyone can have.
"During the volcanic eruption and the Covid pandemic, we have seen countless families affected by loss of livelihood, jobs, homes, even loss of family members. To be able to provide even a modicum of happiness and Christmas cheer to one person this Christmas brought us great joy but we know we would have done so to over 50 needy persons and numerous children in the North Windward community".