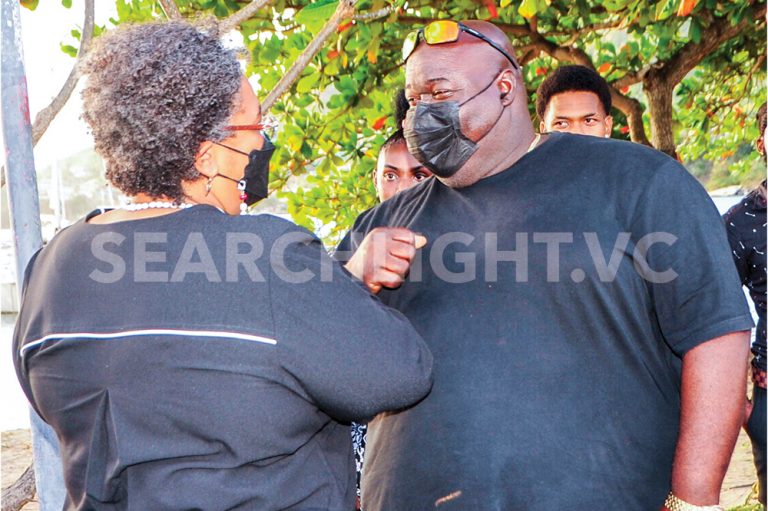 PM Mottley catches up with longtime friend on Bequia
She flew in to attend the funeral of former Prime Minister Sir James Mitchell who was laid to rest in Bequia on Saturday, December 18, 2021.
Following the funeral service as Mia Mottley exited the gate to the Anglican church yard, she crossed the road and was heard asking for 'African'. When she saw him the two touched elbows and Mottley gave him a fist thump on his chest.
Winston Simmons, who is known as 'African', told SEARCHLIGHT that he has known prime minister Mottley for about 15 years, "since she was an ordinary MP; when she was attorney-general. Whenever she came to Bequia for vacation which was frequent, she would stay at the property I manage," he shared.
"We have a lot of mutual friends including Sir James (now deceased). When she came to Bequia, she and I would take Sir James to lunch, and we would have an enjoyable time. I would also take her sailing."
Simmons, who is 51 years old, manages a property on Princess Margaret Beach, and the tourism industry is his business. He is also the skipper of a boat which he uses to take the Barbados Prime Minister sailing around the Grenadines islands.
Simmons spoke of three public figures who have won his admiration; two are deceased; former Governor-General of St. Vincent and the Grenadines, Sir Frederick Ballantyne, "for he and I were friends. No matter where he was and I called him, he would answer his phone."
The other was "Sir James who would always answer whenever I called. At the end of the conversation, he would tell me 'thanks for calling'."
The Barbados Prime Minister, Mia Mottley is the third person whom Simmons greatly admires and "it does not matter what the occasion is, when I message her she would respond."
Simmons said he remembers Sir James showing off his cooking skills when Mottley visited Bequia. He said that he will miss speaking with Sir James who taught him a lot about life.
The unassuming Simmons also spoke of developing friendships with a number of persons in the Caribbean as a result of his friendship with Sir James and Prime Minister Mottley, including politicians and the ordinary folk.
Simmons spoke proudly of the friendship he has with the Barbados leader noting that their friendship supercedes the politics of the day.