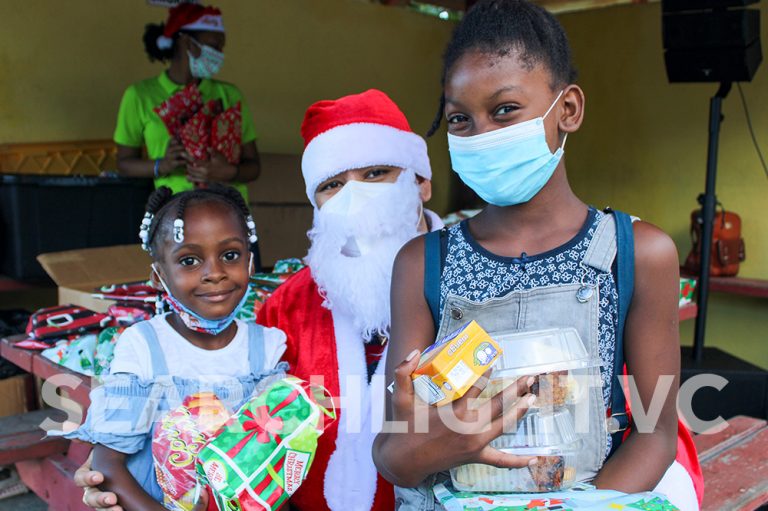 Front Page, News
December 31, 2021
Hairouna Hope brings joy to the children in the red zone
living in the volcano 'red hazard zone' benefited from the Christmas efforts of non-profit organisation 'Hairouna Hope' last Thursday, December 23.
The meticulously planned event was a COVID-19 protocol regulated affair at Owia Salt Pond Recreational Park, where invited children arrived in buses at half hour spaced intervals.
Children from pre-school age upwards filed in all afternoon and into the evening.
They were first prayed over, in a special section with the pastors, reverends and lay ministers who had volunteered their services to lend an ear to the concerns and desires of the little ones.
The kids would then rotate to the goodie bag section where handmade Christmas cookies, and candies lay in wait. These bags also had a card with phone numbers should the children be in need of any counselling.
Moving on to the next socially distanced section, the young participants were greeted by more 'Hairouna Hope' volunteers/members, who handed them catered snacks.
With their hands already full to capacity, they had to find room to fit a wrapped gift, handed to them by Santa Claus.
Finally, freshly made cotton candy and popcorn were given to them as they exited the gate.
The background music was set by DJ Elliott 'Black Ice' Samuel on the Christmas tunes.
However, unknown circumstances led to some children not showing up.
Therefore, cars on their way back dropped off snacks and goodies for some excited kids in areas such as Sandy Bay.
Ten-year-old Magum resident Swiss Davis, standing outside the gate of the Owia Salt Pond while waiting to go into the event, said that he was looking forward to attending with his friends.
"I am feeling elated and nice today," he shared.
He explained that it was "…kinda special because I come up here with all of my friends since school closed so I kinda like it."
With his last Christmas affected by COVID-19, and he did not know his plans for Christmas this year, he said that his message to Vincentians would be "Stay positive and have a Merry Christmas. Happy Christmas."
Davis was among a group of students who had attended from the Tourama Government School in Overland under the oversight of principal Ingrid Charles.
Giving an insight into the damage the school sustained when La Soufrière unleashed its fury in April this year, the principal noted that there was minor damage which had been dealt with.
"The only problem we have still is we have a little embankment there. But they have changed the road, the route where the children used to walk, so they have made another road for us. We… are hoping that that original road will be fixed," she disclosed.
She said they have been trying to get the students back on track with their school work.
"You know some of them are little traumatised too… So we have to keep coaxing them and coaxing them but bit by bit they are getting back," the principal revealed.
When asked about the event, she said, "Today they are very excited."
"…I have other children who have been asking me why they were not selected but I said everybody can't go because they are trying to see how much they can bring light and joy and Christmas cheer" to those who especially need it, Charles revealed.
President of 'Hairouna Hope', Dr Conrad Nedd, explained to SEARCHLIGHT that the group has a history of about four years of activity.
"Most of what we were doing previously was volunteerism. But as we began to get involved in working along with other groups, especially overseas missions and so on, then we formally incorporated and registered the group as of early this year."
Its beginnings are found in the efforts of the Young Leader's group in which his son, Delaan Nedd was involved. The group had enlisted his help as a physician to visit elderly shut-ins to give care as well as provide funding for wheelchairs and medication. 'Hairouna Hope' has continued this activity.
Their focus has been medical missions, and they have worked together with the Ministry of Health to co-ordinate patients for no cost brain and spinal surgeries conducted by a Foundation from the United States of America.
The charity also helps institutions such as the Liberty Lodge Boys Training Centre with tangible items and provide a lending hand to complete tasks for them.
Following the eruptions, they were among the groups that travelled to communities in the red zone to distribute packages put together from local and international donations. They also identified persons to who were given specified medical care .
However, this is the first time that Hairouna Hope has done something specifically targeted towards the children in the affected area.
"We felt – if you look at the geography of the island – on the Leeward side, Chateaubelair is almost at the same distance from the volcano as Georgetown, and so it's really the communities North of Georgetown that would have suffered the most from the volcanic eruptions and I think that because of that we have targeted this particular area, They really did lose quite a lot," the medical doctor said.
The goal was to "bring some cheer just to show the children that we care about them", he indicated, which is why they included the special booth "…where we just share a Christmas blessing or a prayer just to let children know that we love them, that God still loves them."
"…We think that meeting that emotional and spiritual need is just as important as meeting physical needs as well," he added.
Nedd said that the activity is definitely one that could become annual, just as the back to school activities they also conduct, but perhaps alternating the communities.