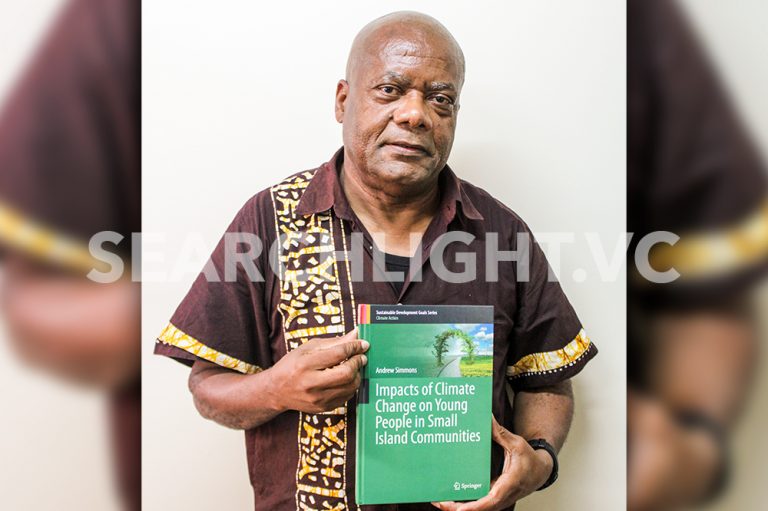 Climate change action must prepare the next generation with new skills says environmentalist
by Bria King
A Vincentian environmental activist is hoping that his publications on climate change can be used to inform policies to develop and adapt skills of local youths in an effort to foster a more sustainable future.
Dr Andrew Simmons, who hails from Enhams published his latest book, Climate Change Adaptation Framework and Youth Entrepreneurship in West Africa in October 2021.
In a recent interview with SEARCHLIGHT, Simmons explained that this book resulted from work he was doing in Sierra Leone, where the government had asked him to implement research carried out for his doctoral thesis. This was also the launching pad for his first book, Impacts of Climate Change on Young People in Small Island communities.
The research for that first book, which was published in 2020 was done in St Vincent and the Grenadines (SVG).
"Outside of people who are doing tertiary training…I am hoping that the government of St Vincent will do two things: one, develop a national policy. The other thing would be to, in essence, get this book or similar books into the national curriculum…." Simmons said of his books, which are considered to be academic reference pieces. "My work in itself, looking at the skills, you know, it's not just the climate change, but how do we develop these skills and so on. How do we prepare the next generation because the thing is, the jobs that exist now, may not be in existence in the next 5, 10 years. And if they are in existence, they will be in a completely different form. So you need new skills, new things…"
Simmons' journey as an environmentalist is rooted in his home country, where he was involved in the formation of JEMS in the 1970s; a volunteer community development organization that utilised literacy and skills programmes to motivate communities to protect the natural resources of SVG.
He was also involved in the creation of the Caribbean Youth Environment Network (CYEN), which is headquartered in Barbados and serves many countries across the Caribbean Region.
The environmental activist has also received several prestigious international awards including the Goldman Environmental Prize in 1994.
World nations have been meeting for years at COP, with the aim of finding resolutions that will stem the impacts of climate change.
Having attended these meetings in the past, Simmons, like many other environmentalists, believes that these meetings are more or less "talk shops".
He told SEARCHLIGHT that what is needed is full co-operation and lots of funding if any real change is to take place.
"…I believe that we can stop it but it needs full co-operation, it needs partnership and it's not just the government alone but everyone; every individual, government, churches, tertiary institutions, NGOs and civil society. All of us have to come together and…try to do something to stem that. And it needs money, a lot of money. For me, 100 million would not be enough," Simmons said.
He added that Small Island Developing States lack strong representation in matters relating to climate change "because we are the ones facing the brunt. We contribute the least, less than 1 per cent but we're getting 90 per cent of the impact…"
And it is for that reason that the Vincentian environmentalist has spent a significant amount of time curating his academic reference works, which are available for sale on all online bookstores, including Amazon.
Simmons said that proceeds from his second book will be donated to two organisations in Sierra Leone; one that he set up himself using music and culture "as a vehicle for bridging male marginalization in Africa" and the other is a church group.
On his most recent visits to SVG this year, Simmons also donated copies of his books to the St Vincent and the Grenadines Community College and the National Public Library.
While his works are academic, Simmons assures that they are simple and easy to read by the masses.