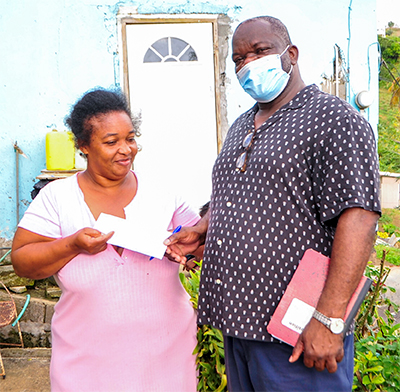 Cane Hall informal settlers given chance to own land
After years of occupation as squatters, a number of residents of Cane Hall have been given the opportunity to own the lands they have lived on as informal settlers.
That came last Thursday December 23, when Parliamentary Representative for West St George, Curtis King beaming with pride, handed out letters advising the residents of the offer to them to purchase the lands.
Many have lived on these lands for two to three decades and King said he was happy to be able to bring closure to this issue which would allow the residents to finally own the land on which they have constructed houses and raised families.
Following much debate over the selling price which was first placed at EC$3.00 per square foot, Cabinet on Wednesday December 22, 2021 took the decision to finalise the selling price at EC$0.50 per square foot.
The plots offered to the residents measure 2,507 square feet, and they have five years to pay. The time spent squatting on the land has been voided, and between December 23, 2021 to December 23, 2022, each prospective land owner has been offered a number of options.
This seemed to have come as a surprise to a number of residents with one saying that he was expecting them to pay something for the land but for the government to give them all those years gratis is most welcome.
The resident, whose mother would be the title holder of the land said he is confident they will be able to pay within the time given.
In addition to entering into a Purchase Agreement with the Lands and Surveys Department within the Ministry of Transport, Works, Lands and Physical Planning, each prospective land owner can pay the total amount in full within the 12 month period.
Alternatively, the amount can be paid in instalments, with one-third paid within the December 23, 2021 to December 23, 2022 period from the notification of sale, and the balance in four instalments at an interest rate of 3-percent.
The letters, signed by the Chief Surveyor Corliss Murray, were handed to 26 prospective land owners by the Parliamentary Representative assisted by Angus Dabreo the chief bailiff attached to the Lands and Surveys Department.
They were received in many cases by children or siblings of the prospective title holders, many of whom were not at home at the time of the ceremony.