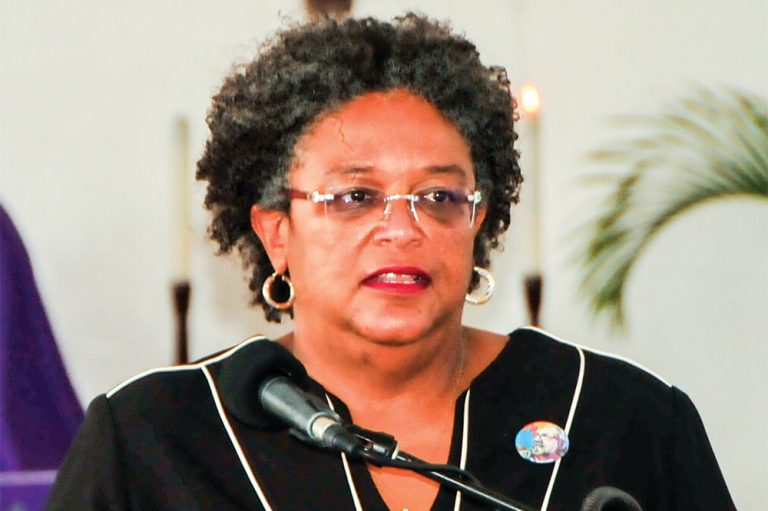 SVG truly blessed to have had Sir James says Barbados' PM
Former prime minister, the late Sir James Mitchell has been credited as being one of the many people in the Caribbean who has made a defining difference to the global civilisation.
This was the conclusion of the prime minister of the Republic of Barbados, Mia Mottley,who travelled to this country last weekend to pay tribute to the political icon, who died in late November. 
"I want to say that in this region we have been blessed. We have been truly blessed and your country has been blessed. Your country has produced, as has other islands in this region, but continues to produce people, who in spite of our smallness, in spite of the limited size, continue to show the world that we can be some of the greatest contributors to the global story and to the global civilisation," Mottley said on December 18, while delivering the feature tribute at the second church service of Sir James.
"Anyone who spoke to Sir James knew of the many exploits in the Commonwealth, his involvement in situations in Africa, his being present when the Commonwealth took the decision to suspend Nigeria and the role that he played in trying to pull Gambia and Sierra Leone within the Commonwealth Family of Nations at the time." 
Mottley revealed that her relationship with the former parliamentarian stemmed not from her political career, but from her love of Bequia, which brought them both together year after year. 
The Barbados prime minister said though she and Sir James are not of the same generation nor share the same political ideologies still they were able to develop a bond that she cherished "in a very real way". 
She noted that his commitment to Caribbean Civilisation never ceased in giving her the inspiration that this generation of politicians need to carry on from those who have gone before. 
"The truth is, we shared a passion for this Caribbean and we shared a passion for this Caribbean sea. I would swim with him most afternoons and after that we would come and we would have a few drinks and the stories would continue. And I would go in the morning by Gingerbread, and we would sit for hours and talk and talk," Mottley said of her visits to Bequia. "And in particular, when I was going through some of the difficult times in opposition, it was Sir James Mitchell who anchored me and allowed me to summon the courage and to stay the course and to do that which was necessary." 
As citizens of the Caribbean, Mottley reminded everyone of their duty to tell the stories that define the region, moreso what unites its nations rather than what divides them. 
"I ask all of us in this region to recognise that we have a duty to tell the stories of our leaders, not just within the geographic boundaries of our individual islands, but across this Caribbean civilisation. We have been able to produce persons of great renown, and Sir James Mitchell stood as one of the great, Caribbean Renaissance men. I say renaissance because you could not know the man without being taken in by his charm and his charisma. You could not know the man without understanding his appreciation for beauty. You could not know the man without understanding the extent to which he could equally be happy with the very basic things of life…" 
And in expressing condolences to Mitchell's family, she acknowledged that children of politicians often have a difficult burden to bear in the absence of a parent pursuing politics. 
Having gone through it herself and witnessed it in other aspects, she expressed an understanding of how challenging it can be to be the child of a politician. 
"I believe that his family would do well to recognise that in the same way he spoke to others, and in the same way he led, that he always, always spoke of you guys. I knew of you before I knew any of you…I ask you to remember that his absence from you was simply to help build a better place for you and all the rest of St Vincent and the Grenadines," the Barbados leader said.