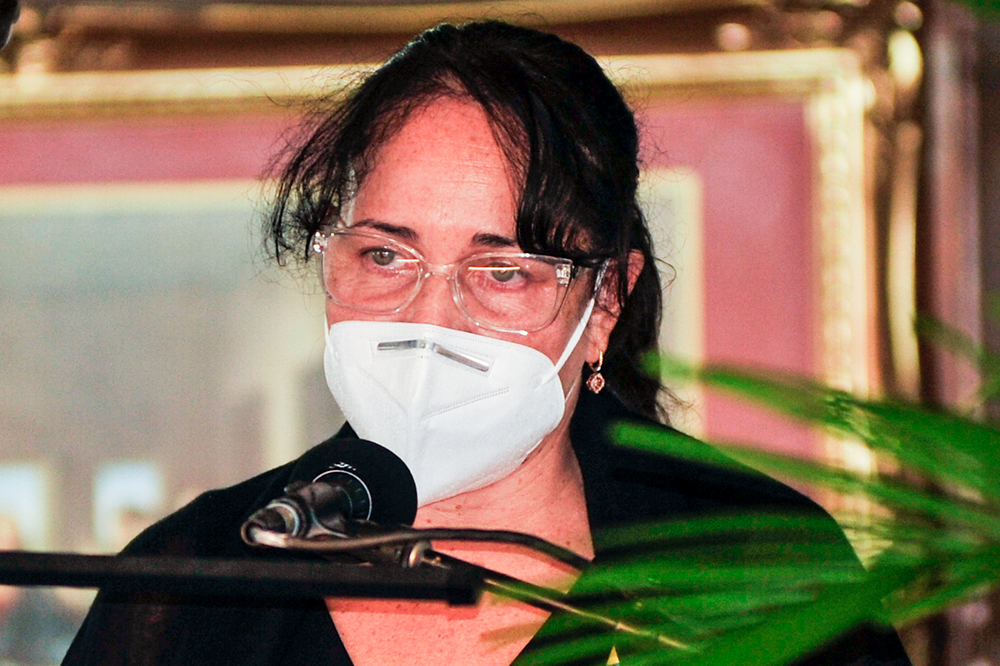 Sir James leaves final message to the nation
"Tell the people of St Vincent I was always honest with them and never left them."
These were the some of the final words to the Vincentian people by the late Sir James 'Son' Mitchell. 
"When we flew him on air ambulance to Barbados and we settled him in at the ICU, a brilliant Dr. Fakoury there told us that he had days, weeks or months to live. Sadly, I knew he meant days. In Barbados then he talked a lot about his beloved party and beloved Caribbean," and there he told her to tell the people of St Vincent this, Sarah Louise Mitchell disclosed while delivering a tribute at the Kingstown Methodist Church on Saturday December 18, at the state funeral of her father. 
"Thank you, the people of St. Vincent and the Grenadines, for allowing our father to live his dream, and that was to be a successful prime minister and statesman of this country," she said. 
This dream was also made possible by the Rock of Gibraltar, the community of Paget Farm who made 'Son Mitchell' their hero. 
'Son', as his youngest daughter Gabija noted, was a nickname given when he was born and there was a cry of "It's a son". It was also used in many a political catchphrase in his later life, such as "Son our Star" or "Son shines". 
"To the people of the Southern Grenadines—Canouan, Union, and Mayreau—you too lit your candle for daddy and kept it lit for the last 55 years. I thank you," Louise said. 
The Bequia man, born and raised lived with a deep love for sailing, especially through the Grenadines. 
Louise recalled in her tribute that he taught her to sail and, "On one of those trips to the Tobago Cays, daddy and I swam ashore to his favourite island, Baradal, and as usual climbed up on the eastern side where you have a spectacular view of the horseshoe reef around the Cays. Looking out, daddy said 'my eyes will never tire of the beauty of the Grenadines.' I sensed in that moment that daddy's attachment to these islands ran as deep as any emotion in him ever would," she revealed. 
She also thanked "the people of North Leeward" who "always held a special place in daddy's heart because you were the first constituency on the mainland to vote for the NDP and he never forgot this."
"To the people of North Windward, daddy asked me to drive him to North Windward to see the damage of the 2021 eruptions. He left us before I was able to. Know that you were in his heart and he never forgot you," she said. 
She thanked all constituencies for bestowing her father with the "greatest honour ever bestowed on him" – when he won all the seats in the general elections. This was a victorious scene where he was carried through Kingstown with his feet never touching the ground, different to four years later when his party lost the popular vote.
"…We drove through angry crowds shouting and hurling objects at our vehicle. We sat inside the car, just the driver, my dad and me. I don't remember him saying a word. That moment stayed etched in my mind forever," his daughter said. 
She said that he always knew power was transient. 
What was important to him, his daughter disclosed, was legacy. 
"When I asked him, when he was in ICU in Queen Elizabeth Hospital on Barbados, why he was always talking to me about what trees to plant, he said 'legacy.' Daddy's greatest legacies were (1) creating a property-owning democracy through land reform—he said, "the love of country begins with owning a piece of it" and (2) the creation of the New Democratic Party," she concluded. 
His love when he was alive was spending time with the people, and hearing their stories. 
In her tribute she also recounted the times when her father came close to death, such as when a car of gunmen went looking for him; he was helped back then by the people of Grieggs who patrolled with cutlasses. 
In his final days he was helped by the doctors and nurses who he wanted to thank personally when he got better. He received support from Prime Minister Ralph Gonsalves, and was prayed for by the people. 
"My father, in the end, as he did in 1989, had the whole country behind him. He knew that. He felt love, and after the jubilation of the victory years and the humility of his party losing power later, he ended his political stewardship as he began, a man loved by his people. What more can one ask for?"
 Gabija, who also spoke at the Kingstown Methodist Church, assured, as did all her sisters that "…My father has been a father for each of us, and I wouldn't have wanted it any other way".
When he received the calling to be a politician, she said that it was of pure intention, "his vision began to emerge – his moral compass etched in stone, forever pointing north over Bequia."
"I believe my father's greatest achievement was that he knew what purpose the creator placed him in this world to fulfil and pursued it every day.
His spirit being able to transition with a clear conscience."
His purpose, she said, was "to use his skills to provide opportunities for the success of the people of St.Vincent and the Grenadines."
She advised, "to every young girl or boy reading now of his story – what I hope you can take from my father's life is that you have the power to do anything once you align with the purpose within you and act through the best version of yourself along that journey".