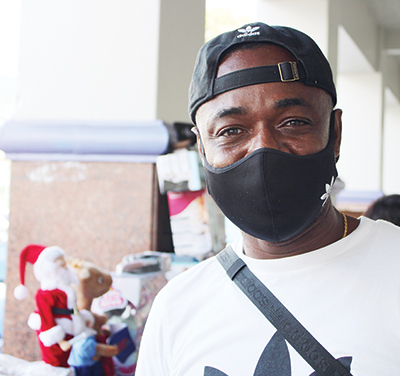 Patronage may be down, but vendors are still giving thanks
While the streets of the capital are swelling with shoppers as the countdown to Christmas day continues, sellers around Kingstown say sales are down compared with 2020.
There's no stopping the influx of people daily engaged in buying presents and household items for aunts, uncles, children, friends and family. They are taking full advantage of extended opening hours to fulfil their holiday expectations.
The Sunday before Christmas is always jam-packed , and this year is no different despite the COVID-19 spike in similar circumstances last year.
Shuffling along busily with differently shaped wrapped packages in their hands, most were unable to spare a minute for questions last Tuesday, December 21.
However, not everyone is shopping this year. One young woman stated outright that she was one of the teachers who were recently "laid off" for not taking a COVID-19 vaccine, and therefore "there will be no Christmas shopping for me this year."
Another young woman informed that she does not celebrate Christmas.
Belmont resident Curtis John along with his wife, are among many who have set up shop for their customary Christmas vending.
To give themselves a marketable edge over the dozens of other sellers of Christmas toys that crowd the sidewalks, the couple is also selling educational toys dealing with French and Spanish.
"It's been slow at times, picking up late in the last couple days because I realise that that's part of our culture – we are last minute shoppers. So people come the last minute and do their shopping… buy whatever they can afford at this moment, and we are grateful, much grateful," the 47-year-old stated.
When asked to compare last year with this year, John said 2020 was more "at pace" than 2021, "…but still in spite of the crisis with the whole pandemic, people are still coming out. You could see they still have their love for their loved ones so they are trying to make them happy in spite of what we are facing."
His Christmas message to the general populace is "…to encourage people that remember the reason why we are celebrating. We are celebrating because of the birth of Jesus Christ and we reflecting on his birth and his grace and his mercies to keep us.
"…So I would encourage them to keep focus, budget, mind how they are spending, because challenging times is still ahead of us, so use wisdom for the season."
A 47-year-old Glen resident, Leroy Ollivierre is an unusual attraction with his tanks of live fish in Middle Street. He told SEARCHLIGHT that he has been interested in raising fish for over 30 years.
Ollivierre reckons that times are hard with the pandemic.
"It's like people ain'' getting fuh do what they really exactly wanted to do," he said. Its a mix between everything being on a kind of "lockdown" but persons still moving about.
"…they just need to go and vaccinate and do the right thing and let we just get back the country to normal," he added.
Fifty-nine-year-old Junior Mars is one of many drawn to the perimeters of the vegetable market.
She says "I find 2021 Christmas, it is dead, believe me yes, it's dead. A lot of people in town but they are not shopping."
Mars is however thanking the heavens that she has her loyal customers who support her with anything from brand t-shirts to hygiene products.
The vendor, who sells out of two vehicles, concluded that last year was better. Nonetheless, "I am making something still, I am going home happy. I am going home smiling," she stated.
"…What I have to say, Merry Christmas to all my customers and a Happy New Year and I wish y'all all the best throughout 2022, God bless you."
by Katherine Renton