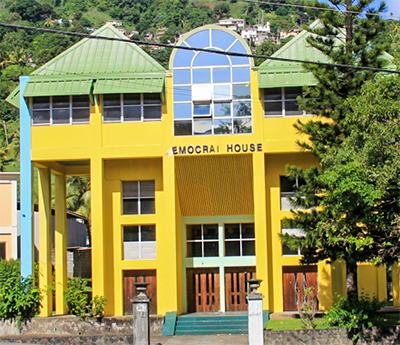 NDP to rename auditorium in honour of Sir James
The New Democratic Party (NDP), is renaming the auditorium at the party headquarters the Sir James Mitchell Auditorium.  
The party is also putting in place plans for an annual memorial lecture in honour of the party's late founder.  
This was revealed last Saturday, December 18 at Democrat House, Richmond Hill where members of the NDP paid tribute to the former, late politician who was making his final stop at the party's headquarters. 
The 90-year old Bequia resident died on his home isle on November 23 this year and his body was laid to rest last Saturday December 18, after lying in state at the House of Assembly, making a short stop at Democrat House and funeral services in Kingstown and Bequia. 
Speaking during the tribute at Democrat House, leader of the NDP, Dr. Godwin Friday said Sir James contributed tremendously to the party which he founded in 1975, and St. Vincent and the Grenadines (SVG) on a whole.  
"It is in that spirit that I here announce that as a small token of our appreciation, and as a sign of our commitment to continue to pursue the positive vision for our country that Sir James had and for which he lived, that I now here, today, that we will commemorate and further the work of Sir James Mitchell by initiating an annual memorial lecture in his honour, in his name," Dr. Friday said.  
He added that the annual lecture will be an opportunity, "for us as a nation to consider matters of national development and public service to help to form the way forward and to inspire, particularly the young people, to embrace the responsibility of creating that way forward." 
Dr. Friday described the building as "a great edifice", and noted that it was conceived and built by Sir James and his "many colleagues" who worked with him in government over the years.  
The opposition leader said "this majestic building with its strong and imposing walls" stands as a manifestation of the strength and resolve of the NDP to persevere and be a force for good. 
"We must always stand for democracy. We must always stand for the rule of law and for the development of our people led by our people, for the benefit of our people.  
"It is fitting therefore that this building and all that it represents may also be visibly associated with the name Sir James," he stressed.  
"Not just in its history but in its future so I announce here again today that we as a party, as his friends, as the bearers of his legacy, take this small step in naming this great hall in which we now witness his passing in honour of Sir James," Dr. Friday said.  
"This will mean that from henceforth, every time we gather here his name would be spoken and his presence would be felt and that my friends is how it should be."
Friday described the passing of the veteran politician as a sad, solemn and painful time but that the task of the NDP is to commit to carrying the baton.  
"….and while we mourn him, we should draw strength from his example," Dr. Friday commented while adding that Sir James's last breath signalled the end of  a productive life but also the beginning of his legacy as every end signals a beginning.  
He said also that he was glad that Sir James's family- two of his daughters Louise and Sabrina- were present at the tribute ceremony as his family shared him with the NDP and the country for which he worked tirelessly and achieved "marvellous" accomplishments.  
"We are grateful and will always remember," Dr. Friday said, while noting that through the final visit to Democrat House by Sir James, persons were able to see the NDP's founder's dream of his party becoming a political institution and a force for change and good in the country.  
Among others who attended the ceremony were former politicians who served under Sir James, as well as current serving opposition Members of Parliament.
Jeremiah Scott who served as a minister within the Mitchell Cabinet credited several initiatives to the deceased politician. These included the building of many feeder roads, improving public assistance and helping persons from the poorer class to own lands.  
Maia Eustace, daughter of former prime minister and former leader of the NDP, Arnhim Eustace did a tribute on behalf of her father and noted that Sir James's mother was present at Eustace's birth and that shows a long-standing connection between the families.  
She said Sir James was focused on the development of the human capital and Eustace was supportive of that.  
"What connected these men never changed," she said while noting that though they sometimes held different views, the development of SVG was always their dream and they were always about service to nation hence the respect for one another.   
Speaking at the gathering, Sir James's daughter Louise, said her father's two greatest achievements were creating a property owing democracy when he strengthened and grew the middle class, and the creation of the NDP.
 
"This NDP is indeed his legacy," Louise said while adding that the legacy is "only as strong as we all make it to be." 
She charged Dr. Friday, the NDP politicians and supporters to work together to keep that legacy strong. 
"I thank Dr. Friday for the honours which I graciously accept on behalf of the family. 
"…but I would warn you in true Sir James terms that if this auditorium is going to be named after him, it ought always have to be spick and span, top notch, and he would say to you 'I really appreciate you cleaning up the façade of the headquarters today for me but I don't want to see it like this just today but I want to see it like this all the time'…".
Sabrina, Sir James's first daughter, noted that one thing you could never doubt is that her father was a politician through and through. 
"Every part of him was a politician. He loved this country and he sacrificed a lot for it. I use to always tell him when he spoke about his beloved NDP, that his blood was definitely yellow," Sabrina said while noting that politics was a part of her father's daily life even in his retirement.