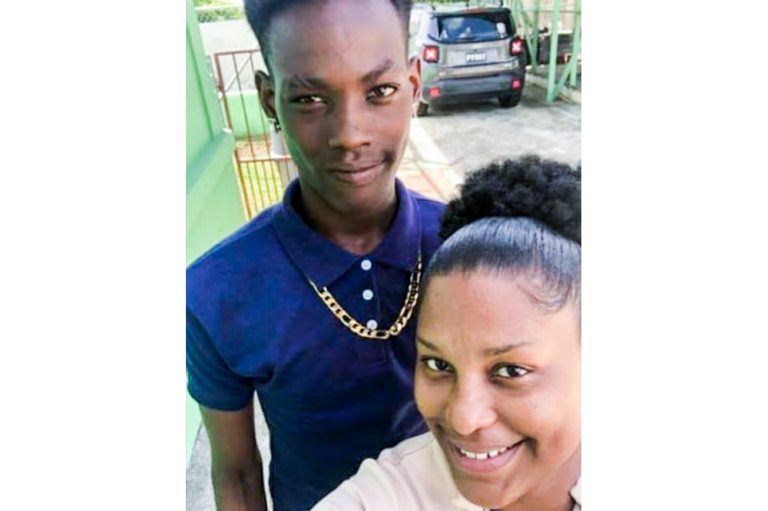 Grim Christmas for grieving mother
This is a grim Christmas for Diana Wilson.
Diana is the mother of 15-year-old T-Roy Peters, the teenager who was shot and killed last week Thursday December 16 and whose body was found on the mainroad of the Fenton Mountains around 3 p.m.
"Now is Christmas but there is no Christmas for me. He had already made a list and I would have made sure sacrifice and give him what he wanted," Diana told SEARCHLIGHT on Wednesday during an interview.
The Arnos Vale resident said that on the day her son was killed, he left her workplace in Arnos Vale at around12.30 p.m. after she gave him money to purchase lunch. She said her son walked up the Arnos Vale mainroad, spoke to a friend in the vicinity of the Thomas Building and then walked towards the roundabout with the intention of meeting his girlfriend at the Arnos Vale branch of Massy Supermarket.
"…he never reach so whoever kill him, pick him up at the roundabout and took him to Fenton. I really can't say for sure why anybody would do him that," Diana said while noting that her son was a very popular youth who knows a lot of persons.
Although she said she has no idea why anybody would want to kill her son, Diana is entertaining the notion that the person or persons who killed her son wanted some sort of information from him.
"He knows a lot of persons and a lot of persons know him so I feel they wanted to find out something he know or some whereabouts because he is not a child who he and anybody in anything, he don't steal or trouble people… and that is my personal belief, they wanted to find out something from him," Diana said.
The grieving mother said her son was a jovial and outgoing person and liked in whatever community he went to. He was a member of the System 3 Football team and represented the country with that team in Barbados on two separate occasions. He was also an avid dog lover.
"He was never rude to me, just normal teenage stuff. If I told him don't leave home, he won't. I can't sleep, I can't move on without justice for my son.
"They kill my son for nothing and my son and nobody ain't in anything," Diana commented.
T-Roy was a form four business student at the Bishop's College Kingstown (BCK) at the time of his death and his mother said he was happy to return to school after being at home for so long because of the COVID-19 pandemic.
He was shot three times according to his mother, twice in the head and once in the chest