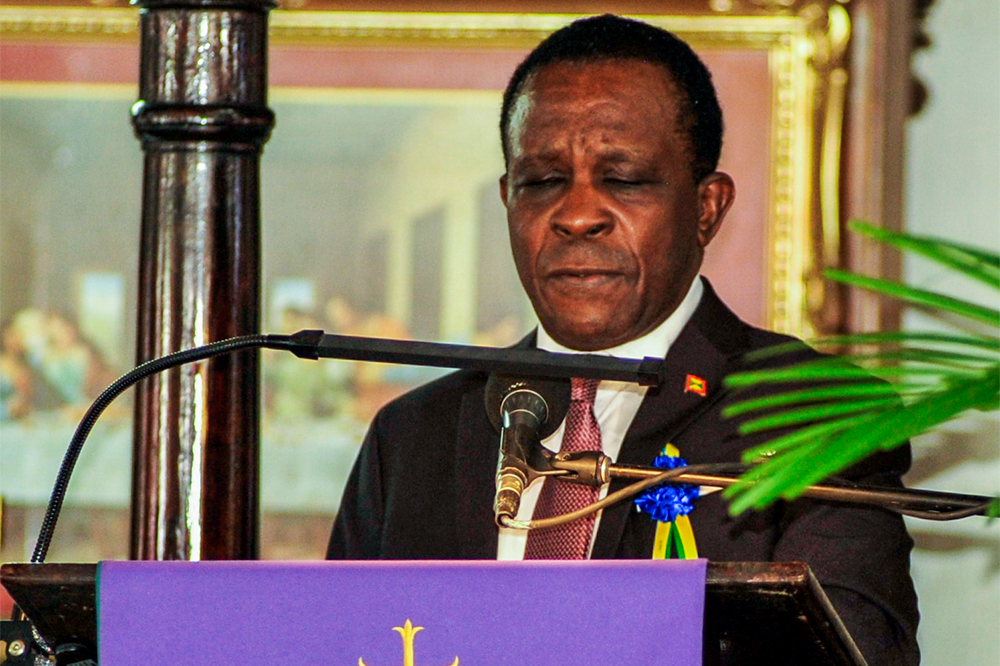 Grenada's PM keeps his promise to Sir James
Prime minister of Grenada, Carriacou and Petite Martinique, Dr Keith Mitchell made good on a promise he made to Sir James Mitchell years ago, when he delivered the feature tribute at the former prime minister's state funeral last weekend. 
Mitchell, a former premier, prime minister and founder of the New Democratic Party was laid to rest on Saturday, December 18, after a state funeral that spanned the entire day, beginning on the mainland and ending in his home island of Bequia. 
"I can't help but smile a little despite the sadness of the moment because he was right. Years ago when he travelled to Grenada to pay tribute to our former Prime Minister, the late Sir Eric Matthew Gairy, he told me then – 'Keith you have to speak at my funeral'. I asked him how could he be sure that he would go first and he said to me – 'that's the natural order of things', he is older. So yes he was right, and here I am today, fulfilling my duty for it was not a question," the Grenadian prime minister said in his feature tribute at the first of two church services of the day at the Kingstown Methodist Church.
"In fact, he said so to his daughter Louise who also relayed his wishes.
When Sister Mia (Mottley, Prime Minister of the Republic of Barbados) visited him at the hospital in Barbados, he told her to remind me that I have to speak at his funeral; so she called me immediately after.
Therefore, as a true friend and an appreciative mentee, I'm here to fulfil that wish." 
Mitchell's relationship with Sir James dates back to the 70s when he was the captain of the Grenada cricket team and the late politician was St Vincent and the Grenadines' premier. 
He also credits Sir James with being a central figure in guiding his emergence as a leader. 
"I personally owe him an eternal debt that could never possibly be repaid…He was consistently available and always willing to provide advice and encouragement — in good times, and particularly and more importantly, in the bad times. He was certainly not a fair-weather friend," the Grenada leader said. 
Mitchell chronicled Sir James' many contributions to Caribbean politics both during his time in politics and after his retirement. He added however, that the former prime minister's legacy is one of "country above politics". 
One of the many lessons he learned from the founder of the NDP is one that "I believe is sadly lacking among many politicians today. We can be political opponents but when it comes to matters of national interest, we must be able to put those differences aside and do what's best for the country and our people". 
"Indeed, we will all do well to honour him by the way we show respect to our opponents; and to understand that political battles are not among enemies but among patriots who are determined to promote their own vision for the development of their people. His own vision for St Vincent and the Grenadines has stood the test of time". 
Grenada's prime minister hailed the late Sir James as being a Caribbean hero, legend and exemplary leader worthy of emulation. 
He further described Sir James as a modern day architect of Vincentian and Caribbean civilisation, whose service to the region is unmatched. 
"Your contribution at the local and regional level is immeasurable and at the same time, invaluable. You lived a full and meaningful life and you led by example. We shall always lift you up! I pray that your soul rests in perfect peace," he said.