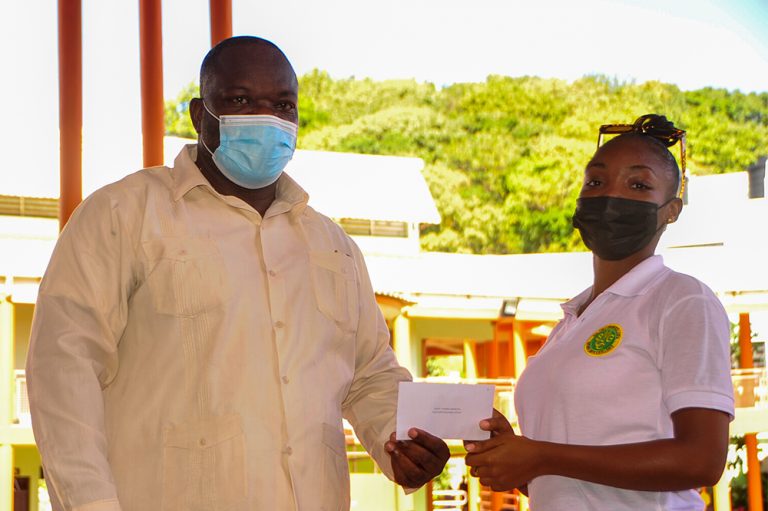 Community College students receive $500 payout from government
Prime Minister Dr Ralph Gonsalves has given the assurance that various levels of assistance will always be available under his administration for students seeking to pursue a university education. 
The prime minister was speaking at a ceremony this week, where just over 1100 students were intended to receive $500 each for their creditable performance at secondary and tertiary level examinations in 2021. 
Graduates from the Associate degree and Teacher Education programmes who gained an accumulated GPA of 2.75 or at least a B+ average were also awarded with the cash incentive. 
"Once you have matriculation qualifications directly to enter university, I don't want you to say that you don't have any money to go to university. Once I am around, and once the ULP government is around, we will always find money to help you go to university. You do your part and we will do our part," Gonsalves said on Monday during the ceremony held at the Villa campus of the St Vincent and the Grenadines Community College (SVGCC).
The Prime Minister noted that his administration spends millions of dollars each year to fund various forms of assistance for Vincentians pursuing university education. 
He added that he has devised a whole range of financial support initiatives and encouraged students to take advantage of the many opportunities available to them. 
"One of the central reasons I am in politics is to make sure that every single student does to the best of his/her ability and to take care of all the opportunities which are available…"Gonsalves said. 
More than $560,000 will be disbursed to each student who has met the requirement to receive the $500 cash incentive from the government this year. 
Curtis King, the Minister of Education acknowledged that the last two years have been the "most challenging period in your educational sojourn", with the COVID-19 pandemic, volcanic eruption, dengue fever and other natural disasters. 
"I'm very happy, very, very happy that this government continues to make the necessary investment in our education and I term it an investment because we do recognise that a small developing country such as ours, we have to work on the resources that we have and an important component of that resource is our human resource and we have to develop our human resource," the minister pointed out.
"We have to get our human resource to that stage where it can make a significant contribution to our development," he said. 
King commended all students who wrote external examinations in 2021, and stakeholders who made the process one where students could be better prepared for these assessments during challenging times.