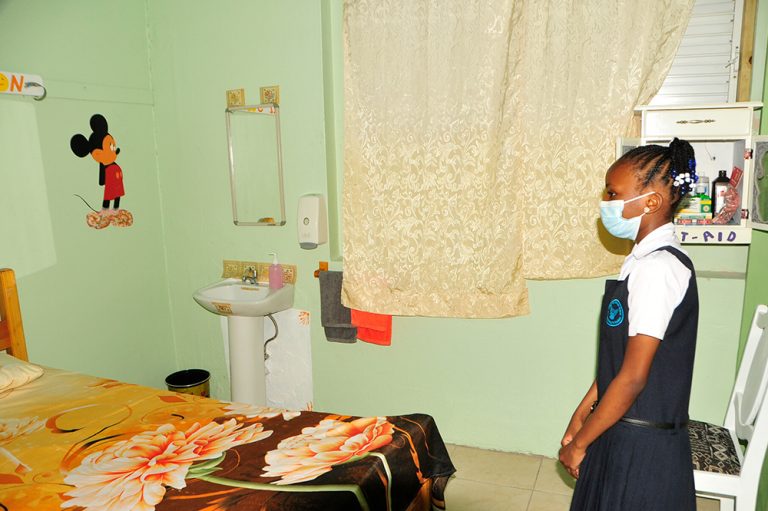 Belair Government opens sick bay
The Belair Government School on December 15 conducted a multi-activity ceremony in which it rewarded teacher, outstanding students and opened a sick bay.
The sick bay was completed after almost three years of persistence.
President of the Parent/Teachers Association (PTA), Joseph Bascombe beaming with pride and accompanied by principal Camille Nichols- Bascombe called Holly Browne of Grade 6 to cut the ribbon and officially declare the sick bay open.
Bascombe later told SEARCHLIGHT that they encountered many obstacles, the biggest from government employees. He said even when those workers turned up to assist in the installation of a face basin and pipe for the sick bay, "it took long to get it installed and still at the end of the day we had to get someone to complete it . It was really ridiculous," he said.
Bascombe said he hopes from the example set by the school's principal, staff and PTA that the relevant government officials will be more proactive in working with them to improve the learning experience for students at the school.
He said he also hopes that other learning institutions and organisations in St. Vincent and the Grenadines will rise to the occasion and take the initiative, be creative, and implement programmes to better the lives of persons associated with those organisations and institutions.
"Today I am happy we were able to achieve this with help from the private sector. After so many years, parents can now be more at peace knowing that the school has set, and continues to set standards for a better learning environment for the students who when they [get] top marks, make the staff and principal and their parents proud," Bascombe said.
The PTA also recognised the contributions made by teachers who served the school for 10 years and more.
Those so recognised and awarded were: Samantha James, Dallis Carter, Leona Thomas, Cordelia Primus, Stephanie Davis, and Lakisha Patterson.
The Most Outstanding Students for the 2020-2021 School Year also received recognition.
They are: from Grade K – Ely'Ona Caine, Aidon Hunte, Tarek Reid, and Nia David.
From Grade 1:Jaydarah Domnique; and from Grade 2 K'Nia Findlay. The Grade 3 top students were Chase Franklyn and Solange Pinder; from Grade 4, Michaela Audain; and Grade 5, Holly Browne.