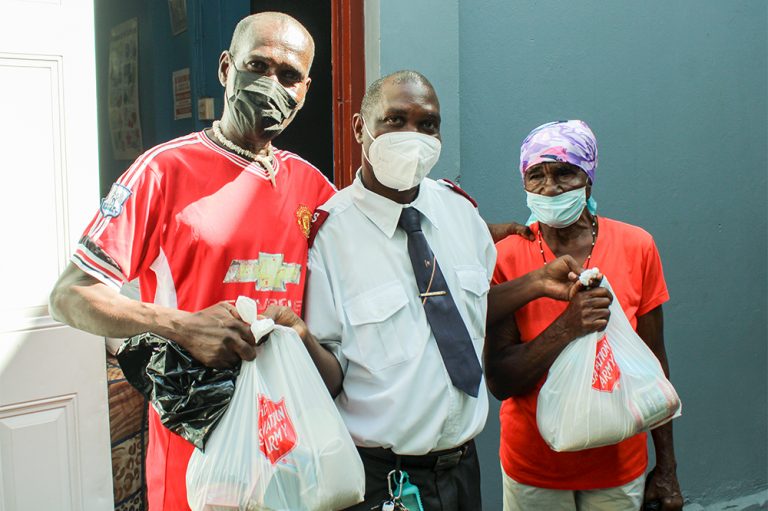 Salvation Army begins distribution of Christmas packages
THE "SEASON OF giving" was in full effect this week at the Salvation Army headquarters in Kingstown, when the organisation began to distribute its yearly Christmas packages to Vincentians in need.
For the first three days of this week, the 'Army' set out to give at least 150 packages with necessary items to persons who showed up with tickets that were given out prior to distribution.
"Its a way to assist people because we know that times like this [are] really hard, particularly after the eruption and COVID so its really hard for people to survive so we try to assist," Major Ernest Gachelin told SEARCHLIGHT during the second day of distribution.
Persons who collected packages were recipients of a variety of goods including rice, sugar, flour, oil, teabags, tinned products and importantly, face masks.
Gachelin, who was handing out packages intermittently to persons showing up with their tickets, took the opportunity to thank volunteers and donors who have contributed to the Kettle Appeal.
He also thanked the staff at the Salvation Army who prepared the packages for distribution.
"Thanks to everyone who has supported us over the years and in this year too because it's not easy to support with such big challenges…," he said.
Gachelin added that funds collected from the Kettle Appeal not only make the distribution of packages possible at Christmas time, but also supports other charitable initiatives throughout the year.
He said, "it's not easy sometimes but we have to try our best" and encouraged people to remain safe in the ongoing pandemic.
"If we do not do what we have to do, then more people will get the virus, more people will die and we already have more than enough persons who have died from this virus. We don't want people to die so I encourage everyone to remain safe, try your best and do what you have to do…" Major Gachelin said.
He also encouraged persons to "be grateful to God. Use this opportunity, this challenge we are facing, use it to serve God because he has been good to us… he has never failed us and he will not…" Distribution is ongoing as persons without tickets will have an opportunity to receive a package, once all those who were issued tickets have received theirs.
The charitable organisation will also be "sharing the love" this Christmas season at several institutions, including the Mental Health Rehabilitation Centre, Lewis Punnett Home, Caring Hands Home, the Thompson Home and the female prison.