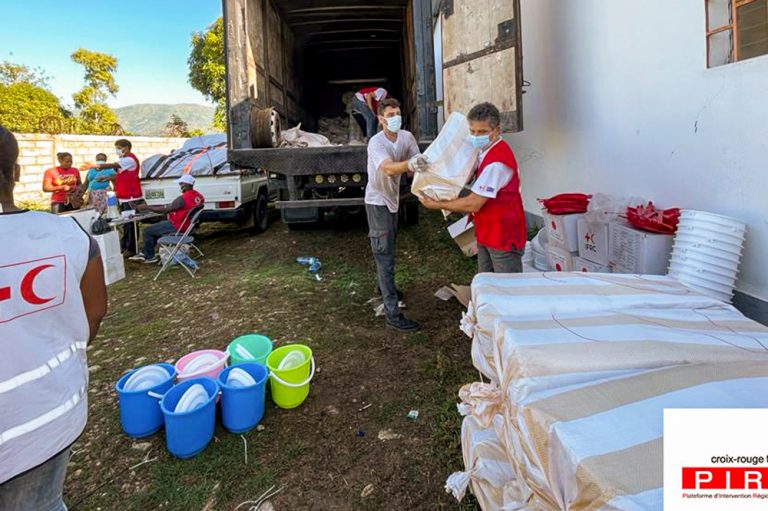 French agency details its emergency response in the Caribbean
WHEN NATURAL disaster events struck St Vincent and the Grenadines, Guyana, and Haiti this year, the French Red Cross Regional Intervention Platform for the Americas and the Caribbean (PIRAC) sprang into action, sending emergency specialists and humanitarian stocks to support people of those Caribbean nations.
A release from the agency referred to the eruptions of La Soufrière volcano on April 9 which forced thousands of people who live in close proximity to evacuate.
On April 13, the PIRAC deployed 40 tonnes of humanitarian goods with maritime support from the French Armed Forces to St. Vincent from Martinique. Those supplies were in addition to the stocks of cleaning kits and hygiene kits prepositioned in St Vincent by the PIRAC. As a result, the Red Cross of St. Vincent and the Grenadines could distribute supplies to evacuees immediately. PIRAC also coordinated the shipment of 194 tonnes of humanitarian goods including COVID-19 PPE kits, cleaning kits, hygiene kits, family tents, jerrycans, and drinking water. PIRAC also deployed a mobile water analysis laboratory and an emergency team to evaluate access to water in St. Vincent. That team spearheaded the analysis of drinking water in risk areas and trained local technicians.
Finally, more than 2,000 people benefited from the humanitarian aid sent by PIRAC for this emergency operation.
PIRAC offered similar support to Guyana following chronic heavy rains in May and intense weather events on May 21 and 27 and June 2, 2021. These events caused significant flooding that impacted between 25,000 and 30,000 people in Guyana. There was also considerable damage to crops, infrastructure, and loss of livestock. The PIRAC deployed nearly 10 tonnes of humanitarian emergency stocks from Martinique with the maritime support of the French Armed Forces, which arrived in Guyana on June 20, 2021. The emergency stocks included family kitchen kits, tarpaulins, impregnated mosquito nets, buckets and jerrycans covered the essential basic needs of 2,500 people in Guyana.
Again, in August, PIRAC came to the assistance of a Caribbean country, this time Haiti. Unfortunately, another devastating earthquake struck Haiti on Saturday, August 14, 2021. Four days after the quake, PIRAC deployed 15 tonnes of emergency humanitarian supplies for 2,500 people from Martinique with the maritime support of the French Armed Forces in the Antilles. The supplies included tarpaulins shelter kits, jerrycans, buckets, mosquito nets, and family kitchen kits. A second shipment of 10 tonnes of emergency humanitarian supplies, water treatment, and storage equipment was deployed to Haiti by sea from Guadeloupe and Martinique for 2,000 people. It included jerrycans, tarpaulins, shelter kits, ceramic filters, buckets, soaps, and one hygiene promotion kit.
PIRAC also purchased and installed two 40-foot storage containers at the Haiti Red Cross base camp and the field hospital of the Red Cross set up in Les Cayes. In addition, to further assist Haiti, the French Red Cross sent 12 emergency staffs specialized in health, emergency distributions, and water, hygiene, and sanitation to Haiti.
In total, PIRAC deployed more than 260 tonnes of emergency humanitarian supplies to the three countries, the release concluded.