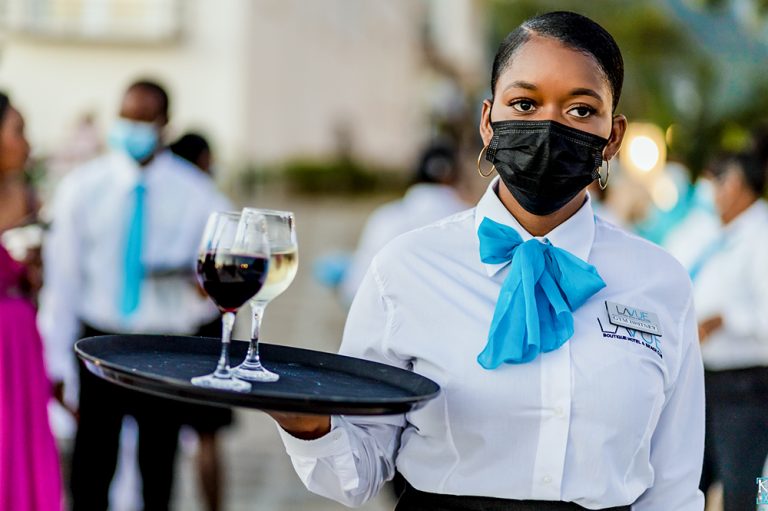 Economic transformation unfolding in SVG, says PM
MORE THAN 20 years ago when the Unity Labour Party (ULP) took power, the administration is said to have embarked on a strategic push aimed at building a many sided economy.
That push involved but was not limited to, having a labour force in place to complement the strides being made in many areas.
And according to Prime Minister Dr Ralph Gonsalves, that has paid off and an economic transformation is happening in the country which is going unseen by some persons.
"It is happening and it may appear to many to have a randomness but it is not a randomness there is a systematic approach to how you build this economic transformation…" the PM told a gathering last Friday at Villa Point.
He was speaking at the official opening of the fivestar La Vue Hotel and Beach Club, an over EC$30 million investment and a business that employs 81 persons.
The PM, addressing foreign investors and locals at the event, said that central to the economic transformation is individuals like the young people working at La Vue.
"There are persons who finished secondary school, they would have gone to community college and they have developed various skills and in the modern period of information technology, they would develop those skills also.
Gonsalves said that from 1763 to the years before the end of the 20th century and the beginning of the 21st century, you saw an economy that was largely goods based and largely of agricultural produce.
"Indeed from 1763 to the declining years of the 20th century and the dawning years of the 21st century you had one single crop dominating the society and the economy.
"You had subsidiary crops, subsidiary modes of economic organisation but one dominated one whether it was sugar, arrowroot, cotton, later bananas, a mixture…" Gonsalves said, noting that the basis of that economy was preference with the colonial government.
So much so that you had subsidies, either at the production level in the domestic economy or the market preference overseas, a classic case being bananas.
"But subsidies at home and preferences abroad do not accommodate themselves easily in modern capitalist enterprises and with the enlargement of free trade…and that is why they went one after the other down in the hole," Gonsalves said. He added also that the production was sustained by an abundant supply of cheap labour and that was another feature.
"Largely unskilled labour and up to 1838 was slave labour, after 1838 nominally free, but for quite a long time essentially wage slavery.
"That economy had run its course but no one before the 21st century was bold enough to say we have to lay a basis for a different type of economy, one without in any way negating production in agriculture, fisheries and light manufacturing," he pointed out.
"We had to emphasise services and central to the services is tourism, there are other services, professional services of one kind or the other, banking services insurance and so on.
"But if you wanted to build an economy in which services played a dominant roll, and as we have evolved a predominant roll, you needed to educate people. This is the education revolution," the prime minister said, identifying education as one of the first strategic approaches to building the economy by the government.
He said if you are educating people you also want to have the population healthy so that you can get the most out of those you are educating.
"Thus you have to have a health and wellness revolution and you have to provide other support systems in housing and the like to protect your human capital, but you also needed people to come here but for that you needed an international airport at Argyle and you needed a jet airport in Canouan," Gonsalves said as he pointed to three other economy builders and dismissing those who say that these things are random.
With a convergence of all these things we are moving towards an economy where you don't have unlimited supplies of cheap unskilled labour, but one with an unlimited supply of skilled labour where they are priced at a higher point in the division of the international chain of labour, he argued.
"Now you don't achieve this overnight and there are always challenges because there are certain persons who you would have to retrain and there are some that you can't retrain.
"….and you would have to be sure that you deal with agriculture in a more scientific manner and fishing in a more scientific way to get everything going and for it to dovetail with the services including tourism services, and thus you need to set up an infrastructure and a regime for attracting foreign direct investment and sometimes you hit and sometimes you miss," Gonsalves said. He said some people think that when a foreign investor comes and does not succeed the country must close its doors to all investors but that is not reality.
"So we have increasingly been attracting investments and we have put things together to make sure we attract investments of the type which can add great value," Gonsalves noted while also mentioning the importance of giving concessions to attract investments.
He said also that investors, like those involved in the recently opened La Vue Hotel are not going to invest unless they have confidence in the country, see political stability and trained persons to do things.
And that the country's economic transformation is seeing millions invested in building the hotel room stock with investment in establishments like Sandals Beaches, Marriott, Holiday Inn and Royal Mills.
"…and we have Mustique and Canouan and Mustique contributes $150 million gross to the economy annually…".
Gonsalves further noted that it was money from Mustique that kept the country going as the COVID-19 pandemic hit and during the eruption of La Soufriere volcano which have dealt a heavy blow to the economy.
"If you look just a little historically, you stand back, you would see how everything is hanging together and the transformation which we are currently undergoing… and which transformation is not following an unilinear path, because you meet challenges and therefore you have to take zigs and zags but unmistakably, you have a transformation taking place for the better of the people of St. Vincent and the Grenadines to uplift their lives, their living and production," said Gonsalves.