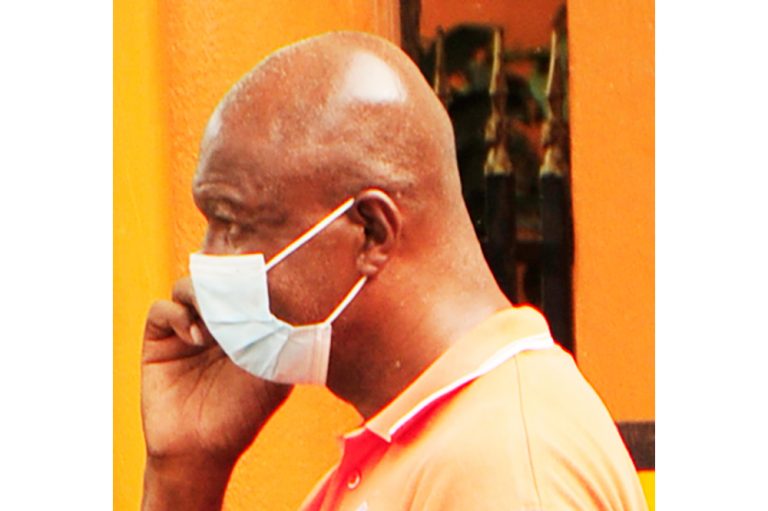 SVGTU heads back to court over government's vaccination policy
President of the St. Vincent and the Grenadines Teachers Union (SVGTU), Oswald Robinson says the Union's lawyers are preparing documents to take the government to court over SR& O NO.28 of 2021.
Speaking at the Kingstown Vegetable Market last Friday Robinson said this time around, they are seeking legal redress over the government's vaccine policy which requires teachers and several other categories of public workers to be vaccinated against COVID-19 if they are to continue working in their respective posts.
Friday, December 3 was the final day for these workers to take a vaccine in order to keep their jobs, but the union, in ongoing rejection of this policy called out persons to protest on Friday after calling on teachers to strike a few days earlier.
"We going to court. We are going to take the government to court," Robinson said while speaking to SEARCHLIGHT on Friday.
He said the lawyers are finalising the instruments and, "very soon I am going to sign on and the instructions will be given and we are going to take this wicked government to court,"he emphasised.
"No retreat, no giving up at all. We not fraid of Astaphan. We not fraid of him at all. We are prepared and we are ready."
Astaphan is in reference to Dominican Attorney- at-law, Anthony Astaphan who said on WEFM's 'Shake Up' programme on December 6 that Prime Minister Ralph Gonsalves has put him on notice for any legal action by the SVGTU regarding any fallout from the government's vaccination policy.
"I want to tell the trade unions that I am waiting for them to sue," Astaphan said in a call to the programme. SEARCHLIGHT carried a story on this in its December 7 midweek issue.
"Today is Black Friday. That is something that we have dubbed that would go down in the history of St. Vincent and the Grenadines where the Vincentian public is here with us.
"They have come out to be in solidarity against a wicked act that the government has forced people to take vaccination in order to hold a job and we have described this as a wicked act because it meant that person's jobs are being threatened," Robinson said.
"If you don't have any money how are you going to pay your bills? How are you going to feed your children? How are you going to pay your mortgage? And the list goes on and on, the teachers union president listed.
"So what the government has done is to set out to increase unemployment so we want the rest of the nation to know that the government is setting about to increase unemployment, Robinson shouted.
He added: "Furthermore they want to increase poverty because they want the people to be totally dependent upon them to come and beg for everything and this is not good for our society, it is not good for our democracy."
He said further that the constitution is being tampered with and the union firmly believes that people have a right to choose whether to be vaccinated or not.
"We cannot sit back idly and allow the government to take away that right. It is a right that God gave to you. Nobody have the right to take away that right of your conscience so we are standing here to send that clear message.
"Hundreds of persons are here and I am happy what we have seen and we have to stay united and strong," Robinson commented.
He said his union is not telling people not to take the vaccine or even to take it, but what they are saying is that persons should have a choice.
"It is your body…we are against mandatory vaccination and who want to distort it, it is their business," the SVGTU president said.
He is also of the opinion that the government is going to set a mandate saying that students must also be vaccinated.
"We know that they are going to mandate for our children so we have to set the stage right for the future of our nation," as he noted that pickets were also held in Canouan and persons from Bequia came to the mainland to picket with the SVGTU.
"There are over 200 teachers whose jobs are being threatened so we can't sit back and let people breadfruit to be cut down," Robinson told SEARCHLIGHT.