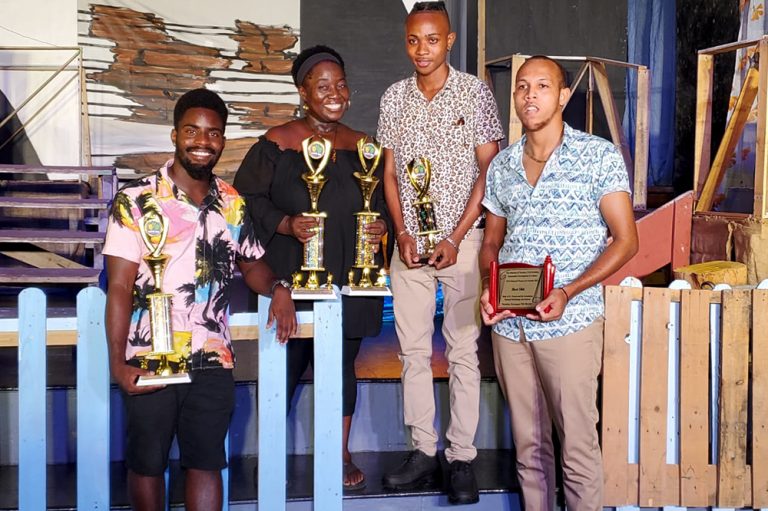 Local content production company aiming to broaden ITS horizons
A SMALL GROUP of Vincentian content creators is hoping to revolutionise theatre and cinematography in St Vincent and the Grenadines (SVG).
To do this, Javed DaSouza, founder and CEO of Alpha Entertainment says his team intends to bring the international standard and quality to local productions, all while telling "our own authentic stories here in St Vincent and the Grenadines".
The production company has been operational for the past six years and has developed plays which have been featured both at Nine Mornings and in the SVG Theatre Arts Festival.
The company also has produced films that were shown at local (Hairouna Film Festival), regional (Grenada and Trinidad Film Festival) and international film festivals (Crescent Moon Film Festival in Canada).
Their latest production, a 56-minute film titled 'Our True Story' can be viewed via YouTube.
Filmmaking is what Da-Souza believes sets Alpha Entertainment apart from similar local companies.
"A lot of other companies are not going into filmmaking. They lean more towards videography… they aren't exactly realising the benefits of cinema in SVG per se, so what sets us apart is that we're capitalising on that and we're providing opportunities for creatives here to use and hone their talent and possibly profit from that talent," he told SEARCHLIGHT in a recent interview.
Along with DaSouza, who writes, directs and edits content, the Alpha Entertainment team also comprises production manager, Jay-Z Lewis; creative director, Lafayette Johnson; and music producer, Kayron Phillips.
The CEO explained that this team also takes on acting roles when necessary but there are other actors curated by the company who are often called upon for personal projects as well as for projects by other local entities.
"There are a few challenges for companies such as ourselves. For example, the industry itself isn't set up in a way where we could just easily…create stuff, produce stuff and market and distribute it. We actually have to find that for ourselves individually, and partner with international people to get it out in the way we want to get it out," DaSouza said.
"So that is a challenge. Moreso in terms of resources; resources are not readily available like that… In an international market, you can easily go and rent a mic or rent a camera if you don't [have] them. It's not readily down here. So, we have to use what we can and be creative. In terms of production value, we are limited in that sense."
DaSouza expressed the view that the government should put more things in place for the creative industry as it has the potential to contribute meaningfully to the economy.
He explained that content creators are an excellent avenue through which to market the tourism product of SVG. This kind of partnership will in turn result in local creatives being able to generate a sustainable income.
"Creatives themselves should be partnering with each other because there may be creators out there who [have] those equipment, but they don't have the necessary experience… so with each of them partnering up with each other, they can combat those challenges individually," he said.
Even though it has been in existence for only six years, the production company has many plans for the future.
DaSouza revealed that there are plans to create feature length films for SVG with a totally local cast and crew.
"'Our True Story' opened up a gateway for us because now we have access to an international market. We can put our content on the international market and open up a gateway for creators like us to benefit," he said.
"At the same time, we're looking to capitalise more on cinema here in SVG and do stuff with it. For example, we're planning to do a…drive-in theatre here in SVG, where people can come and enjoy our local content. Even more so, we've actually started a video streaming website called Island Base. It's a subscription based service similar to Netflix. So we're hoping to expand on that even more in the future and have more local content creators come and put their content on that website where they can profit from it and the audience itself can actually sit and enjoy authentic Caribbean content."