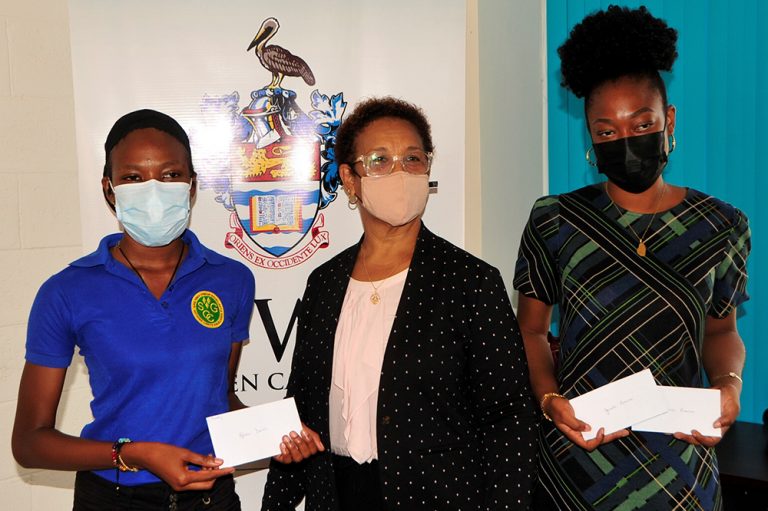 UWI Open Campus SVG rewards winners in poetry and fiction competitions
Six upcoming Vincentian literary giants were recognised last Tuesday December 7, 2021 by The University of the West Indies Open Campus in St. Vincent and the Grenadines (SVG).
They were winners of the Ellsworth "Shake" Keane Poetry, and H. Nigel Thomas / UWI Open Campus Fiction Competitions respectively, which received 26 submissions in the poetry category, and 21 fiction entries.
"This poetry and fiction competition is a joint venture by Professor H. Nigel Thomas, a Vincentian who resides in Québec, Canada, and the UWI Open Campus," Head of the Open Campus Site in SVG, Deborah Dalrymple said at the ceremony.
In the Poetry Category, Afreeca Daniel won the first prize with her poem, 'The Mango Season were like Black Women with polished curves'; Leron France was adjudged second for his entry titled 'Day Star', and the third prize went to Janielle Browne for her poem 'Cinder'.
Afreeca Daniel also received honorary mention for another entry titled: 'My Grandfather died on his Mattress and they just turned it over'.
In the Fiction Category, Janielle Browne took the first prize for her piece 'Mother She Wrote'; the second prize entry, 'Boomerang' was written by Shanique Browne, and winning the third prize was Kathy Badenock with her piece titled 'Escape to Shelter'.
Afterwards 21 year old Daniel of Lowmans Windward told SEARCHLIGHT,"I cannot stay and not write. It is like I have to write to express how I feel. It is something I love. It is something simple. Through my writing I hope to achieve not a lot, but enough to touch someone on an emotional level to change their ways. I hope that my writing can help them change their ways into a more positive person."
A former student of the Thomas Saunders Secondary School, the St. Vincent and the Grenadines Community College, and currently a student nurse, Daniel added that she hopes "to have my writings published, become not too famous, but have people to know me, know my writings, know my words."
Five of her poems have been published internationally but Daniel "would like to be better known locally and throughout the Caribbean".
The winner of the 2021 H. Nigel Thomas / UWI Open Campus Fiction Competition is 24-year-old Janielle Browne of New Grounds.
"Ever since I have known how to express myself using words that is what I have been doing," Browne told SEARCHLIGHT after the ceremony which was scaled down because of the COVID-19 pandemic.
"When I was a child, I could not stop talking, and when I learnt to write I could not stop writing. It is just something that has always been in me.
"Writing for me is way more than a hobby. I believe that it should be incorporated into your way of life if you are a writer. You should take it seriously because words are powerful, and I believe that my writing can be life changing, especially that I tend to deal with topics that are often overlooked in the Caribbean."
Browne shared that she deals with topics like abuse, justice, racial inequality, and gender issues, which need to be ventilated more in the Caribbean.
" I believe that my writings can help people feel that they are not left alone and can encourage and free them," she added.
Browne who attended the Girls' High School, the St. Vincent and the Grenadines Community College, and also is a graduate of The University of the West Indies Cave Hill Campus, Barbados, plans to keep her creative juices flowing.
" I will keep writing. I cannot stop. Although there are days you feel very discouraged, and sometimes the things that you write your way through feel too heavy to do that…eventually you find the way for you it is just that. I will keep writing and hope to be published soon and I am very excited about this new community of writers that I have met today."
Two other pieces in the Fiction Category titled 'Red' and 'The Valley' respectively, received honourable mention by the panel of judges, comprising Dr. Sandra Robinson; Dr. Debra Providence, two Vincentian professors who are lecturers at the Cave Hill Campus, and acclaimed writer, Cecil Blazer Williams who chaired the panel.
Explaining the rationale behind the competitions, Dalrymple said that the sponsors and the Open Campus "saw the value of …encouraging the development of the literary arts in St. Vincent and the Grenadines."
She said it was the generosity of the sponsors which enabled the organizers to pay prize money in the sums of EC$1,000.00, EC$500.00, and EC$250.00, respectively, for the top three finishers in both the poetry and fiction categories of the competition.
There was no age limit for interested participants who were required to submit a poem and, or poems of not less than 700 words and no more than 1,000 words; or a chapter in a novel; or a short story not exceeding 3,000 words.
According to Dalrymple: "The Open Campus has focused on its mandate to develop and disseminate the arts. We have done so over the years through hosting the Annual Literary Festival with the Vincentian Association of Artists, Writers, and Producers. This provides opportunities for the display of visual arts, craft and books, and includes performances by our local artists, a Children's Village to inculcate the love of art in our youth, and an annual award ceremony to honour poets and writers."
[[UPDATED on December 29, 2021 to correct the spellings of the names of the winners.]]