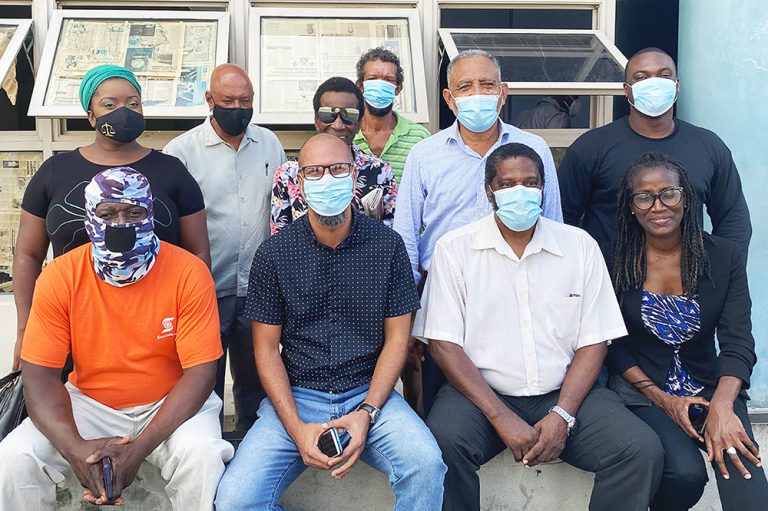 State withdraws charges against eight activists
Eight persons who were charged after engaging in a protest in Kingstown in July and August were informed this week of the crown's intention to no longer prosecute them on charges of unlawful protest action.
However, their counsel Kay Bacchus-Baptiste said there are other charges remaining connected to protests, including against teacher Adriana King for allegedly obstructing the Prime Minister.
 
Documents dated December, 6 advised Kenson King, Adriana King, John Mofford, Robert 'Patches Knights' King, Rohan Simmons, Tyrone James, Collin Graham and Joseph DaSilva, to take notice that the Director of Public Prosecutions (DPP) Sejilla McDowall has entered a 'Nolle Prosequi' in matters against them. 
Most of these individuals had four charges related to two separate days of known protest : July 29 and August 5. 
They had been accused that on each of these days, contrary to section 5(1) of the Public Order Act, they were concerned in organising a public procession without notifying the Commissioner of Police (COP), Colin John, at least 24 hours before the procession. Secondly, that they knowingly took part in a public procession/meeting in contravention of section 5(1) of the Public Order Act. 
The document stated that the crown intends that the proceedings shall not continue and that the named persons be accordingly discharged. 
Bacchus-Baptiste, who led a team of lawyers defending the cases, told SEARCHLIGHT on Wednesday that they had been expecting this course of action and said that the prosecution was "doomed to fail."
The DPP did not outline a reason for the decision, but Bacchus-Baptiste submitted that it was because they had no case. 
"…Based on the charges it was clear to me that the prosecution would have an uphill battle to prove it. It was very clear to me that they couldn't prove those charges," she stated. 
It is the attorney's view that the intention was to harass, and intimidate the protesters charged.
She said when her clients were being investigated in the matter the police "did not only arrest them, they raided most of their homes, took away their devices, arrested them, brought them in, imprisoned them and then you would just drop the case."
"I mean citizens should be up in arms in terms of protesting for this. It's just ridiculous," she added. 
Commenting on the reaction of her clients to the decision to withdraw the charges, Bacchus-Baptiste said they are satisfied that they would not have to go through a trial, but angry that they had to go through what had already transpired. 
"It's not a matter that you just use your power to bring prosecutions and then you just use your power and 'Nolle Pros' them – that is not how justice works," she commented. 
The ball is now in their court as it concerns them taking any legal action against the State but the lawyer indicated that her clients have said nothing to her formally. 
"There are still about four or five cases that arise out of the protest that are left to be heard,"she pointed out.
One of these is "a totally ridiculous charge" against Adriana that she on August 5, in Kingstown, being a stranger, obstructed Ralph Gonsalves, a member of the House of Assembly, from going to the precincts of the House of Assembly.
"I'm waiting to see what will happen when it gets to trial because they have already given what they call disclosure (all relevant prosecution evidence), but the disclosure is wholly inadequate so we will see what happens," Bacchus-Baptiste commented. 
On November 26, the prosecution had summoned the eight defendants to court so that an application could be made for all of the separate cases to be heard together due to them having similar witnesses etc. However the defence had objected to this. 
"…These are totally unconnected individuals who were at a demonstration but they want to link them together and say they organised the procession, we could not allow them to be tried together," Bacchus-Baptiste said, "once they realise that would not happen, they realised they would now have to have eight separate trials, at least, and they also had to have separate disclosure."
Continuing, Bacchus-Baptiste said…"I guess they realise the impossibility of that and the futility of it and they did the right thing and they withdrew the cases."
She argued though, that the cases should never have been brought in the first place. 
Further that the Public Order Act that is cited in the charges is not applied in the way that the Commissioner of Police wants to apply it.
"… The Act does not apply. And there are some cases to justify my approach to the interpretation of that Public Order Act. It has nothing to do with lawful demonstrations, we always have a right to demonstrate, not only under the Constitution but under human Conventions."
The police began laying charges under the Public Order Act in August, after a particularly eventful protest in the capital on August 5. During this protest fires were lit in a road adjoining the House of Assembly compound, and the Prime Minister was struck in the head with a missile and was ultimately flown out to Barbados for further medical attention.