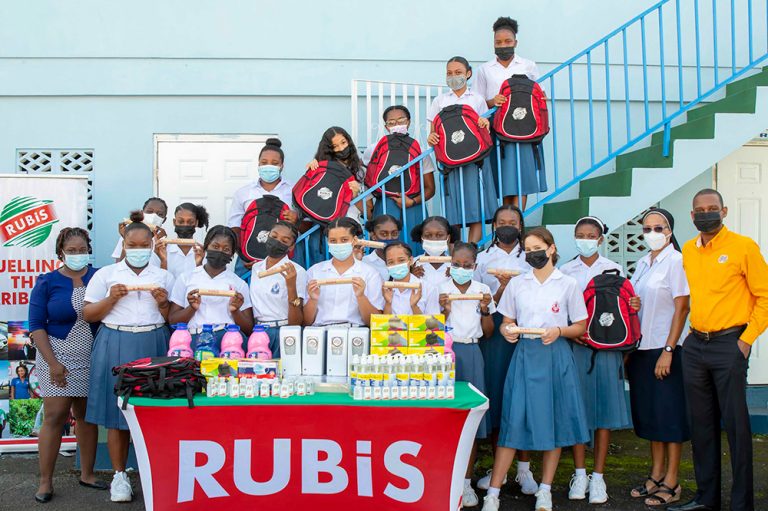 Rubis makes donation to two secondary schools
Rubis West Indies has made a donation of sanitizers, hand soaps, dispensers, face masks and other items to two schools to help in their fight against the COVID-19 pandemic.
The donations were made to the Sandy Bay Government School on November 29, and the St Joseph's Convent Kingstown on November 30.
A release from the company said several students also received book bags.
"As teachers and students return to the classroom, we recognise that many schools will be faced with the challenge of providing adequate essential supplies such as face masks for students, staff and parents.
"We at Rubis are proud to support the St. Joseph's Covent Kingstown (SJCK),and the Sandy Bay Government School amid the COVID-19 pandemic by providing these much-needed items which, we hope, will go a long way in helping to create a healthy and safe learning environment," Commercial and Industrial Country Representative at Rubis, Elroy Edwards commented after the presentations.
He said the supplies, combined with basic safety precautions such as regular hand-washing and social distancing will help to protect teachers and students and their families, and by extension the community.
Principal of the Sandy Bay Government School, Brendon Child expressed appreciation to the company for its gesture.
"These things are very much needed in this time of COVID-19. It is heart-warming when a company like RUBIS steps up and supports in such a generous way," Child said.
"I want to thank RUBIS for taking the initiative to look out for the safety of our children and by extension, the teachers. It's heart-warming. Again, we are very thankful.'
The Principal of the SJCK, Sister Martha Sabestien received the supplies on behalf of the school.
"We wish to express a heartfelt thank you for the continuous contributions and generosity of RUBIS towards the school. The donated items will certainly help to create a safe environment for the students as we return to face-to-face learning," Sister Sabestien said.
"We do appreciate the donation…may God continue to bless your work and RUBIS."
Over the years Rubis has been contributing to the education sector and this latest gesture is just a continuation of the company's commitment to the nation's students, the release states.
Last year Rubis gave 12 needy students laptops while nine received electronic tablets. Its recent contributions also included the provision of broadband/Internet connections for a six-month period to 10 homes. Several other donations were also made which included contributions to the SJCK's annual sports meet and the Ministry of Health's COVID-19 fight.