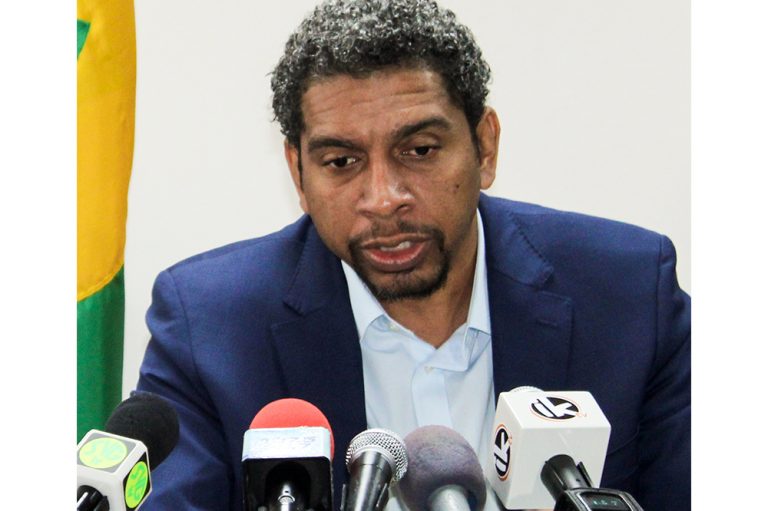 SVG not on verge of economic collapse – Finance Minister
Minister of Finance, Camillo Gonsalves says a December 2 Bloomberg News Wire report falsely suggests that the International Monetary Fund (IMF) says this country is on the brink of 'economic collapse'. 
 "Nowhere in the IMF blog post cited by Bloomberg does IMF managing director Kristalina Georgieva mention SVG. Not once; look it up," Gonsalves commented to SEARCHLIGHT on Monday.  
 The comment was in reference to an article on BNN Bloomberg written by Ana Monteiro with the headline, "IMF Warns of Economic Collapse in Poor Nations Without Debt Fix." 
Part of the article says an IMF official commented that, "With the Group of 20's debt-service suspension initiative expiring at the end of the year and interest rates poised to rise, low-income countries will find it increasingly difficult to service their debts." 
The article goes on to say, "We may see economic collapse in some countries unless G-20 creditors agree to accelerate debt restructurings and suspend debt service while the restructurings are being negotiated" and "Covid-19 has dealt a major blow to world's poorest countries, causing a recession that could push more than 100 million people into extreme poverty", according to the World Bank. The challenges are mounting with the discovery of the omicron variant, which is driving a new wave of infections.  
SVG is then listed as being "At Risk".  
But Gonsalves said the article cited a separate World Bank listing of selected countries that may be at risk of "debt distress" and falsely linked that to 'economic collapse.'  
 "If a country is in debt distress, which SVG is not, it may mean that some debts could have to be restructured. Restructuring a debt is in no way connected to an economic collapse. Further, there are neighbouring islands that the World Bank has determined to be firmly in debt distress already and they haven't done any restructuring, much less collapsed," Gonsalves argued.  
He noted that the COVID-19 pandemic and the volcanic eruptions earlier this year have caused the economy of St. Vincent and Grenadines (SVG),to shrink which automatically increases the ratio of debt to the Gross Domestic Product (GDP).  
"We have also taken on more debt to deal with the humanitarian challenges of the volcano, albeit low interest, long term debt. Our construction of a modern port facility in Kingstown will also raise our debt profile in the short term," Gonsalves further explained.  
He added that the worsening debt to GDP profiles as a result of COVID-19 is not unique to SVG, as Debt to GDP worsened in every OECS member state over the last two years.  
 "In that regard, I fully agree with the IMF and Kristalina Georgieva that the developed world could and should do more to offer debt relief to vulnerable countries. In CARICOM, prime Ministers Mia Mottley and Gaston Browne have been leading this advocacy. COVID and climate change have caused economic challenges unrelated to our own internal fiscal management, and we would welcome any initiatives to reduce that burden," the finance minister told SEARCHLIGHT.  
 He added, "but we are far, far away from anything resembling an economic collapse. SVG has always paid its debts and will continue to do so. We have not even seen it necessary to enter an IMF structural adjustment programme, one of the few in CARICOM to avoid that fate."  
 The finance minister said the overwhelming bulk of the country's debt is low interest, long term, concessionary debt from the World Bank, the Caribbean Development Bank (CDB), the European Union (EU), "and friends like Taiwan or Venezuela." 
 "This debt is manageable," he stressed whole noting that SVG welcomes the IMF's call for debt relief to vulnerable countries and the government has been advocating that for a while.  
 "But there is absolutely no truth in the Bloomberg article's misleading connection between Ms. Georgieva's blog post and the assumption that we are on the brink of economic collapse. Nothing could be further from the truth."
On December 2, an article on the IMFBlog written by Kristalina Georgieva and Ceyla Pazarbasioglu said that despite significant relief measures brought on by the COVID-19 crisis, about 60 percent of low-income countries are at high risk or already in debt distress.  
"In 2015 that number was below 30 percent," the article said. 
Reports show that SVG is listed for high risk of external debt distress and overall debt distress. The listing appears in the latest publicly available Debt Sustainability Analysis (DSA) issued under the Joint Bank-Fund Debt Sustainability Framework for low income  countries (LIC-DSF). 
Grenada is also on that list but noted to already be in distress.    
Minister Gonsalves further stated that having a risk of debt distress does not mean economic collapse.  
Island nations also listed as having high risk of overall debt distress are Haiti, Kiribati, the Maldives, the Marshall Islands, Micronesia, Papua New Guinea, Samoa, Tonga and Tuvalu.