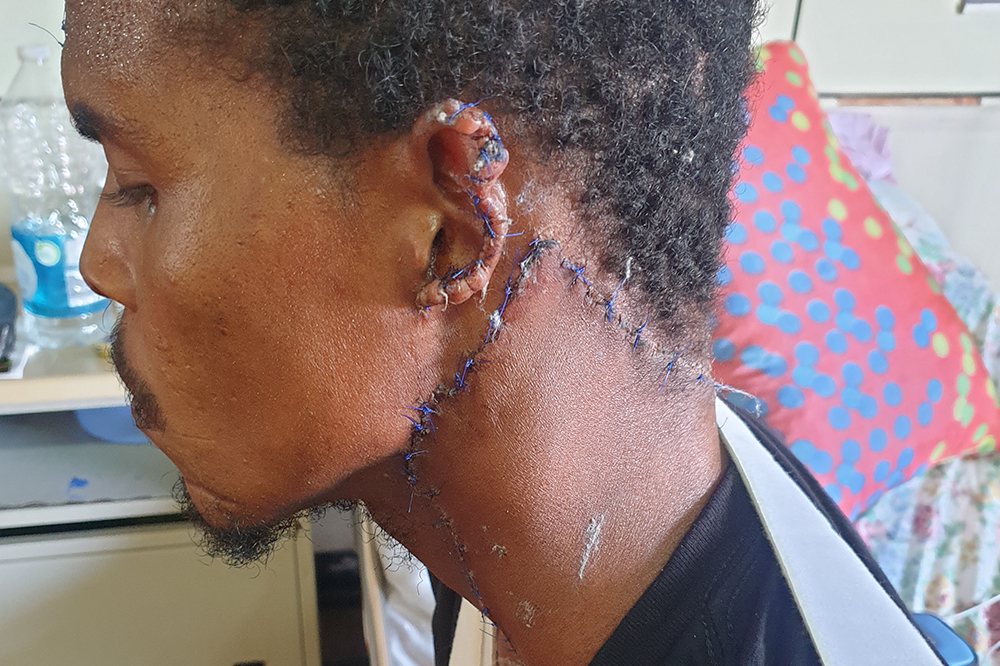 Sandy Bay man looking for justice after being wounded on Bequia
A young man from Sandy Bay who was wounded on the Grenadine island of Bequia on Friday November 26 said he wants compensation and justice; while his mother is thankful that he survived the attack.  
Justin Hoyte, 25,who was chopped on his neck, left arm and back among other places, spent about a week at the Milton Cato Memorial Hospital (MCMH) after he was rushed from Bequia onboard a coast guard vessel on the same day he was wounded.  
The aftermath of the attack was recorded and posted to social media. It showed Hoyte on the ground bleeding profusely from a wound to his neck while persons stood around.  
After the recording, it was speculated by many social media users that because of the extent of the wounds seen, Hoyte would not make it…but he did, and on Friday December 3 spoke to SEARCHLIGHT from the MCMH.  
During the interview Hoyte said he and his alleged attacker had a fight at around 6 p.m. on November 26 in the harbour on Bequia and after the fight, while he was looking for his watch and phone which fell during the "scramble up", the man returned with a machete/cutlass and chopped him at least three times. 
The fight was the highpoint of an ongoing dispute which had turned to blows once before in the first week of November when Hoyte was allegedly beaten with a length of steel pipe by the man who he said chopped him on November 26.  
Explaining the nexus to what led up to him being in hospital, Hoyte said he and his attacker worked in construction for the same employer on Bequia and during the first day of his employment he borrowed EC$100 from the boss.  
"…and he is the first guy come and tell me buy bread for him and I gave him $10," Hoyte said.  
He added that a few days later the man he loaned the money had some marijuana and he asked him for a joint but the man replied, "is sell I selling".  
"When I really look at that I decide he ain't really no kind of friend to me so I decide I going hold off and keep to myself," Hoyte explained.  
He said his room mate at their residence at Cemetery Hill on Bequia knew that he and his alleged debtor were not friends but would still bring the man to the house and allow him to use the cooking gas.  
"He bringing him to use my gas to cook and ain't telling me nothing. Sometimes I come home and mister cooking on my gas and watching me screw face so it have this day it get overbearing so I decide I going pack my clothes and move out from dey because I don't like that kind of energy," Hoyte who moved to another part of Cemetery Hill told SEARCHLIGHT. 
After he moved, one day he was on the job when the man he said loaned the money to "give me some talk" and "I told him if he lash me I won't leave it so".  
Hoyte said at the end of the work day on is way home he met his alleged debtor, who had left the work site ahead of everyone else,and another man each with a piece of steel pipe and his alleged debtor struck him with the iron pipe.  
"The boss fire him the next day and since the boss fire him for that is like he have something against me."
Hoyte said the day on which he was chopped there was a "little scramble up" after which his attacker left and returned with a cutlass.  
"Me ain't feel too good about this because I ain't do nothing to deserve this. I lend him money, buy bread for he, he use my gas…when you give them an inch they want a mile…they just want to use you when they want to and you must allow it…you must just sit down…," Hoyte complained. He said that he has known his alleged attacker since they were students at the Georgetown Secondary School (GSS). 
Hoyte, the father of a daughter who turns two on December 21 said his left hand is not functioning properly now so he may have to delay his return to work.
"I go like to get compensation and justice because people know, and he (alleged attacker) know that too, I ain't deserve this," Hoyte stressed.  
Hoyte's mother Dionne Hoyte-May also commented on the situation.  
"For me I just want to thank God that my son still alive and I just want justice for my son…people would want to say bad and good but you bring children and you don't bring their mind," said the unhappy mother. 
A man has been charged in relation to the incident.