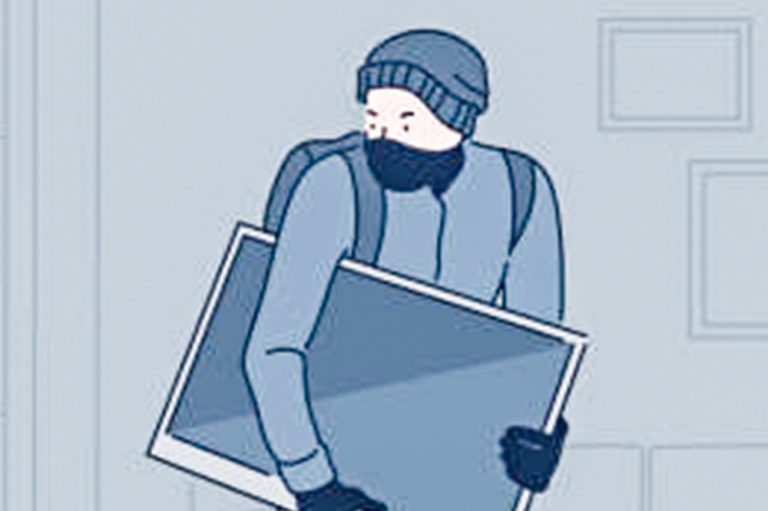 Thief tries to hide 55" TV on his head
A man carrying a concealed stolen television on his head was suspicious enough that someone who recognised him tipped off the police, leading to his arrest.
Now, he is locked up for 28 months after being nabbed for burglary. 
Edwin 'Black South' Caine, 48 years of Arnos Vale, admitted to breaking into 59-year-old Modesto Joseph's home in Arnos Vale. 
Caine, on November 4, took a 55inch Samsung Smart television, a Samsung smart phone, a trimming machine, a Gillette shaver and blade, an Angle 3 bluetooth speaker, a multi purpose tool set, two jerseys, Vaseline Intensive Care body lotion, a plaid short pants, four packs of matches, three Eveready double A batteries, a white handled knife and a blue flashlight. 
All items amounted to an overall approximate value of EC3,329.00 The journey that led to Caine being arrested began with a report of a burglary to the Roads, Buildings and General Services Authority(BRAGSA) operations in Arnos Vale where a green and white Matouk's peanut butter and a microwave were reported to have been stolen. The microwave was discovered in a shallow hole behind Caine's house in Arnos Vale. 
On November 4, at about 12:15p.m, the police received information about Caine, dressed in all black with a backpack on, walking with a television on his head. 
The police responded, and PC 540 Sam and Cpl 296 Davis spotted him at 12:4.0pm, walking(without the television) through some bushes behind the Unity Labour Party(ULP) constituency office in Arnos Vale. However, when Caine saw them, he bolted. 
After a chase the police cornered him near the Sunrise Supermarket.
A search revealed $350 in cash made of seven $50. In his backpack were a Matouk's peanut butter, and the items stolen from Joseph. 
Caine was first arrested on suspicion of the offence of handling stolen goods, as it wasn't until Joseph went in to report the matter later that he was able to identify these items as his. 
The television was also identified by Joseph when they recovered it from a porch of an abandoned wall house in Arnos Vale. 
There was recovered surveillance footage of Caine walking with the wrapped television. 
He also admitted in a statement to the police what he did, and this statement was read at the Serious Offences Court(SOC) on November 22. 
The accused told them that on November 4, "I go by a house in Arnos Vale. I walk up in the yard because the gate bin open," and then he went to the back of the house and pulled out the door. 
He went inside and took the television and other items. 
While most items went into the backpack,he wrapped the television in a white sheet and carried it on his head. 
"When I walking on the road I pass a prison officer", he recalled, "I see him watching me and I shout him and continue my way."
He dropped off the television at a house and then went to talk to a girl and it was then that he, carrying the back pack, was chased by the police. 
Caine told the police that the money in his pocket was for him to pay rent.
 
He is a father of two children. 
Prosecutor Sergeant Renrick Cato noted that burglary is a serious offence, and it is high time that persons should feel comfortable securing their premises and leaving to go to work. 
He noted the defendant's previous criminal record, and said he doesn't know when he plans to stop this kind of behaviour. 
It was disclosed that 10 of his 12 previous offences were crimes of dishonesty. His last conviction was in 2018, when he was given a 24 month prison sentence. 
Cato asked for a serious message to be sent. 
Chief Magistrate, Rechanne Browne stated that the court takes these offences very seriously, and that persons suffer emotional trauma from finding their homes burglarised, and in some cases have issues sleeping. "Persons have to work to get these items" she said, and they are also important for their sentimental value. 
She stood down the matter to calculate the penalty based on the sentencing guidelines.