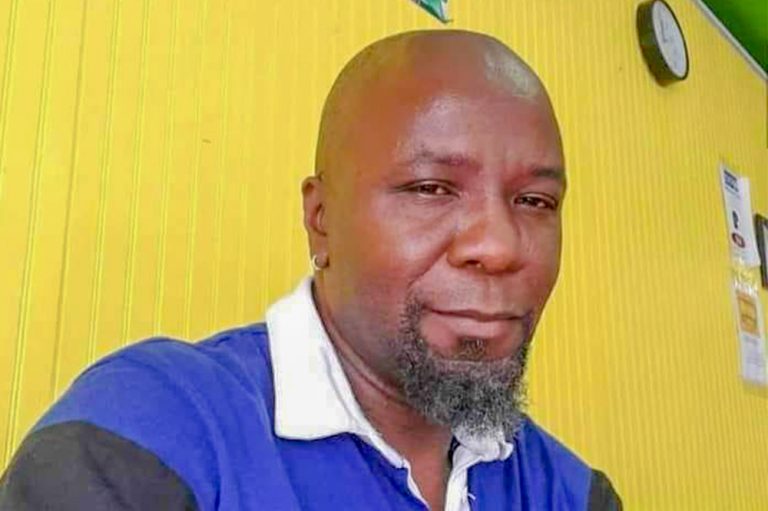 Cultural icon falls to his death at his home
Franklyn Dexter Richards's long-time friend Esworth "Ezzie" Roberts has described him as a true patriot who went out of his way to defend and help St. Vincent and the Grenadines (SVG).
Richards, better known as "Supadex", passed away on Saturday after he fell from the upper storey of his home at Stubbs.
"That man was like my brother…he had a big heart. He always wanted to help and do things for St. Vincent and he is one that I can truly describe as a patriot as he would go his lengths to defend St. Vincent at all times," a mourning Roberts told SEARCHLIGHT on Wednesday.
The bereaved man said he and Richards met as students at the St. Martin's Secondary school and they built a lifelong friendship that lasted until death snatched it away.
Roberts said Richards was always passionate about SVG and certain topics and for some reason, both of them always started and ended certain conversations.
"We had differences of opinion. He was passionate about his position on things but we never got to a stage where we argued and got upset and stopped talking to one another," Roberts said.
He noted that he and Richards were involved in several projects together over the years including being part of a local group called Young Turks Entertainment with persons like Kevin Lyttle, the Martin brothers and Curt Quashie.
"We basically did entertainment, lip synching, back up singing, stage presentations for calypso. We were quite active back in those days…organised tea parties and different events and as teenagers we brought Judy Boucher to St. Vincent when she was making waves and the fact that a group of teenagers was able to do that was a big achievement for the group as persons thought we couldn't do it," Roberts recalled.
He recounted that when Richards finished secondary school he went on to the sixth form and then taught for over three years at the Kingstown Preparatory School (KPS) under former minister of government Girlyn Miguel.
"….and they had a good relationship as he was a dedicated teacher," Roberts told SEARCHLIGHT.
Richards is the nephew of Calypsonian Cyril "Scorcher" Thomas and after his stint at the KPS, he went to New York in 1990, having been encouraged to further his studies by his uncle.
He graduated from New York City Technical College with a Bachelor's in technology, specialising in computer graphics and applications.
Richards, originally from Calder, was a calypsonian, radio producer and renowned graphics artist and worked in the United States (USA) for many years until he moved back home last December.
He was part of organisations like the SVG Diaspora Unit as well as the committee that organised the Vincy Day picnic in New York. He also was part of group assisting with the local volcano relief initiative and donated the "SVG will rise from the ashes" T-shirts.
He once worked as a desktop operator at Quad Graphics, and had his work recognised by New York City through a banner display along Church and Nostrand in Brooklyn. The banner looks at the diversity of Brooklyn, particularly the huge influx of Caribbean immigrants.
"He always loved art and would sit around and draw. He did a number of nice canvas pieces and one time he did an album jacket for Scorcher, and Becket saw it and loved it and gave him a shot to design one for him," Roberts said adding that Richards went on to design many album covers for not only locals but Soca acts from all over the world.
Richards who had a company called Blak Shuga Graphix, has designed record labels and CD covers for artistes like the late Lord Kitchener, the Mighty Sparrow, Sugar Aloes, Super Blue, Swallow, Lord Nelson, Vision, LA Crew, Dread and the Baldhead, and Alston "Becket" Cyrus.
He was also president of the Brooklyn-based Dynamite Calypso Tent and designed record labels for Trinidadian-owned Charlie's Records, one of the leading Caribbean record companies in New York (NY).
Roberts said when Richards started Blak Shuga Graphix and later Blak Shuga Enterprises, he involved him and Jean Johnney-Findlay and started producing Vincentian themed post cards that featured local faces.
"He always liked business…he was hustling at a place called Diana's Card Shop in New York and so he got the idea that he can produce a Vincy version of post cards and he started this business using local poems and local faces," Roberts said noting that Richards had a thriving business designing business cards, T-shirts and other printable material.
"Five years ago he got serious about moving back home as he did not want to live in the United States forever…I got the call on Saturday that my brethren drop from his house and died… I paused and couldn't move and said 'this story can't be real and it couldn't be true'… and I called Luta (Rondy McIntosh) to go to Stubbs and we met the police and a number of persons and I saw him there on the ground and I saw balusters that broke from the floor above and it is not easy to deal with…"Roberts said.
Richards 53, was born on May 28th 1968. He is the father of a son Malik and a daughter Falani.