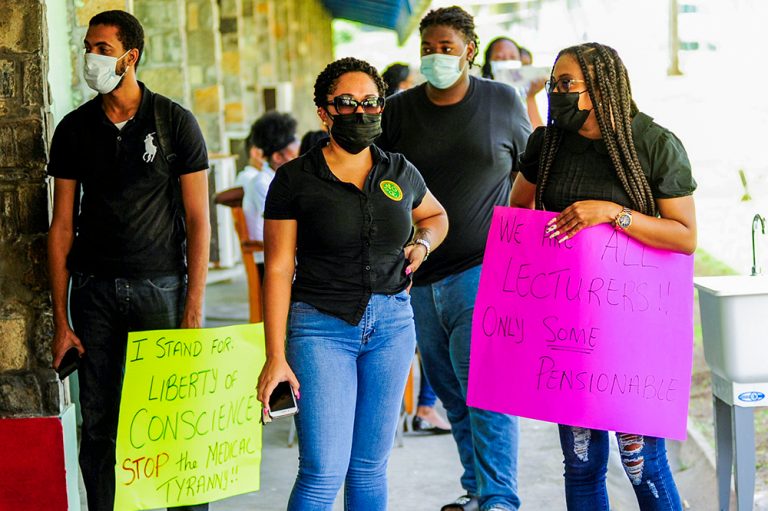 Protesting SVGCC lecturers want what is due to them
Some Lecturers at the St Vincent and the Grenadines Community College (SVGCC) vacated the classrooms last Friday November 19, to protest the coming into force of the Government's mandatory vaccination policy though SR&O No 28-The Public Health (Public bodies Special Measures) Rules of 2021.
Stacey Balcombe a lecturer at the Technical Division of the SVGCC, told reporters: "We need to see the improvements here, we want lecturers to be able to get their benefits, pension, severance, insurance, all of the things that have been on the table for so many years; let's get it dealt with now."
"It is overbearing, it is tiring. We love what we do. We are not here this morning because we want to make a big hurrah, or we want to embarrass anybody. We are here because we are tired. We know that Technical is supposed to be an outstanding institution not just in St Vincent but in the region,"she declared.
The apparent spokesperson of the teaching staff at the college's Technical Division situated at Sion Hill said: "For the past years we have continued to take this, take that and we are totally fed up. We are tired. We are professionals here with Masters, with different skills, with experience of industry. We are doing our best, so why is it that admin' cannot do the best for us as well?
"That is where I stand and I hope that we get the support from the Vincentian public. I hope that administration can at least; unfortunately it has to reach this point but is has been time enough", she added.
In response to a question why they had not protested previously over the stated grievances, Balcombe said, "It is because we have had promises made, and for someone who loves their job, you would hope that they would actually one day deliver on their promises."
"What really pushed us to this point is the swiftness in which they mandated this vaccine. Realising how swift something can change and take place legally, and we have had things mandated for college lecturers on the Board since 2007 not yet dealt with, yet we have a mandated vaccine that happen overnight," Balcombe pointed out.
"So why it is that you are pushing this vaccine and not pushing for the benefits and the rights of the lecturers to make sure that everybody is happy at the end of the day," she asked.
The teaching staff was joined by some of the students from the Technical and Vocational Division in their protest last Friday morning.
Balcombe said the Division has set an example regarding the COVID-19 pandemic by adhering to the protocols.
Lecturers, she added, have been neutral with each other and students whether they should or should not get vaccinated.
The lecturer, who volunteered that she is fully vaccinated said she did so based on a health need to protect herself, her family, and to contribute towards protecting the students and fellow lecturers.
"…I got vaccinated long before they mandated the vaccine. I knew that I had to come back into class at one point in time. I knew I had to mingle with students from different walks of life and I also know that if I have to travel I would need to be vaccinated."