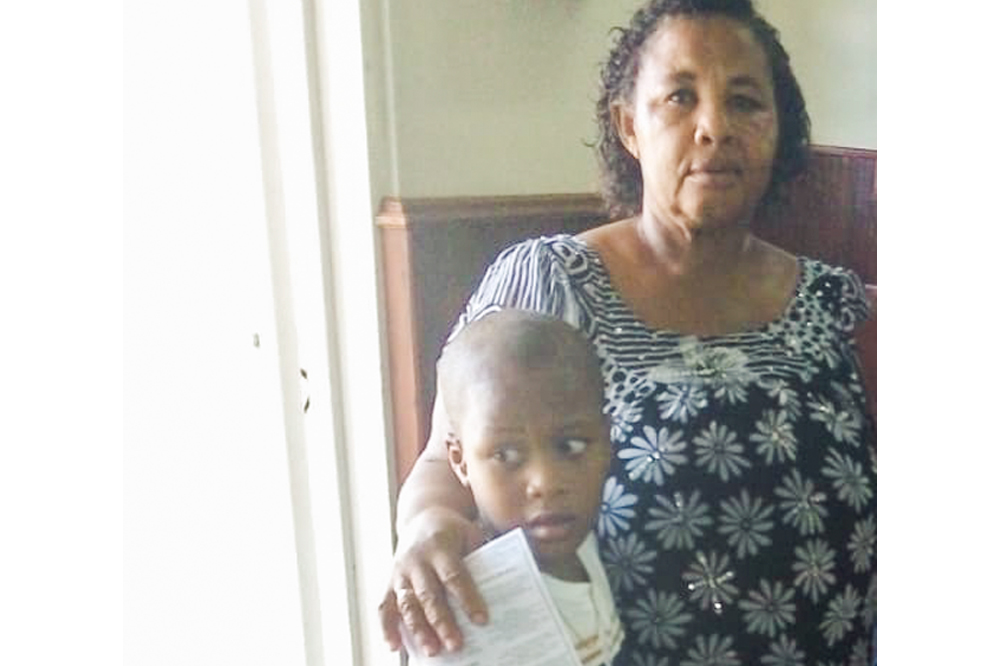 Youngster dies after being struck by minibus
THE JOY THAT Juan Baptiste gets from being a foster parent has been snatched from her.
Baptiste of Barrouallie was the foster mother of seven-year-old Jaden Bobb, the student of the School for Children with Special Needs who died on Wednesday after being struck by a public service vehicle.
"I took him from a baby…he was nearly two years old when I got him…he got knocked down but I did not expect he was dead," Baptiste told SEARCHLIGHT on Thursday while sitting at the Milton Cato Memorial Hospital (MCMH) awaiting Jaden's autopsy.
On Wednesday November 17, the police said in a press release that they had launched an investigation into the circumstances surrounding a motor vehicular accident that resulted in the death of a seven-year-old pedestrian.
The police said according to reports on November 17, Leron Gordon a 40 year chauffeur of Chateaubelair was driving motor vehicle H-6405 from Chateaubelair heading towards Kingstown.
At about 7:15 a.m. while driving along the public road in Keartons, Barrouallie the said vehicle collided with Jaden Bobb, a seven-year-old student of Barrouallie, who was a student of the School for Children with Special Needs. Jaden was in the company of his grandmother at the time of the accident.
The child was taken to the Milton Cato Memorial Hospital(MCMH),for medical treatment but later died from his injuries. The driver was taken into police custody to assist with the investigations.
Baptiste told SEARCHLIGHT that on the fateful day, Jaden's grandmother, Baby Jeffers had taken him to get transportation to go to school and it was during that time he was struck by the minivan.
"I was at home when I heard her crying coming back so I went to see and I heard she bawl out and I just started to bawl because I know something happened," Baptiste said, adding that she took a bath after she learnt what had happened and went to the MCMH where she saw Jaden who had already died.
"It is so sad. I could not believe that Jaden was dead when I reached to the hospital and to see him here was…," Baptiste broke off.
She remembers the morning he was leaving home sometime after 6:00 a.m., he was waving and repeating "goodbye".
"He was such a good child, he knew the tablet well and sometimes he would take my phone and
call all my friends and send voice message and thing in his own language because he wasn't talking so plain…so I really miss him and I love him and miss him," said Baptiste. She related that you would have to observe Jaden closely to know that he was mentally challenged.
"I think all these drivers on the road should be more careful especially when they see children… they need some [speed] bumps on the road to protect other children even, not mine own alone but others because the amount of speed they coming up from Leeward or even going down, they really need something on the road," Baptiste related. She said this was not the first time that someone was fatally struck by a vehicle in that area.
"I don't even sleep last night, I don't even eat," said Baptiste who has a foster daughter and a biological son.
The bereaved woman said if she was there when Jaden was struck she may have fought with the driver but at this point she has forgiven him although her heart is heavy.
She spoke of her love for children and has taken care of many of them, some of whose parents have returned and taken them which sometimes upsets her but she does not give up on helping children who are in need.
Jaden received several injuries including to his head and arms. He would have been eight on May 22 next year.