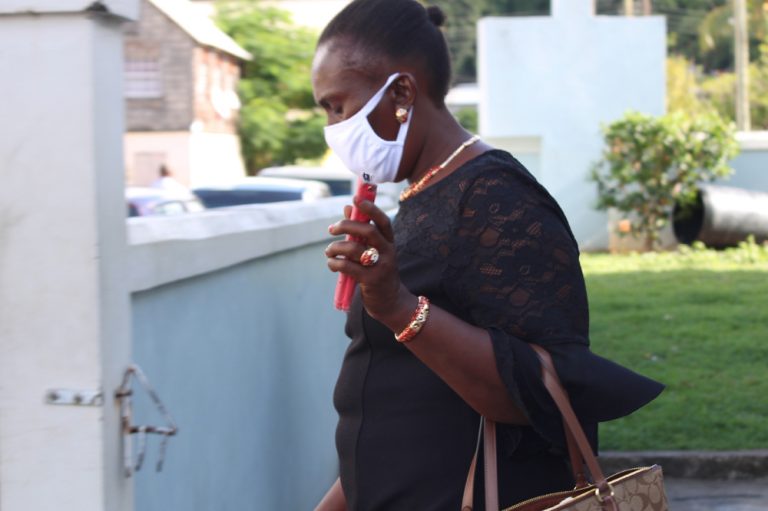 Wife of shooting victim takes stand
Nicole John alleged during trial that after her husband was shot she called Senator Ashelle Morgan who was surprised, commenting that it was thought to be a warning shot. 
 Morgan and Assistant Director of Public Prosecutions(DPP) Karim Nelson were both acquitted yesterday, November 18, on the various charges that had been brought against them in connection with the April 13 shooting incident. The prosecution failed to make out a case for the defence to answer. 
Nicole John was the fourth prosecution witness to take the stand, and she did so last Friday, November 12, albeit reluctantly, as she admitted under cross examination from Nelson and Morgan's lawyers. 
 She explained that on the morning of April 13 she and Morgan were going on a drive to the shelters. They were in the process of this when she received a phone call from her husband. They spoke, but the court rules dictate that this is hearsay evidence since Morgan may not have heard and the content of those conversations were not revealed. 
Her husband apparently called her a second time, and then a third time. During the third call she is said to have put the phone on speaker. 
She was sitting in the front seat when he called to apparently ask "what happen you want to invoke the demon in me and chop off your neck."
She said when he said this she just listened to him. 
The Senator then drove her home, and John's wife asked Morgan to leave her at the "top" gate. There were two gates at her residence, which was separate to the one where her husband lives. There was a top and bottom gate. 
Morgan apparently left her at the top gate, and then drove to the bottom gate, where she stopped. 
Cornelius was said to have been making noise outside Nicole's house but she insisted he did not have a cutlass in his hand.
The wife claimed that she was on her porch and she sent her cousin for water cases from Morgan. 
After this was done her husband was still arguing and Morgan apparently drove off and left.  
The witness stated that Morgan called her and asked her what to do. During cross examination, she did not elaborate on this. 
Then she told the Senator that if she feels threatened "do what you want to do", Nicole said. 
There was another call, according to her, and "she said to me: the police came? I called the police."
Nicole said she told her, no. 
She said that there was a third phone call, and during this Morgan sounded like she was trying to catch her breath, and "I asked her if everything is okay."
She said yes but "she and the DPP" were coming down the road. 
In cross examination the wife was questioned about this, because she had apparently said in a statement that Morgan was with two male individuals that she assumed were police. However, the wife maintained that she was not allowed to read over her statements. 
She told the lawyers in cross examination "Miss Morgan never said the police. She said to me the D. P. P."
Nicole said she came out on the porch to look, and saw them enter her husband's yard. 
When they went in, she apparently saw Morgan stayed by the side while the tallest was behind and the other by the side. 
The wife said her husband was "making noise", and saying to Morgan to leave his family alone. 
She said her husband was sitting on a block trying to get up when the tallest man pushed him back down on his shoulder. 
The wife said she heard the "tall one" say "Man relax we come to talk" and she continued "listening attentively". 
After this she related that she heard Cornelius crying "Oh God allyuh want to kill me, kill me and done."
She said after this she heard a gun crank and a gun went off. After the bullet went off, she jumped. 
The group left the yard and the wife sent her cousin to see what had happened to her husband. 
When her cousin returned and spoke to her, she supposedly called Morgan. 
In a phone call, the content of which was never disclosed to the defence before the trial, Nicole alleged she asked Morgan "allyuh shoot 'Corny'?"
The wife testified that the Senator said "Really?" and told her everything had happened so fast she thought it was a warning shot. 
Nicole then seemed to ask her how she thought it was a warning shot. 
"Then she said to me she feel bad about what happened," the wife claimed, "so I said to her why you didn't tell the man don't shoot?"
The wife repeated that everything happened so fast, and she asked what they were going to do. 
The witness then said Morgan repeated that she felt bad about what had taken place and then allegedly said "what happen, he will never mess with another woman again."
The next day she went to the Calliaqua police station and reported her husband for threats made to her. 
On April 15, she claimed that she received a text from Morgan asking her why she "contradicted" everything, and asking why she did not tell the police Cornelius had a cutlass. 
This text was not found when the defence asked that she produce it.