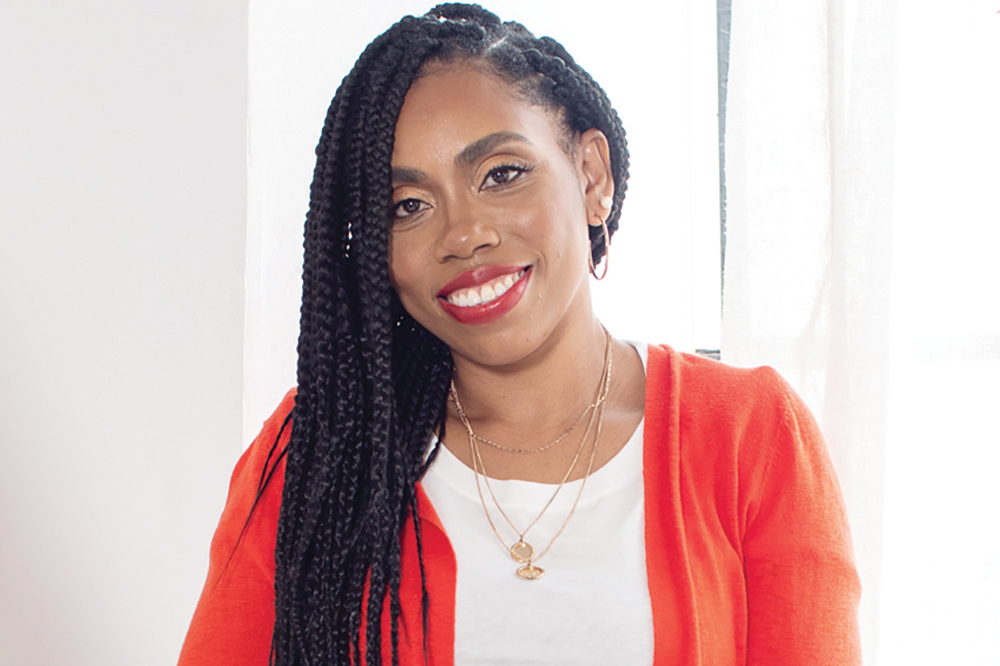 Vincentian businesswoman finds success in Canada with Azetta Design Company
A hustler's approacH to business, learnt at the feet of a grandmother, has manifested itself in the Azetta Design Company, a successful Vincentian female owned Black business in Canada.
The woman at the helm of the Toronto based brand design studio is Azetta Young, a former resident of  Redemption Sharpes, a village on the outskirts of Kingstown.
Her studio specializes in graphic design and brand strategy that supports creative women in business.
"We are passionate about helping other women make an incredible first impression and stand out as a brand," it says on the company's website (www.azettadesignstudio.com)
Azetta told SEARCHLIGHT in an interview on Monday, that while a student in St Vincent and the Grenadines, she studied the sciences, history and English, but art was always her "love and joy". So when she migrated to Canada in 2009, instead of continuing her career as a teacher, she enrolled in the interior design program at Humber College.
After completion of the program, Azetta worked in the interior design field and spent a few years in the corporate world. Her passion led her to start the Azetta Design Company and she is making strides in this field in her adopted homeland.
Her business has been featured by several prominent publications and in upscale settings that promote Black businesses.
Her package design for a chocolate producer, 'One More Cocoa', stands out as it is displayed at Black Owned Toronto which has locations at the Scarborough Town Centre and Eaton Centre and at the Art Gallery of Ontario (AGO).
One More Cocoa's designer packaging by the Azetta Design Company has also been featured in the Toronto Star and at the Toronto International Film Festival through Wes Hall's Dragons' Den of Canada. The design also caught the eye of Oprah Winfrey.
"So I created a line of chocolate boxes for One More Cocoa; the owner, a woman, has roots in Jamaica and St Vincent and…Wes Hall, he believes in Black businesses and he choose to have the chocolate boxes by looking at the design.
"The design stands out and through this we were seen by Oprah Winfrey and her team while she was picking for Oprah's Favorite Things," Azetta explained vibrantly.
She said while they did not make the final list for Oprah's Favorite Things, it was exciting to know that her designs got into the hands of Oprah.
"…I think that is really a big deal," said Azetta.
The entrepreneur is encouraging persons to follow their dreams as her business started as a hobby.
"One day, a Polish company I was working for, I showed one of the ladies my work; handmade cards, and she thought they were great and started buying them from me around 2016…. Then on my last job, I got into a car accident and I had to stop and so I started my business," Azetta explained.
She started with wedding invitations, but COVID-19 put a dent in that aspect of the business so the focus has been on custom stationery, branding and graphic design.
"One of the things that I find my clients are saying to me constantly is that I am really good at listening to what they need and also deciphering what they are asking and bringing whatever vision they have in their head to reality.
"It is not everybody that can do that. There are other designers they go to and they are disappointed because they were not able to listen to the vision and actually capture it. It's literally taking an idea [and]… making it real whether it's printing or package design," Azetta said.
She said her knack for business came from her grandmother Louise 'Miss Louise' Yearwood who sold homemade confectionaries in government buildings and on the streets of Kingstown.
"…My grandmother is the first entrepreneur I knew up close. She taught me what it is to hustle and do well and take care of customers.
"… Looking at the way she treated everyone taught me how to treat my clients up to this day and my daddy (Noel Edwards), he is a builder by trade and carpenter and he has always encouraged me to be creative and involved in the arts," she explained.
Azetta is married to Jairzinho Young and together they have a son Elliot. She advocates for mothers in businesses to assert themselves and think big.
"I want to show people than mothers are more than our struggles and I want to find some way to give back to the Vincentian community and mothers.
"Sometimes we think when we have babies our life is done, but it is not the end. We are more than our struggles and we can do really big and amazing things and I want to encourage my community to dream as big as you can dream and whatever it is you are passionate about, go after that and don't let anybody tell you it is not possible or cannot be done. I know it sounds cliché but I am proof of that," Azetta asserted.
The Vincentian designer has worked with persons all over the world and also runs the Whole Bag Company which produces custom printed fabric bags (@thewholebagco on IG).
"I can work with anyone, anywhere…Hong Kong, Germany, the United States, global…I am hoping to grow and I have started looking at having interns and other assistants," Azetta revealed while adding that next year, she sees herself not just featured in the Black Owned Store but globally and even in the land of her birth St Vincent and the Grenadines.
"Seeing my work there would be a joy," she said.
Azetta is a former student of the Kingstown Preparatory School (KPS), the Girls' High School (GHS) and the divisions of Arts, Science & General Studies and Teacher Education at the St Vincent and the Grenadines Community College (SVGCC). Before migrating to Canada, she taught at the Bishop's College Kingstown and the Windsor Primary School.
"I feel truly blessed today because I was surrounded by such incredible women in my family who have shown me at different stages in my life that we are more than our struggles. My only sister Akisha Yearwood, my mom Phyllis Yearwood and my late grandmother Louise. I'm also grateful to Janet Doyle of Belair," Azetta noted.