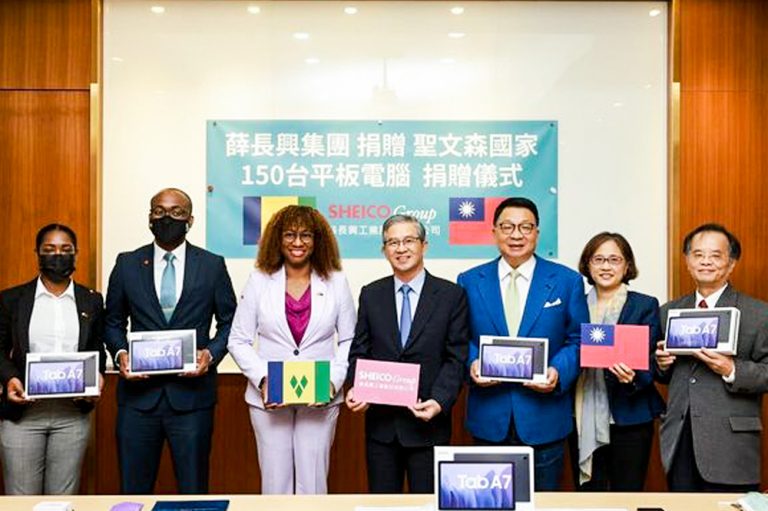 Taiwan company donates 150 tablet computers to SVG
The Taiwan sportswear company SHEICO Group yesterday donated 150 tablet computers to the Embassy of St Vincent and the Grenadines (SVG) to help students access online education in areas affected by the volcanic eruption of La Soufrière.
The tablet computers, valued at US$43,000 were handed over at a ceremony at the Legislative Yuan in Taipei after a request was made by the SVG Embassy to the Global Disaster Relief Alliance. The call was answered by the SHEICO Group.
CNA English News said while expressing thanks for the donation, this country's Ambassador to Taiwan, Andrea Bowman said that the students of the "Red Zone" in SVG would be grateful for the donation. 
"This 'Red Zone' is the area of our country that will benefit today from the generosity of the SHEICO Group. The schooling of most of the students in the area has been severely disrupted for extended periods," Bowman said.
Although online classes have been organized by the Ministry of Education, student access has been hampered by not having the required technological devices, Bowman said.
SHEICO Group President and CEO, Min Shiue said he wanted to use the opportunity to thank SVG for its strong vocal support for Taiwan on the international stage.
After the ceremony, Bowman told CNA the Taiwanese response to help SVG was indicative of the two countries' 40-year friendship. 
"People tend to not want to speak about friendships in diplomacy, you know there is a saying that in diplomacy you tend to have interests and not friends. I say very boldly, what we have with Taiwan is a friendship," Bowman said.
The latest donation of 150 tablet computers follows a pledge on Saturday by Tunghai University's Alumni Association New Taipei branch to donate NT$854,200 (US$30,723) to provide assistance to Vincentians.
The initial explosive eruption of La Soufrière volcano displaced about 20,000 residents after it blanketed the country in a thick layer of ash on April 9.
At present there are still around 107 displaced persons across seven shelters, Bowman said.
Taiwan and the St Vincent and the Grenadines established diplomatic relations on August 15, 1981, resulting in over 40 years of friendship.