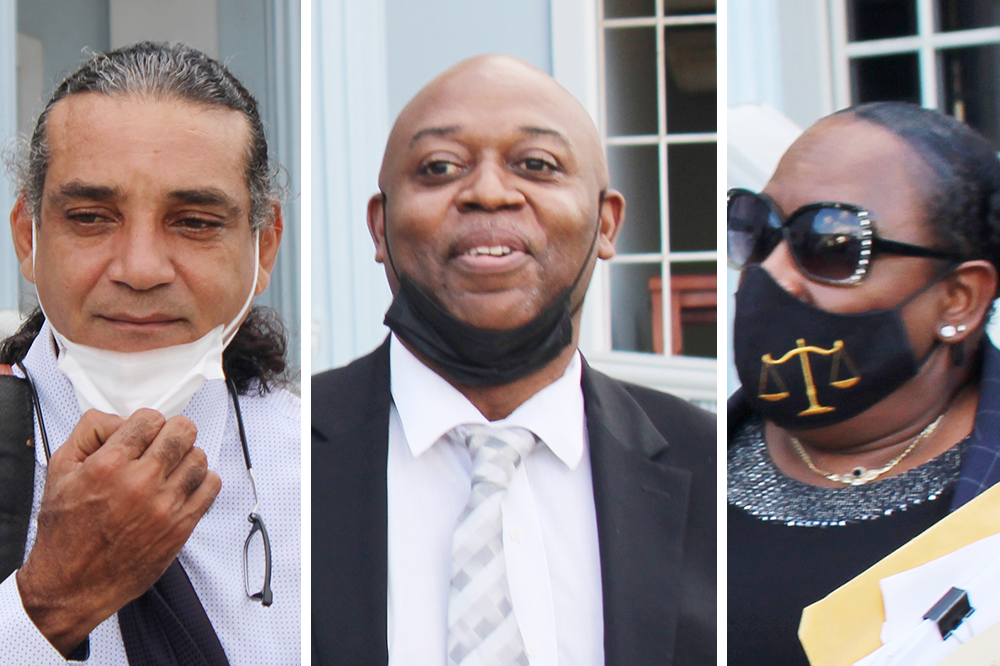 Tension mounts between defense lawyers and Bacchus-Baptiste in trial of Morgan, Nelson
There has been tension at the bar table during the case involving the April 13 allegations concerning the shooting of businessman Cornelius John, with defence counsel repeatedly noting that the counsel with the 'watching brief' is being "disruptive". 
 "Your honour can we ask counsel with the 'watching brief' to stop making comments across the bar table and disrupting counsel," defence lawyer Ronald Marks asked Magistrate Bertie Pompey at the Mesopotamia Magistrate's Court (sitting in Calliaqua) last Friday afternoon.
"Everybody inside of this court hear you talk. Everybody in this courthouse hear you talk," Marks said of Kay Bacchus-Baptiste. 
The trial is hearing evidence in the matter in which John was said to have been shot in his leg.
The defendants are Assistant Director of Public Prosecutions(DPP) Karim Nelson and Unity Labour Party(ULP) Senator Ashelle Morgan. 
Following this trial, John will be tried for allegedly using threatening language to Morgan on the same date, and he will be represented by Bacchus-Baptiste, who is holding a 'watching brief' in the current trial. 
Last Friday, Bacchus-Baptiste asked Marks, who represents Nelson if he had heard what she said. 
"…This cannot be permitted," Marks commented.
Defence counsel Duane Daniel who represents defendant Morgan, pointed out that "She(Bacchus-Baptiste) has a 'watching brief', she ought to respect these proceedings. It is disruptive." . 
Bacchus-Baptiste asked if he was finished and she made efforts to rise from her seat, but she was stopped by Daniel who stated,"Do you see my point? She has no right to rise in these proceedings." 
"She has a dog in the fight, she has an interest in the outcome of these proceedings in relation to the client she represents. She is not 'Amicus', she has an interest to serve," Daniel pointed out. 
He was referring to Bacchus-Baptiste previously rising as 'Amicus Curiae' or a friend of the court. 
"…And her attempt to influence these proceedings," which may have a knock-on effect concerning her client John, "…is an interference," Daniel added.
The magistrate instructed that the proceedings continue without further interruption.
 
Daniel noted that this should mean counsel having nothing but a 'watching brief', "taking notes so that it may be relevant in the matter which she represents her client, who is a witness in these proceedings. Otherwise she sits and she is silent."
Bacchus-Baptiste responded,"…That is not the law," to which Daniel repeated, "…She sits and she is silent with a watching brief."
Bacchus-Baptiste seemingly began to make a comment about not being muzzled. 
"…And she keeps speaking about muzzles but I will say this, I wish she will not disrespect herself by referring to it as a muzzle because only dogs are muzzled. A muzzle is for a dog," Daniel said. 
This caused Bacchus-Baptiste to state that she would not be disrespected. 
"I did not disrespect her," Daniel insisted. 
Bacchus-Baptiste said he had used words which referred to her as a dog. 
She rose, saying that the magistrate spoke to her, and she cannot sit and respond to him. 
The magistrate told Bacchus-Baptiste that he would seek her opinion when he needed it. 
The counsel agreed, but repeated that she would not be disrespected. 
"I did not disrespect her, I said she used the word muzzled, that she disrespected herself because muzzles are put on dogs. I never called her a dog. I said she referred to an implement that is used on dogs, I asked her not to disrespect herself," Daniel said. 
The Magistrate then moved the proceedings forward. 
This was not the first time that tensions erupted between the two lawyers and Bacchus-Baptiste; it also happened on the Wednesday and Thursday prior.
Yesterday,Daniel was in the process of cross examining a witness when he apparently heard a comment from his colleague and submitted to the magistrate that Bacchus-Baptiste was "indicating a particular course of action to this witness who is giving evidence."
Bacchus-Baptiste responded that it was "…so ridiculous". 
Marks also rising in support of his co-counsel's point claimed that Bacchus-Baptiste was speaking loudly at times, and "shouting instructions" to witnesses. 
The magistrate reminded Bacchus-Baptiste that she only had observation status in the matter.