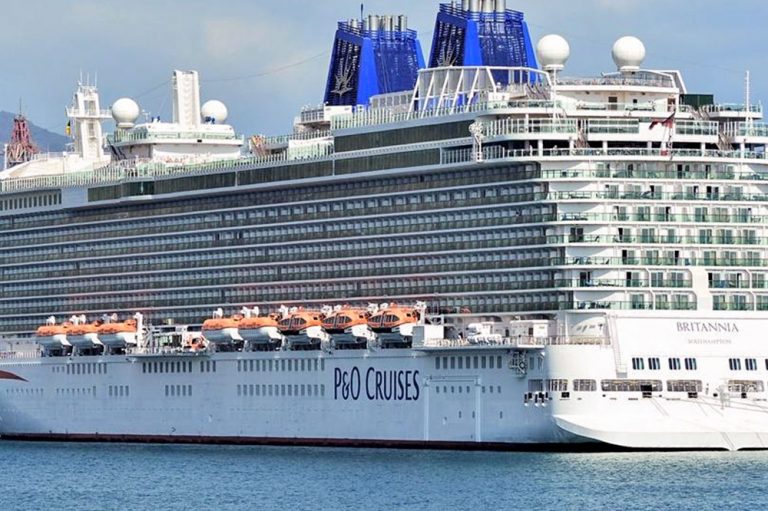 Britannia kick starts cruise ship calls to Port Kingstown
Port Kingstown had its first cruise call of the year last Thursday, November 11, officially signalling the start of the 2021/22 cruise ship season. 
Britannia, with a capacity of more than 4000 was the first vessel to dock in Kingstown since the start of the COVID-19 pandemic.
In keeping with cruise protocols established by the Cruise Task Force, all crew and passengers on cruise ships making calls to St Vincent and the Grenadines are required to be fully vaccinated. 
According to a release from the Ministry of Tourism, passengers who disembarked Britannia operated in an organised "bubble tour". 
And only passengers who are participating in these packaged tours will disembark the ship.
"The 'bubble tours' are pre-packaged by local tour operators and pre-booked by the passengers at selected sites across the island. Tour operators; both land and sea are expected to operate at a 75 per cent capacity and they too must be fully vaccinated," the release said.
 
Regular COVID-19 protocols including sanitisation and disinfection of surfaces, wearing of masks, social distancing and washing of hands are also to be employed throughout the cruise season. 
Approximately 224 cruise calls are expected to be made to this country this season. 
Of this figure, the release said that "13 inaugural calls and 23 same-day and port calls are scheduled to visit the destination". 
"The 2021 cruise season provides an opportunity for economic activity……already we have over two hundred expected cruise calls this season. This is significant in such a volatile time, especially, when compared to no cruise calls during the last cruise season," Carlos James, the Minister of Tourism is quoted as saying. "We continue to provide the best experience to visitors while at the same time providing a safe environment for both visitors and nationals through our cruise protocols". 
To date, figures from the tourism ministry list 104 calls to be made to Port Kingstown; 59 to Port Elizabeth in Bequia; 35 to Mayreau; 12 to the Tobago Cays; 11 to Union Island and two to Canouan throughout the entire season.