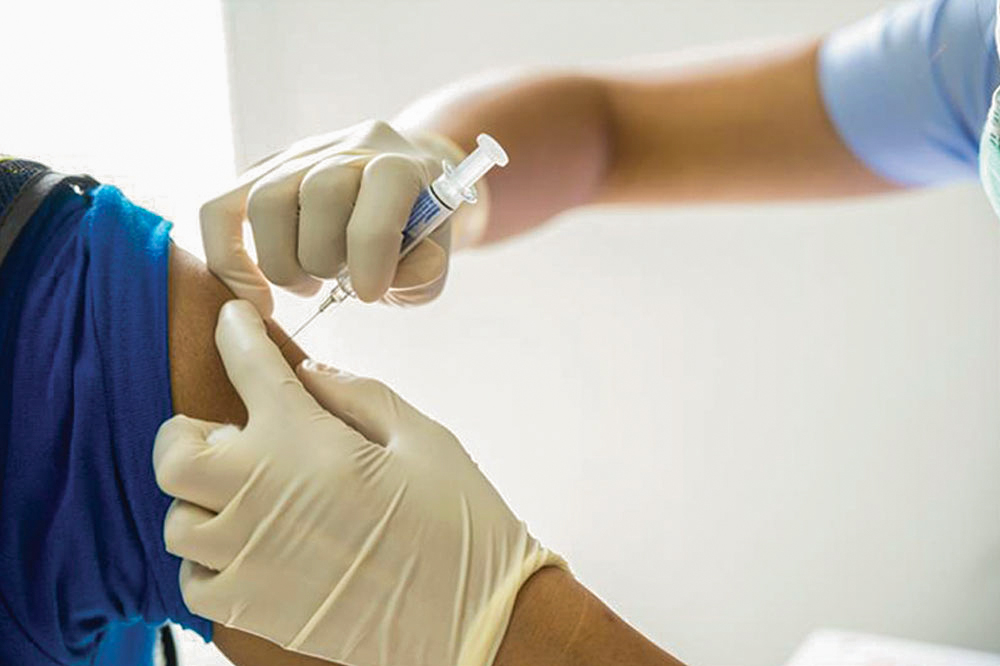 Christian Coalition says no to mandatory vaccination
Just days before the government begins to implement mandatory vaccination for certain categories of workers, the Christian Coalition has issued a statement to make it "abundantly clear" that it does not support this decision.
The Coalition, which is said to be a collaboration of various local churches from various denominations is further urging that "our nation exercises love and mercy, and do not add the extra burden of unemployment to those whose God-given conscience restrain them from taking the COVID-19 vaccine".
Several organisations, including local trade unions, have continuously and publicly opposed the government's decision to implement mandatory COVID-19 vaccination for a subset of public workers.
Calls have also been made for the churches to publicly express their position on the matter.
"We respect and support those who have decided to be vaccinated and we equally respect and support those who have chosen not to be vaccinated. We are all citizens of St. Vincent and the Grenadines invariably created by God with equal dignity whether vaccinated or not. We pray that every person will continue to follow the protocols established by the Ministry of Health (mask wearing, physical distancing, sanitising, frequent and proper hand washing) as we forge forward together in these challenging times living in a pandemic," the Christian Coalition said in its release dated November 11.
It added however, that "in this very challenging and difficult time, the church wishes to be clear about the morality of mandates that require people to be vaccinated or face the termination of their employment and possible loss of accrued benefits".
The Coalition noted that God, as the creator of humanity, has given humans a "God-informed" conscience to discern right from wrong, in the pursuit of the common good.
And, a society that fails to respect the rights of conscience, ignores a key element in determining the common good for any nation.
"The foundational instrument of international human rights, the Universal Declaration of Human Rights, asserts that: 'everyone has the right to freedom of thought, conscience and religion'. We, therefore, urge all to exercise charity one towards another regarding the COVID-19 vaccination mandates," the Coalition's release reads. "Solid facts are helpful. Name-calling and shaming are not.  We strongly believe that threatening people who have a difference of opinion in taking or not taking the vaccine with loss of livelihood, is Un-Christ like and therefore undesirable. Unfortunately, our society is badly divided and wounded."
The group of churches believes that "we have a duty to be compassionate, merciful, and empathetic towards others.  We must never lose sight of the marvellous God-given dignity of every human person. The Church must be a source of love and respect for both those who are in moral distress about the COVID-19 vaccine mandates and those frustrated by resistance to these vaccines".
"We are hereby called to reflect on the gravity of the violation involved in coercing a person to do something that he or she believes to be wrong.  Thus, we must note that religious and civil authorities have a duty to respect the consciences of persons as a civil right.  Each person is bound to follow his or her God-given conscience and should not be forced to act in a manner contrary to it," the release said.
When the SR&O No. 28 of 2021 – The Public Health (Public bodies Special Measures) Rules, 2021comes into force on November 19, near 5900 workers will be expected to have received at least one dose of a COVID-19 vaccine, failing which they will not be allowed to enter their respective workplaces, and will be treated as being absent from duty without leave.
Religious and medical exemptions can be sought and may be granted in some instances.
But the Christian Coalition is requesting that the government and private sector exercise patience, and seek more consultation and collaboration.
They have also requested that each citizen considers seriously "the gravity of the situation before us and do all within our power and conviction to adhere to the protocols established by the Ministry of Health:  wearing of facial masks, physical distancing, hand sanitising and proper hand washing".
"We are all God's children. May we unite and trust that OUR FAITH [IN GOD] WILL SEE US THROUGH," the release concluded.
[[UPDATED on November 18, 2021 at 4:08 pm AST to remove the names of denominations thought to be part of The Coalition of Churches. SEARCHLIGHT has been informed that The  Coalition and concerned Assemblies in support of the statement made on 12th of November 2021 in relation to COVID19 vaccination is of a different composition to the collaboration of churches which were in support of the march and rally concerning the constitutional challenge to the buggery law in 2019.]]