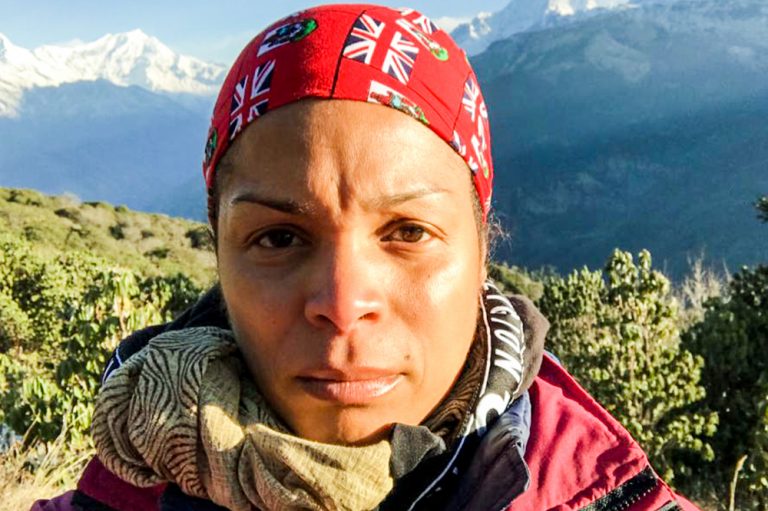 Early detection is key, says lung cancer survivor, Charmaine
Shortly after her 50th birthday, Charmaine Tucker learnt she had lung cancer.
Having never smoked, she was shocked. What also surprised her was that she hadn't had any symptoms.
The disease is the leading cause of cancer deaths here after breast cancer said Kimberly Foley, Bermuda's only pulmonologist.
"Since the onset of the COVID-19 pandemic I have diagnosed about 20 new cases, 11 of which were Stage One," she said. "These patients were referred overseas where [they had] curative surgery without the need for chemotherapy or radiation. Early detection is key."
In the countdown to her milestone year, Ms Tucker worked her way through an active bucket list that included training for and running a 5K race, and a trek through the Himalayas – she had no idea that she was ill.
She hit the "Big Five-0" on September 23, 2019 in her birthplace, Nassau, Bahamas. Celebrations were spread over five days and enjoyed by about 60 people who travelled to the West Indies to join her.
"About three weeks after my party I got a call about my physical, to tell me that they had found something," said Tucker, the CEO of Lombard Odier Trust (Bermuda) Ltd. "When they tell you to come to the office you know immediately that it's not good news."
Because there was a history of heart disease in her family, her routine physical had included a chest scan so the doctor could rule out cholesterol build-up. The lawyer initially thought that was the reason for her sudden appointment.
"When I got there they said, 'There's good news. There's nothing wrong with your heart. Your heart is in good condition. The bad news is we saw something on your lung.'
"This is a Thursday. I travelled a lot for my job and I was travelling that evening and I said, 'What do you mean?' And she said, 'It can be three things. It can be pneumonia, it can be scar tissue or it's cancer.'"
Tucker left the island with medication for pneumonia. On her return she focused on discovering what was impacting her health.
Doctors conducted several tests and arranged a bronchoscopy, which allowed a direct look at the airways in her left lung. According to Tucker it wasn't enough to tell if she had cancer or not and Dr Foley referred her to Fox Chase Cancer Center in Pennsylvania.
"They wanted me to leave here to go to Philadelphia just to have a consult. I said, 'Listen, I don't need a consult. I want to see everybody," said Tucker who was by then certain she had cancer and didn't want to waste time getting it out of her.
She forwarded all of her medical history to Fox Chase. On her arrival it was recommended that she see a surgeon. Three weeks later, on March 3, 2020, she was on the operating table where the left lower lobe of her lung was removed.
"They'd lined it out for me to have a biopsy, a PET scan and then surgery, but when they saw [my medical records] they knew," said Tucker, who had Stage One lung cancer.
"This whole thing is a miracle. It was God – a blessing. I've never smoked and with lung cancer in non-smokers when you find out it's usually already too late."
As November is Lung Cancer Awareness Month, Ms Tucker shared her story in hopes of starting a conversation in Bermuda about the disease.
"What I wanted to get out really, was that you don't know with lung cancer. I had no symptoms. They only saw anything because they did that chest CAT scan, which they were not supposed to even do.
"All the heart doctors said it shouldn't have been ordered because I didn't have any signs of anything other than high cholesterol and I wasn't even on medication for the cholesterol."
As such, she believes it is so important that everyone makes the time for a checkup with their doctor once a year.
"Every once in a while you should do it with someone who is not really your doctor. My doctor might have just ticked all the boxes whereas the doctor I saw instead, [because she didn't know anything about me], had to ask more questions."
In the past year she has learnt of a handful of people in Bermuda who have died from lung cancer because they didn't know they were ill until it was too late.
"They didn't have any idea until they were at the last stage and they started to have issues. Normally with lung cancer you don't know anything about it until it's too late. You either have shortness of breath – walking any distance will make you tired and out of breath. You cough up blood and you lose weight. Those are the symptoms of lung cancer and I didn't have any of those."
The rise in numbers among non-smokers especially, is concerning, Dr Foley said.
"For non-smokers, there is no screening test recommended and we are seeing an increased diagnosis of lung cancer, particularly in non-smoking women. Those that have a history of smoking should be keen to have lung cancer screening. I want to remind people that everyone who coughs does not have Covid, it could be another deadly disease like lung cancer."
Doctors have been unable to pinpoint the cause of Tucker's cancer. She believes the medical community should consider regular testing after a certain age in the same way that women are screened for breast cancer and men for prostate cancer.
"That's why I really want to have a voice for lung cancer – to make people more aware of whether we should do a test like that. After 50 should we get this CAT scan?
"We need to get awareness out there that there is no testing. I'm a woman of faith. I say I was blessed. It wasn't my time."
Tucker is thankful that she managed to get back to Bermuda on one of the last flights before the crisis caused the closure of LF Wade International Airport on March 20.
"When I left Bermuda at the end of February, Covid was in China. We didn't feel like it was close to us. I was in hospital when they called it a pandemic. I said OK I need to get out of here."
More than a year after surgery although her breathing is fine, she can tell that her body has changed.
"I used to travel all the time for work with no problem. I just came back from a week in Europe and when I came back I was busted. I have to build myself back up. But I'm running. I run three times a week. So I'm OK." (re-published with permission from the Royal Gazette, Bermuda)