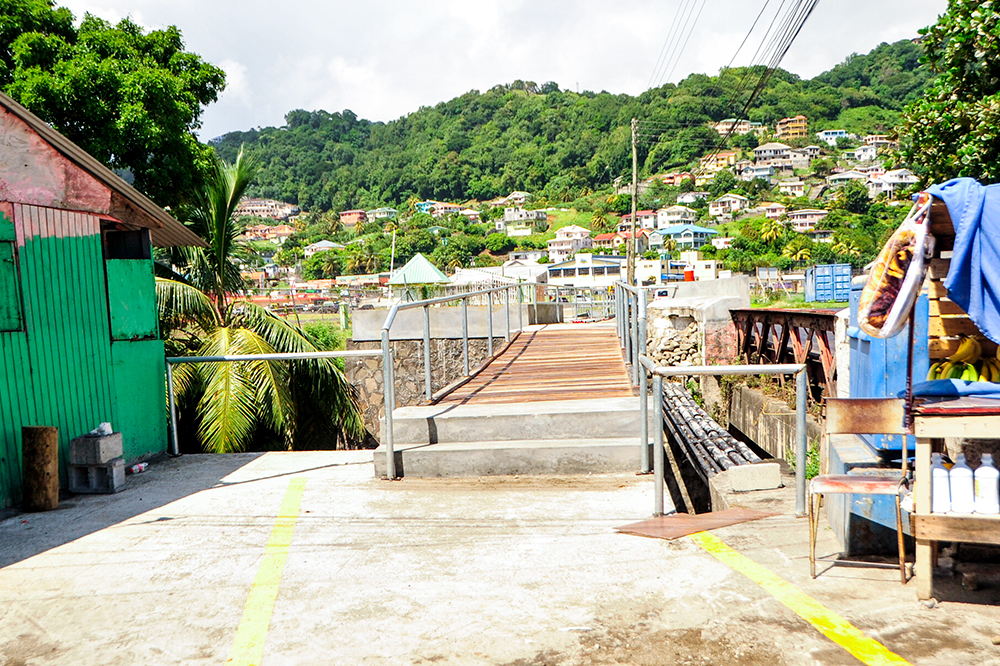 Covid affected completion of Arnos Vale footbridge, says BRAGSA official
AN OFFICIAL OF the Roads Bridges and General Services Authority (BRAGSA), has been explaining why the hand rails along the widened road at the Arnos Vale by pass were not completed when schools on the tarmac of the decommissioned ET Joshua Airport opened last week Wednesday.
The official, who did not want to be named, said the hand rails for the footbridge should have been in place the weekend before students of the St Vincent Grammar School and Girls High School resumed classes at their new location.
He told SEARCHLIGHT that a few members of the crew doing the metal work had tested positive for COVID-19 and had to be quarantined.
Hence, all crew members were isolated which forced a delay in completion of the work that also included the two bus shelters.
Application of the required protocols for mandatory quarantine did not allow the work to be completed on the weekend of October 29, and the required PCR negative test result had to be presented before those isolated were allowed back on the job.
Those responsible for completing the work came under a barrage of criticisms on social media and radio talk shows last week when it was seen that there were no hand rails along the footpath of the bridge.
One social media Face book post by Ricardo Adams said in part: "Before somebody gets injured, establish the integrity of that foot bridge and somebody put rails on it".
The official said,"All the media had to do is check with BRAGSA or the project manager and they would have received the relevant information." He noted that "Work was on schedule but again Covid is demonstrating to all of us that it can affect anything and anyone."
Responding to concerns regarding the integrity of the bridge, he said that the bridge was constructed to provide safety for all pedestrians, and is a temporary structure as the government is looking at the best and quickest way possible to provide safe and improved access for both pedestrian and vehicular traffic in the area.