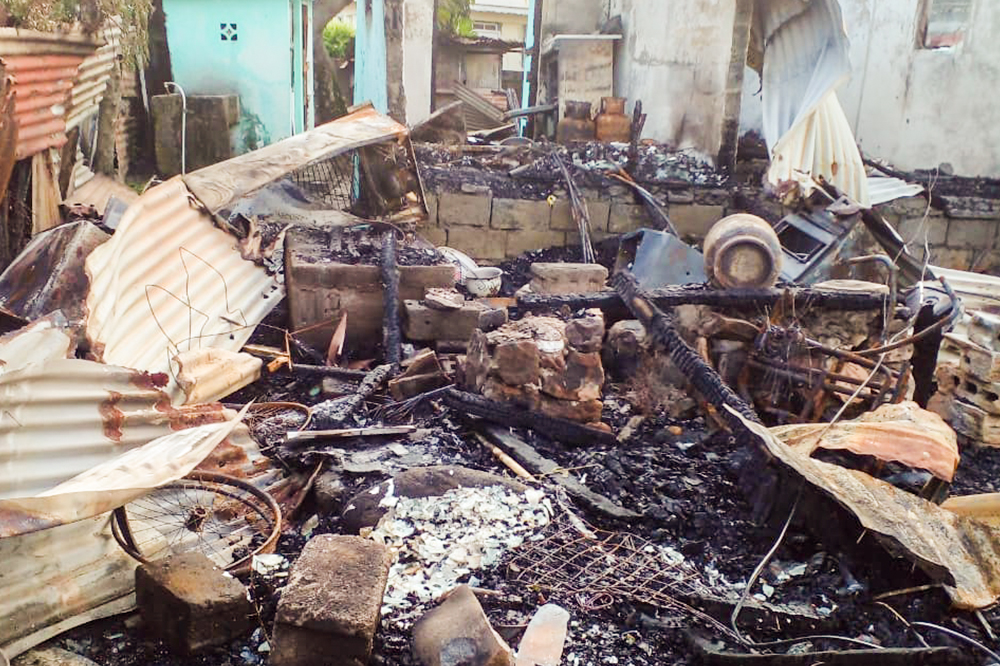 Mid-afternoon fire leaves two homeless
A mid-afternoon fire on Wednesday afternoon, November 3, razed the homes of two Haynes brothers who live in separate dwellings in the same yard at Calliaqua.
The fire is reported to have begun shortly after 3:00 p.m as Cornelius Haynes, also referred to as "Heavy" was on the block a few yards away cutting the hair of his nephew.
The other brother whose building in the same yard is partly constructed of concrete, was said to have been at South Rivers when the fire occurred.
"I hear a pop, pop, and I ain't pay no mind, then I hear prar, prar and then we see fire," said one Vibert Dickson, who rents a room in the house next door. He told SEARCHLIGHT Thursday that the heat shattered the glass of both windows in that house where he lives which face the burnt houses.
He related that when the people on the bloc realised that the wooden house was on fire, they ran for buckets and two persons fetched water hoses trying to extinguish the flames, which overpowered them. The buildings, located obliquely opposite the Methodist Church, were already burnt out when the fire tender arrived.
Cornelius, who lost one leg in sibling dispute a few years ago, is said to have found refuge with a sister who lives in nearby in that southern coastal town.