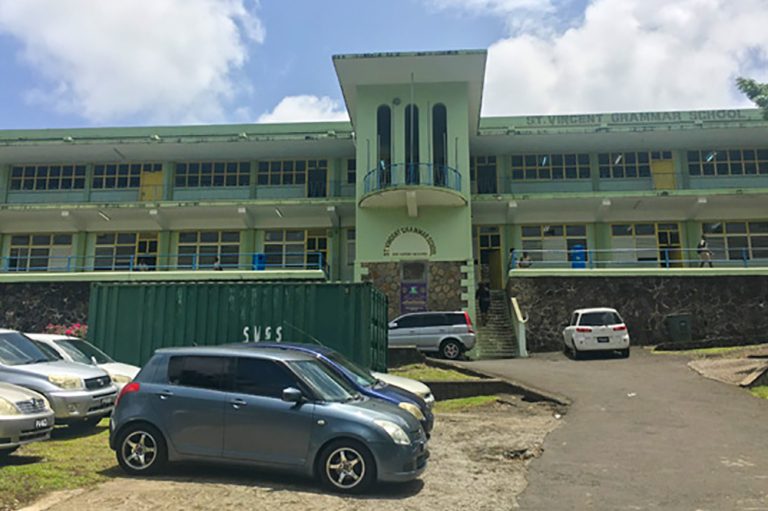 Grammar School records mysterious results in English and other subjects
By: Bria King and Katherine Renton
A significant number of diligent students mysteriously received failing grades for some subjects in the Caribbean Secondary Education Certificate(CSEC) examinations this year, including for the core subject of English. 
 This has placed them in an awkward position as regards transitioning to the St Vincent and the Grenadines Community College(SVGCC).
While last Friday may have been a moment of rejoicing for some students when the results for the CSEC examinations were released, others received an unwelcome surprise. 
 A parent of a student of the St Vincent Grammar School(SVGS) informed that her son had been recorded as receiving a grade four for English Language and a grade five for Social Studies. 
 When asked what her son's reaction was to this development, she responded, "He was disappointed with respect to the same two subjects because obviously he thought he would have passed with flying colours."
 "…Personally too, based on his performance throughout his Grammar School life, it's two subjects I expected him to get grade ones, the lowest, grade two."
 Those are the grades that she is hoping he will receive when the grades are reviewed. 
Her son's entire class is reported to have failed English Language. 
"They are saying it's some kind of computer glitch with respect to the SBAs(School Based Assessment), and we have to wait and see," the mother said.
 Her son has already registered for college but "he hasn't got any confirmation yet, all he got is the receipt for registering but as to whether or not he gets to do his first choice, we don't know as yet."
 She also noted, "…In fairness to the Principal, he did say that he wrote to the college, in order to accommodate them until it's sorted. So I'm hoping it's sooner than later with respect to the sorting it out so that my son wouldn't be wondering what his grades are. He will know for sure…"
SEARCHLIGHT reached out to the Principal of SVGS, Colin Sam, who confirmed that they are having issues with some subjects. There are about 28 instances in English A, about 15 in social studies, six in English Literature (which shares the same SBA as English Language) and nine/ten in History. 
"They are under review as we speak; we are forwarding the information to the local Registrar and that review would be forwarded, well we hope it's already forwarded to CSEC," he said. 
 Local Registrar, Kenley John who deals with all requests for review made from institutions or private candidates, told SEARCHLIGHT yesterday that the request has already been sent to the Caribbean Examinations Council(CXC) and is awaiting review. 
In terms of how long the process will take, he said, "We do not have a definite timeline regarding that because it's a case where this is the review period for the entire region, so CXC will have to take the reviews from all the different territories." The process is that each review will have a batch number, and the Council would take the batches as they go along. 
He also said: "I know they definitely would treat all of the requests to more or less get it in and out as soon as possible."
John said that he also informed the CXC directly by phone. 
With regard to the students' progression to College, he said: "We had a conversation with the Director so they are aware of it, so they themselves, they would have the list of persons who is part of the list from Grammar School, so they will take into consideration the request and the time frame in terms of getting a response from CXC."
The deadline for signing up to resit the examination is soon and persons will have to pay a fee.
Whether this fee will be refundable John explained, "It is difficult to say that right now, I would have to have a consultation with CXC regarding that. Under normal circumstances we won't have this kind of situation."
Usually, "…the results would be out and there will be enough time for persons to look at, and do reviews etc. before the actual registration for the January- But since there's a delay in the exam and subsequent delay in the release of the results," they don't have much time to work with.