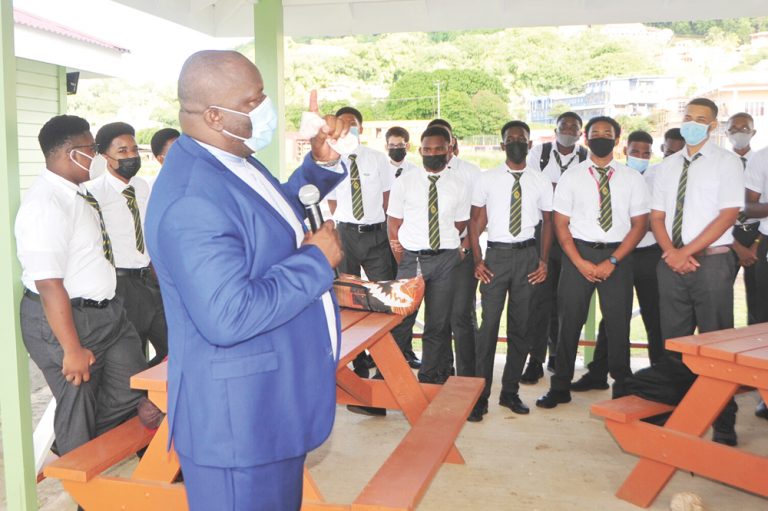 Education Minister urges Grammar School students to do better in 2022
Education Minister Curtis King has urged the students of the St Vincent Grammar School to aim to improve their CSEC examination results come 2022.
King,a former Head Master of the school, spoke to students as they resumed in-person learning in their temporary location on the tarmac of the decommissioned ET Joshua Airport Wednesday morning, November 3.
The school is using a blended approach and has not been cleared to fully resume face to face learning.
Although it was only the form five students who were present for the first day of school,the Education Minister wasted no time in letting them know what many past students thought of their results.
King, who taught for 37 years and is also a past student of the school, told the assembly that he has been receiving many calls and messages from persons expressing their disappointment at the performance of the Grammar School following the release of the 2021 CSEC results.
He said some of the persons with whom he spoke, complained that the school's performance is below standard when compared to other years, and he called on the students to restore some measure of pride come 2022.
The small number of students on premises facilitated the settling in process for themselves and the teachers. One mother commented that it was time the students are taught in a much better environment, because the old school had outgrown its usefulness.
"What I am seeing here is a job well done. They must maintain these school buildings…," the parent stated.
Another said that "each of us …has a role to play and that role cannot be in conflict with the Ministry of Education and the staff, but at the same time we must protect our children."
King also used the opportunity to urge those who have not yet done so to "please take the vaccine," and do what is right to protect the wellbeing of the nation's children.